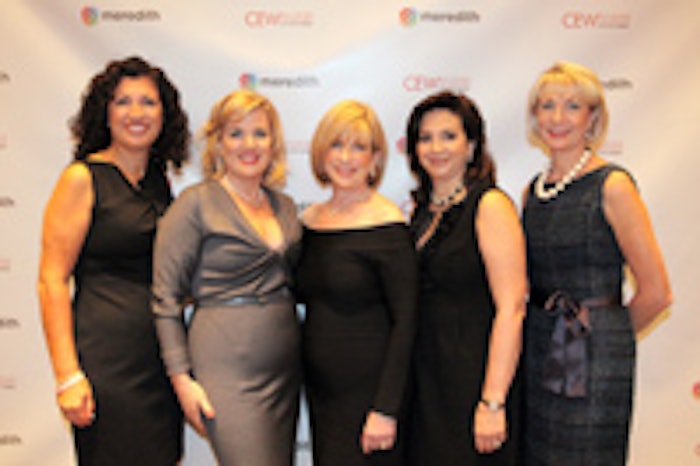 Carlotta Jacobson, president of Cosmetic Executive Women (CEW), welcomed honorees and attendees to the 2011 Achiever Awards, on Oct. 14, 2011, at New York's Waldorf-Astoria. Noting that the annual event celebrates the women who really do make the beauty industry great, Jacobson acknowledged this year's recipients: Gina Boswell, executive vice president, Unilever Personal Care, North America; Lisa Hawkins, senior vice president, marketing, education & events, North America, Dior Beauty; Leslie Marino, general manager, Kérastase & Shu Uemura Art of Hair, L'Oréal USA; and Barbara Zinn-Moore, senior vice president, general merchandise manager, cosmetics & home, Lord & Taylor.
Also honored at the event was the winner of the first Great Idea Award, sponsored by IFF, presented to Ouidad, founder, Ouidad; and The Corporate Empowerment Award for Women (C.E.W.), presented to P&G Beauty & Grooming. "The Achiever Award honorees are selected by their peers and business achievement is the raison d'etre of the ceremony," said Jacobson, and provided numerous reasons for the longevity of the CEW Achiever Awards, which have been celebrated for the past 36 years. "The awards keep pace with the changes in the industry and in addition to honoring top flight female executives, they also recognize companies that demonstrate a commitment to establishing and leveraging female talent, like the C.E.W. Award, and innovation, through the new Great Idea Award. These awards keep women's achievements top of mind. And yes, even in the 21st century, with all we've accomplished, that's still important," said Jacobson. "When I think about what makes the Achiever Awards so special, so successful, and such a cornerstone of CEW as an organization, it's all of those reasons. But it's also the great mix of recipients who are selected, all with different back stories and paths to the tops of their fields," she said.
Jacobson also acknowledged the contributions of event sponsors, Meredith, IFF, Arcade Marketing, Mana, BeautyInc, Ulta Beauty, Maesa Group, Devries, Walgreens, MMC-Marina Maher Communications, Wells Fargo, JH Partners, Manpower Group, HSN, Suite K, iNDELIBLE, Consultancy Media, Kaplow, and LifeMinute.tv.
Ideas and Achievements
Nicolas Mirzayantz, president, IFF Fragrances, offered congratulations to all the winners, and presented the first annual Great Idea Award to Ouidad, "The Queen of Curl." He acknowledged CEW as a beacon for recognizing and developing talent in the beauty industry and cited the recently departed Steve Jobs and his "Think Different" campaign for Apple as a metaphor for creativity and foresight. "The ones who see things differently are not fond of roles, and while some see them as the crazy ones, they are the ones who will change the world," he said, noting the ability of some individuals to identify a need before others realize it exists.
With that, Mirzayantz introduced Ouidad, whose name means love in Lebanese, as a woman who created a new category for women with curly hair that celebrated their beauty. Ouidad, who debuted her eponymous New York salon 27 years ago, began her business with a $25,000 loan from the Small Business Administration, and is now the creator of a successful product line that's sold in Sephora, has a flagship salon that has quadrupled in size and relocated to West 57th Street in New York, has established an L.A. presence in Santa Monica, is a regular on HSN, and is a global educator. In addition, there are now 145 certified Ouidad salons around the country. In her remarks, Ouidad admitted that she and her husband, Peter Wise, had tossed a coin to determine which business idea they would pursue (he wanted a restaurant and she wanted a salon), and she clearly has no regrets about who won the toss. "This isn't work. This is fun, and I'm not saying that for political reasons. I love what I do," said Ouidad.
Corporate Empowerment for Women Award
Jacobson provided background for the Corporate Empowerment for Women (C.E.W.) Award saying, "Looking around the room, it doesn't seem that women's advancement is an issue, however, there is a big difference between knowing and doing something about women's achievement and we can recognize those companies who contribute to advancement for women." She cited P&G Beauty & Grooming, recipients of the award, as a company that has a long-standing commitment to celebrating women and all they bring to the workplace and the world, including leadership development opportunities, mentoring programs, flexible work/life options, and women's employee resource groups.
Specifically, Jacobson acknowledged P&G for its Pantene Beautiful Lengths initiative, Clean Water programs, and Corporate Women's Leadership Team, citing a 50% increase in women's representation at the president level or above over the last 10 years, 46% of new management hires in the past five years have been women, and 42% of all P&G managers are women. Robert McDonald, president, CEO, P&G, accepted the award on behalf of the company, saying, "Our P&G beauty team is empowering women all over the world to look and feel their best while improving lives around the globe with programs and initiatives."
Achievement Honorees
Jill Granoff, former CEO, Kenneth Cole Productions, presented the 2011 Achiever Award to Gina Boswell, executive vice president, Unilever Personal Care, North America. Prior to her current role, Boswell was president of global brands for Alberto Culver, until the company was acquired by Unilever earlier this year. In that position, she oversaw such global brands as Nexxus, VO5, Tresemmé, St. Ives and Noxzema, as well as marketing, research and development, package design and consumer insights. Her resume includes positions at Estée Lauder, Avon, and Ford Motor Company.
In her remarks, Boswell alluded to former Secretary of State Madeleine Albright's famous quote, saying, "'There is a special place in hell for women who don't help other women,' and I've taken that advice and learned to pay it forward." She emphasized the three P's in her professional life, "Passion, polish, and patience," saying they should be part of the cumulative set of experiences you have, adding that measuring your progress along the way helps you gain perspective, as well as a more appropriate respect for what it takes to cross the finish line.
Terry Darland, president, North America, Christian Dior Parfums, LLC, presented the award to Lisa Hawkins, senior vice president, marketing, education & events, North America, Christian Dior Beauty. Hawkins said that while working hard is key, "Success is a story of luck and love." After 25 years in an industry that caters to women, she acknowledged the many people who encouraged, inspired and "sometimes dragged her down the road to success." Hawkins affirmed, "Success is not about the individual, it's about the outcome and the whole team." With that, she thanked the "Dior divas (and divos)" for all their hard work. "Find your team and you will find success. I wish you all the luck and love in the world," said Hawkins.
Carol Hamilton, president, luxury products division, L'Oréal USA, presented the award to Leslie Marino, general manager, Kérastase & Shu Uemura Art of Hair, L'Oréal USA. Hamilton characterized Marino as "a woman who possesses incredible positive optimism and loves L'Oréal." Hamilton said, "Leslie Marino has vision. Vision to identify the leadership potential of Acqua di Gio, vision to nurture Ralph Lauren's American Dream, and vision to develop an outstanding team." Marino, who now manages hair and nails, including Kérastase, Shu Uemura, and Essie, at L'Oréal, said, "The work/life balance for women is extremely challenging and emotional and I'm very happy to work for a company that has adopted extremely progressive views for working women. I am now in a position to work to enable women to work and not have to choose between work and family. It is our collective responsibility to close the gap and our work is not done." Marino said she believes in honing in on the work that really matters and mentally shelving what doesn't, saying, "You must always fight to concentrate on the important tasks at hand and forget the rest. That's what I tell myself, and the people who work for me, every single day. What are the things that are going to change your business? What are the things that will move the needle? Ask yourself these key questions at the beginning of each day."
Liz Rodbell, executive vice president, merchandising, Lord & Taylor, presented the award to Barbara Zinn-Moore, senior vice president, general merchandise manager, cosmetics & home, Lord & Taylor. Rodbell credited Zinn-Moore with the ability to motivate people with encouragement and support, and characterized her as a leader who always acts with the best interests of Lord & Taylor. "She oversaw the complete transformation of the cosmetics floor of Lord & Taylor," said Rodbell, "and has the drive to make the business the best it can be."
Zinn-Moore, whose career in retail began at A&S in Brooklyn, and later moved to Bamberger's, Macy's and for the past decade has been with Lord & Taylor, thanked the board and fellow honorees for the honor, and citing Confucius, said, "Choose a job you love and you'll never have to work a day in your life."
Information about the CEW(UK) 2011 Achiever Award is available here.