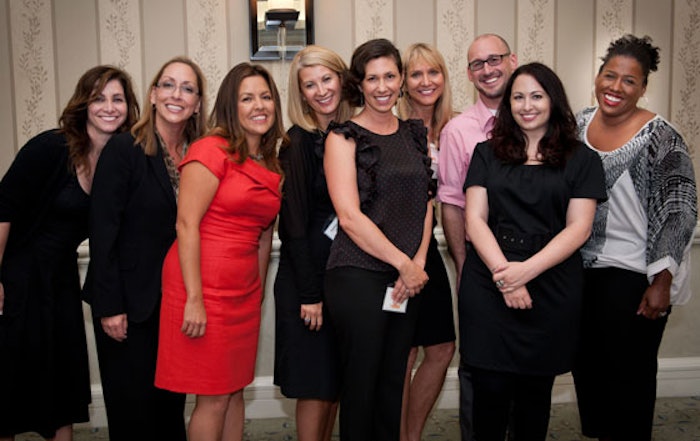 For its eighth Beauty Biz Roundtable (BBR) event in August 2012, Mazur Group welcomed SkinMedica CEO Mary Fisher to the podium for the keynote address. With more than 25 years of experience in the pharmaceutical and biotechnology industries, Fisher surprised BBR attendees with her non-traditional start in the beauty industry. "I didn't become a scientist or a business person first. I went to art school … and then I starved," joked Fisher. "I was always a curious child. I am a complete geek—I love science. I'm constantly asking questions and seeking collaborations. Once I started working at Boehringer Ingelheim, one of the world's leading private pharmaceuticals, I was hooked. Scientific innovation is what makes brands like SkinMedica a trusted brand for both physicians and consumers."
Fisher's fresh perspective and biotech background provided key takeaways for brands developing products for today's beauty market, notably with the growth of doctor brands, medi spas and the exclusive brands they carry. "It's all about trust—trust between an advanced skin care brand and physicians, and trust between physicians and consumers," Fisher emphasized in her "Biotech to Beauty" speech.
The Santa Monica, California, event began with a cocktail hour for open networking followed by the keynote, and then guests were able to interact directly with thought leaders and other attendees in three rounds of roundtable discussions.
Thought leaders and presentations included:
Daniela Ciocan, director of marketing, Cosmoprof North America/SoGeCos Americas: "Grow Your Business Internationally—How to Avoid Cultural, Legislative, and Marketing Pitfalls"
Jeff Falk, editor in chief, GCI and Cosmetics & Toiletries: "Minimizing Static by Dialing in the Right Communication Methods"
Rose Fernandez, vice president of sales, Kate Somerville: "Channel Surfing—Navigating a Multi-Channel Environment"
Emily Katz, celebrity makeup artist: "Strategic Targeting for Film/TV Media"
Gloria Luna, executive director of marketing, SkinMedica: "How to Market Yourself into your Dream Job"
Jen Mathews, president of Top Tier Media and beauty blogger: "How to Use Pinterest to Increase Market Share and Customer Engagement"
Frances Mazur, executive recruiter/president, Mazur Group: "Competing for Talent in a Dynamic Marketplace"
Aliesh Pierce, product developer, esthetician and author: "Advances in Multi-Ethnic Cosmetics."