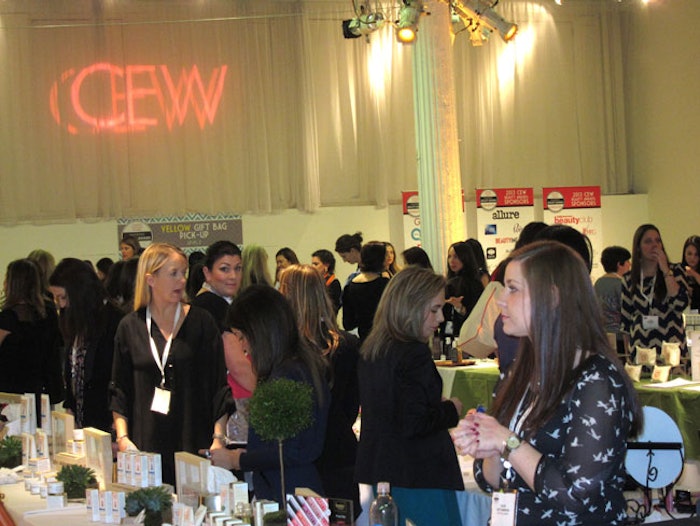 What could be more fun and fabulous than 635 beauty products under one roof in the middle of Manhattan? The 19th Annual CEW Beauty Awards Product Demo, which drew more than 2,300 industry insiders to New York's Metropolitan Pavilion on a snowy March evening, provided an opportunity for the members of Cosmetic Executive Women to cast their ballots for the best in beauty and celebrate the innovation and trends that have marked the year's highest achievements in beauty.
According to Carlotta Jacobson, president of CEW, who led a discussion of the event's new design, newest beauty trends and ongoing collaborations, "A CEW Beauty Award is the highest honor any beauty brand can receive, which is why 310 beauty companies entered their best new products in the competition." In addition, according to Jacobson, the CEW seal stands for a superior product and is awarded by industry insiders who are experts in identifying the best beauty products in the market. CEW members vote to select the finalists in each of 32 categories. After the finalists are announced on April 5, 2013, CEW's Board of Governors will vote to determine the winners, who will then be announced at the Beauty Awards luncheon May 17, 2013, at New York's Waldorf-Astoria.
New Initiatives for 2013
The Product Demo, which occupied two floors, featured a layout designed to replicate a department store, giving attendees the feeling of an extended beauty counter. Products were also displayed in alphabetical order this year, making specific products more accessible for attendees. There was an added emphasis on skin care tools, as CEW expanded its entry categories.
A collaboration with QVC was also new, and QVC buyers selected six beauty product finalists, one of which would be announced at the CEW Beauty Awards luncheon in May, and it will be featured on QVC. 
The Eco Award 
The Eco Award, sponsored by Givaudan, recognizes a beauty product or product line that has moved toward the goal of sustainability, with finalists selected by The Natural Step. The 2013 finalist were:
Aveda, Stress Fix
Jane Iredale Mineral Cosmetics, Glow Time Full Coverage Mineral BB Cream
Josie Maran Cosmetics
La Fresh Eco-Beauty, Oil-Free Face Cleanser (Scented)
Nature's Gate, Facial Care Collection
Naturopathica Holistic Health, Plant Stem Cell Serum
Nourish / Organic Food for Healthy Skin
Paula's Choice, Earth Sourced Antioxidant-Enriched Natural Moisturizer
Weleda North America, Body Lotions
Yves Rocher North America Inc., Culture Bio Certified Organic Shower Gels
The winner will also be announced at CEW's Beauty Awards luncheon in May. 
Trends and News
Jacobson noted the 2013 Product Demo was the largest in its 60-year history, and several key trends had become apparent over the year. "Nails, for example, are not slowing down," said Jacobson. "We're seeing everyone doing a nail product." The response to the Sally Hansen Manicure station on the exhibition floor gave every indication that nails will continue to express and impress for the coming year.
"For lips," said Jacobson, "there are hybrid lip products, combining color and treatment without irritation, and as far as skin care goes, there are lots of spot treatments." More advances are also being seen in at-office and at-home treatments. "This is why we've added at-home tools this year," said Jacobson, who noted that laser technology was increasingly being targeted for at-home use. She cited Dr. Schultz's progressive peel, a three-month peel you can do at home, as an example. "Skin care is still big," she said, "and there's also a lot of color." She said that the independents have also made an impact. "This year, we've increased the indie submissions by 50%."
In the hair category, the news is color and treatment, and eyes still have it, with new advances in eye treatments, brighteners, serums and treatments for dark circles. "Everyone is looking for the perfect ingredient," said Jacobson, a boon to the supply side contributors, and there's also a great deal of activity in the natural arena. "Consumers are dictating what direction the products will take, with everything from multifunction to natural," she said. "We're also seeing similar products in prestige and mass, so there's a blurring of the lines. The prestige brands are strong, and after women held back for a while, we're seeing a return to prestige spending. They're definitely spending. There are also a lot of prestige brands that are still very affordable."
The product line-up was impressive throughout, with Lip Hybrids, which provide both moisture and color, featuring some of the hottest trends. YSL Beauté offered Rouge Pur Couture Vernis a Levres Glossy Stain—with the color of a lipstick, the shine of a gloss and the endurance of a stain; Giorgio Armani Beauty showcased Lip Maestro, with a velvet matte finish and the intensity of a lip lacquer; Lancôme L'Oréal USA showed Rouge In Love, lip color with a feather-light feel; and Revlon featured Just Bitten Kissable Balm Stain, a lightweight lip stain fused with a pampering balm.
Gel nails were a big trend, with such entries as Deborah Lippman Gel Lab set; Mally Beauty 24/7 Gel Polish Nail Color; Orly International, Inc. Smartgels Nail Lacqers; Sally Hansen Coty Beauty's Salon Instagel Strips; and SensatioNail by Nailene, which offered Invincible gel polish, with 48 fashion-forward gel polish colors that flash harden in seconds and are used in tandem with the SensatioNail Pro 3060 LED Lamp, included in a starter kit.
Brows were in vogue, and serums and gels proved popular for taming and shaping them. Pixi introduced the Natural Brow Duo; RAMY Cosmetics, LLC showcased When Hairy Met Sealy…!, a clear eyebrow gel, also available in tints to fill brows and cover greys; Elizabeth Arden offered Prevage Clinical Lash + Brows Enhancing Serum; IT Cosmetics featured Brow Power Perfector 5-in-1 Powder Gel Stain Pencil; and Laura Geller Make-Up, Inc. showcased the Brow Sculpting Market, to create a natural looking brow using a tri-tip applicator to creat authentic looking brow-hairs to fill sparse brows.
Skin Volumizers, to aid in plumping the skin and combating the loss of collagen, included Estée Lauder Perfectionist (CP+R) Wrinkle Lifting/Firming Serum; Avon Products, Inc. featured Anew Clinical Pro Line Eraser Treatment, to reduce the look of deep wrinkles; La Roche-Posay L'Oréal USA showcased Redermic [C] for Normal to Combination Skin, to plump, fill and hydrate the skin; L'Oréal Paris, showed Revitalift Triple Power Serum; and Nip + Fab offered No Needle Fix, a plumping and volumizing serum to fill lines, smooth wrinkles, and reduce the appearance of imperfections for firmer looking skin.
Targeting spot treatments was another significant trend. Shiseido offered White Lucent Intensive Spot Targeting Serum, an anti-spot serum designed to diminish dark spots and prevent future pigmentation from appearing; StriVectin offered EV Get Even Spot Repair; Eau Thermale Avène D-Pigment Dark Spot Corrector Light; and Origins featured Dr. Andrew Weil for Origins Mega-Bright Skin Tone Correcting Serum.
The eyes category showcased Clinique's Even Better Eyes Dark Circle Corrector; Korres showed its Wild Rose Brightening Eye Treatment; Lancôme offered Génefique Eye Light-Pearl, for brightness around the eye area; Nars offered Skin Total Replenishing Eye Cream; and Peter Thomas Roth Clinical Skin Care showcased its Laser-Free Resurfacing Eye Serum.
The technology trend included such tools as the Light Stim for Wrinkles, by LightStim International, Inc., an LED medical device for enhancing collagen and elastin production, and reducing fine lines and wrinkles. Light Stim for Wrinkles with Multi-Wave technology received FDA clearance to treat wrinkles for the face. Also showcased, among others, was NuFace's Trinity Skin Boosting System with Microcurrent and Red LED, a handheld device with interchangeable attachments for microcurrent lifts and toning of facial muscles. Handheld devices have proven increasingly popular for the growing at-home market.
Sponsors of the 2013 event included Allure, Givaudan, CVS/pharmacy, Crest and Oral-B 3D White, QVC, Poise, Conair, Venus, Beauty Inc, Arcade Marketing, Birchbox, RPG, MaCher, Albéa, Rpr Marketing Communications, The Beauty Company, KraftWorks, Consultancy Media, Barefoot Wine & Bubbly, Suite K, Proof 7, The Natural Step, WWD, Tonnie's Minis, NPD Group and Ernst & Young.