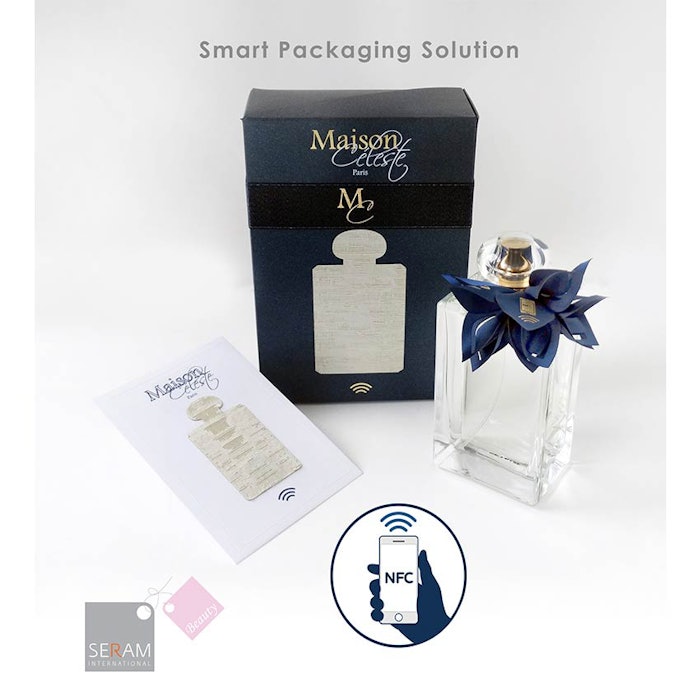 Luxe Pack New York took place May 10 and 11 at Pier 92, featuring the leaders in personal care and beauty packaging and offering insights into what's next.
On the Show Floor
Day one's conference opened with a talk from R. Andrew Hurley, PhD., who presented "Lifting Sales with Data-Driven Package Design." The session provided an overview of how consumer research can be utilized to better understand packaging design's ROI and sales potential. Hurley is assistant professor at Clemson University and is the founder of both Package InSight and Packagin­gschool.​com.
Meanwhile, the exhibition floor showed the latest in packaging innovations.
Yonwoo presented the Powder Spray, which dispenses powder via a dip tube that moves when the actuator is pressed in order to shake up the powder. This avoids powder hardening issues. The innovation can be applied to cosmetics and personal care formulations, including dry shampoo. The company also displayed its Square Airless Tube design, which is appropriate for skin care and color cosmetics and has a dosage of 20 cc.
Fusion Packaging's Mod Collection includes cylindrical airless packaging with new actuator technology featuring windows that allow consumers to see the product as it's dispensed. The supplier suggests this could be used as a shade indicator window. The range comes with Airless Bottles in 25 mm and 35 mm versions, as well as the Mod Reveal (25 mm).
Albéa presented its TearDrop drop-by-drop dispensing system on a tube for liquid formulas. The alternative to glass droppers is break-proof and lightweight, idea for serums, beauty oils and liquid foundations.
Albéa also presented its Reflexion all‑plastic barrier laminate tube, featuring a metallic effect that can have mirrorlike reflections, shaded reflections, and brushed aluminum and hot stamp effects. All effects are done with ink with no hot stamping. The packaging is appropriate for skin care and hair care.
Neenah Packaging displayed its pearlized folding board, which can be customized to match a signature brand color. According to the company, the folding board offers "elegance, shimmer, and classic style, something that [can] provide a perfect backdrop to the most luxurious production techniques, including metallic foils and embossing."
DuPont Performance Materials showed off the range of effects its DuPont Surlyn ionomer resins can achieve for cosmetics caps, bottles and jars. The resins can achieve high-gloss finishes and intricate details.
HCT showcased its airless packaging, including the Twist Zoom, which allows for seamless open and close capabilities without the use of a lid. The formula is dispensed out of a nozzle, preventing air exposure and preventing waste. The Airless Mist Pump offers 360 degree misting capabilities and can house organic and complex formulations without worry of contamination.
BillerudKorsnäs, which is investing new resources for the U.S. market, displayed a range of its packaging concepts.
Qosmedix has introduced two new roller ball bottles designed for fragrances, serums and other liquid based formulations. The white PETG/PP bottles come in 15 ml and 18 ml sizes and the roller ball is stainless steel.
Garrett Hewitt International presented its nature-inspired synthetic fibers, EvoFibers, which are available in different variations and combinations that can be customized for desired performance. The range comprises the EvoSoft, which mimics squirrel hair for a light touch for powders, the EvoDuo, which has fibers that are both rectangular and triangular. Combined, these shapes create more space between fibers, improving application of powders. The EvoEssential can feature round fiber diameters from 0.05 mm to 0.15 mm and can be straight or waved. EvoTexture replicates animal hair and provides pick-up and pay-off for powders.
VariBlend highlighted the application of its 20 mm MiniMix custom blending dispenser for Dreamweave's Lip Voltage lip plumper product. The dispenser can deliver two formulas of varying viscosities and flow rates. The supplier offers a number of dispensing tips. Variblend has also introduced 49 mm and 40 mm dispensers for body care, hair care and high-end skin/face care applications. "Today's consumer seeks an individualized, custom experience," said Robert Brands, president and CEO of VariBlend. "Our precision dual dispensing system allows consumers to enjoy four custom strength lip plumper formulations—from Cool to Hot Tingle—in one compact, easily transported package. It is the most advanced, innovative lip plumper now available," he said, "with true consumer value-added and retail shelf excitement."
VariBlend has partnered with formulation firm Leading Edge Innovations to offer marketers finished products for the skin care market, which are housed in VariBlend's variable two-phase dispensers.
Trendspotting, Spring/Summer 2018
HCP continued its forward-looking trend program with its Spring/Summer 2018 forecast. The forecast included:
Fever, described as "powerful, excessive and bold," and is typified by a mix of finishes, including matte, gloss and metallic, as well as inspiration from animal prints, flora and gemstones, and bold color clashes
Crystal, described as "fluid, shimmering, molten," featuring pastels, metallic, shimmering finishes, dreamy artwork, inspiration from mysticism, liquid effects and more
Natural-skewing Serenity, which is "exquisite, imperfect, honest," and which is typified by minimalism, geometric laser cut designs, soft touch design, matte finishes and Japanese-inspired accents
Fun-focused Jetset, which is "classic, chic and luxurious," and which is typified by iconic, vintage imagery tied to classic stars and 1960s America, bold primary colors, travel themes and wide stripes, yellow gold and soft touch finishes.
Mix and Match
Baralan presented its Link overcap, which allows two to four makeup or nail polish products to be connected. The system offers a solution for multiple packaging and can be paired with 8- and 10-ml Baralan Mina bottles. The company also unveiled its Baralan News App, which is available on the Google Play store and Apple App Store.
Fusion Packaging presented its Power Couples range, which allows for products to be mixed and matched, as well as for multitasking product formats. Power Couples includes the Encore, which pairs an upper jar for creams or balms, which is sealed with a PP closure, which can then be onto a lower airless jar for creams, masks and similar products. The Hybrid pairs an airtight lower jar for cream products with an upper jar for powders. The Duet is a linear dual-ended airless-to-rollerball design for skin care and cosmetics, which can accommodate viscous lotions and creams, as well as less viscous oils and serums in a single pack. Meanwhile, The Hook Up travel-sized vessels comprise airless-to-airless and tube-to-airless versions.
Getting Connected
Connected/smart packaging has been on the horizon for a number of years, but now, as more and more consumers carry around increasingly sophisticated computers in their pockets or purses every day, the time seems to have arrived. In action, smart packaging can bring brands alive.
During "Harnessing Active & Intelligent Technologies to Add Value to Flexible and Rigid Packaging," a presentation hosted by Jeb Gleason-Allured, editor in chief, Global Cosmetic Industry, a range of industry experts outlined the capabilities and future of connected packaging.
Today, brands find it difficult to personalize the consumer experience in the mass market, while also facing a multi-trillion-dollar threat from product counterfeiting. According to Erwan Le Roy of ThinFilm Electronics, the solution is smart packaging. ThinFilm offers OpenSense dual-ID tag that will register whether products are opened or sealed, which can assist in product authentication and refill fraud protection.
OpenSense can reportedly track offline behavior and connect it to online consumer profiles, while also enabling one-to-one mobile marketing at various steps of the consumer experience. At the same time, the company offers a single ID tag, SpeedTap, which can assist in product authentication and allow marketers to communicate targeted marketing initiatives. ThinFilm's NFC labels can be applied to labels, packages, holograms and more, said Le Roy.
Severine Badin, business development manager at Arjo Solutions, discussed the ways in which NFC technology can facilitate authentication by supporting secret markers. Badin added that the company's Signoptic technology can support individual article level product authentication and identification to prevent counterfeits and diversion. In addition, she said, connected technology can collect market data from consumers.
Bruno Savage, CEO of Seram Americas, discussed connected packaging in action. Seram Americas recently partnered with Selinko to develop NFC-enabled fragrance accessories—a label and a ribbon for a gift box, a bottle ornament and a perfume blotter. According to Seram, "A quick tap of an object containing an NFC tag will kick off the experience." Seram has unveiled its Maison Céleste concept product, which comprises a perfume bottle housed in an Araidena box and completed with an MPack perfume blotter. NFC tags have been incorporate into the primary and secondary packaging, as well as the promotional item. By scanning the NFC tags, consumers can authenticate their products, find stores, create personalized messages between gift buyer and gift receiver, and more.
Finally, Doris Brown-McNally, global brands innovation manager, HP Inc., discussed the human side of connected packaging. The topic is critical because of the largest U.S. demographic: the millennial. For these shoppers, said Brown-McNally, the purchase of a brand is a reflection of their values. As such, these consumers expect brands to interact with them as individuals. But how?
Brown-McNally noted that Diet Coke has printed bottles that featured small variations so that no two bottles were alike and Coca-Cola allowed consumers to personalize their bottles with team names or logos, while Oreos created packaging that could be colored by each individual user. Beyond aesthetics, connected packaging can make products behave like barcodes without sacrificing the look of a product or package. It can deliver how to videos, enhance cause marketing, track and trace products, and more. 
Meanwhile, French company French company Phone Me presented its cosmetics label collection, which can be applied to glass flasks, tubes, nail polish bottles and even sampling materials. Phone Me notes that NFC labels can provide brands with location and mapping, interactivity with social networks, direct ordering, website links and videos, and targeted marketing applications .