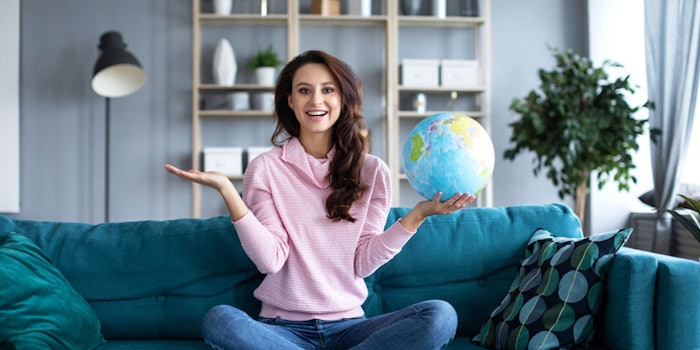 With a simple click of a button, consumers can purchase a beauty product—or an entire product range—from a brand located on the other side of the world and have it in their hands within days. As a result, beauty consumers are littering their vanities with a skin care smorgasbord complete with serums, creams and masks from all over the globe.
Beckwith will discuss how Euromonitor has coined the term "beauty geographic hotspots" to describe the country-branded beauty movement, whereby brands are categorized by their region of origin. In turn, how consumer demand for hotspot brands has escalated internationally, owing to globalization and piqued interest in foreign travel and culture, with the "made in" stamp carrying more meaning than ever before.
Global Cosmetic Industry magazine spoke with Beckwith to learn about the key trends each region delivers to the beauty market, transferability of these trends and what she feels is the most underreported region.
Global Cosmetic Industry: What are the key trends that each region delivers to the beauty market? 
Gabriella Beckwith (GB): Asia Pacific is home to a multitude of dynamic beauty markets, each with its own individual trends and outlook. South Korea is best known for its multi-step skin care routines, unique product innovations and ingredients, and eccentric packaging. Moreover, the ability of Korean brands to produce fast-to-market innovations has resonated well with consumer demand for instant gratification.
Japan has a longstanding heritage as a leader in beauty manufacturing. As a breeding ground for science and technology, Japanese beauty tends to warrant an association with efficacy, high quality and benefit-led features.
Beauty in China has historical roots, being home to ancient beauty rituals and skin treatments, such as the use of traditional Chinese medicine (TCM). Many Chinese brands are now reviving and modernizing the use of TCM to appeal to younger generations and a wider global market.
Europe tends to have a greater focus on clean beauty. Scandinavia is renowned for its high standard of clean living and wellness-orientated lifestyles. In addition to aesthetically pleasing packaging designs, the region tends to deliver many natural, organic and eco-conscious beauty brands, which meet the ongoing demand for ingredient transparency and sustainability.
Germany is also one to watch, as German brands tend to also deliver clean and non-toxic formulations, much of which is scientifically backed to target specific skin concerns.
North America tends to differ, with many brands defying traditional characteristics with the aim of being unique, rule-breaking and disruptive. The key trend is about delivering consumer centricity and successfully leveraging social and digital media to engage with consumers.
Global Cosmetic Industry: How transferable are these trends? 
GB: These trends are hugely transferrable. While brands from a region may often highlight their cultural association for marketing purposes, each region brings more to the global beauty market.
Take Japanese beauty for example, which is built almost entirely around creating efficacious and science-backed formulations. Efficacy remains one of the biggest priorities for consumers and brands globally continue to take inspiration from Japan's forward-thinking and tech-led beauty market.
When it comes to Korean beauty, while the fun and kitsch packaging may be a trend that comes and goes, the innovation and new product ideas that have surfaced from K-beauty are here to stay. Sheet masks, for instance, have become a staple in the beauty regimes of many consumers globally, as well as a core part of the portfolio of major beauty players.
When it comes to Australian and Scandinavian beauty, once again the core values that many of the brands stand for —natural, organic, vegan and cruelty-free—support the trend for clean beauty. These are the key buzzwords that are increasingly resonating with consumers changing demands.
Global Cosmetic Industry: What's the most 'underreported' region in beauty right now?
GB: The success of certain beauty hotspots has encouraged brands in other regions to consider how they capitalize on their own cultural associations. Emerging markets are home to a new wave of brands that are gaining traction, particularly as consumers warm towards local players, yet these regions remain somewhat "underreported."
While a dominant trend in India, Ayurvedic beauty is continuing to grow on an international level as consumer interest in natural and herbal formulations rises. Several Ayurvedic beauty brands are aiming to premiumize the concept as a strategy to target new consumer segments.
Meanwhile, we are seeing a rise in the number of Brazilian beauty brands capitalizing on their abundance of distinct, exotic ingredients found in their native ecosystem. Similarly, in the Middle East and Africa, brands are capitalizing on local ingredients, many of which have been used in home-made remedies throughout generations, with brands aiming to contemporize traditional beauty customs that derive from the region.
For more information on the in-cosmetics Global 2020 education program, visit: https://www.in-cosmetics.com/global/