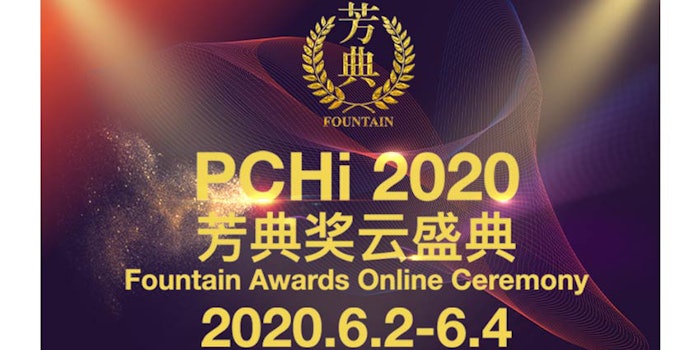 Personal Care and Homecare Ingredients (PCHi) has announced the conclusion of the inaugural PCHi Fountain Awards Online Ceremony 2020, which recognizes and motivates the industry for its efforts toward research advancement and technological development. The virtual awards ceremony recorded more than 100,000 views, and garnered positive sentiments from the industry.
Related: PCHi 2020 Officially Moved to July 8 Through July 10
Held from June 2 to June 4, 2020, the PCHi Fountain Awards Online Ceremony 2020 concluded on a high note. This year, Reed Sinopharm Exhibitions (RSE) received nominations for 122 innovative products and 6 outstanding individuals for their contributions in ingredient research and development.
These entries were submitted by 79 companies from around the world and 27 of these nominated companies launched 29 products online during the event.
All entries were evaluated carefully and independently by an esteemed judging panel against a set of standardized criteria, which includes product ingenuity, scientific and technological innovation, and market application prospects.
To ensure equity, this year's panel again saw partial rotation and included established researchers from universities and research institutions, industry veterans from renowned cosmetics manufacturing companies and associations, as well as experts from PCHi's Cosmetics Science & Technology Innovation Committee (CSTIC).
Award Categories
Moisturizing/Hydrating

Winners: AH&NS

Products: Re: Lameil


Anti-aging

Winners: Clariant Chemicals, Ltd. (China)

Products: Prenylium


Whitening/Brightening

Winners: Bloomage Biotechnology Corporation Limited

Products: Ergothioneine complex

UV Stabilizing

Winners: Ingredients Plus, Ltd. (Shanghai)
Products: Zinc-titanium composite slurry (TZ-906)

Skin Microbiome

Winners: Symrise Shanghai, Ltd.
Products: SymReboot L19

Anti-pollution

Winners: BASF Company, Ltd. (China)
Products: Mimiskin
Winners: Lipoid Kosmetik AG
Products: Carotolino

Acne/Allergy Alleviation

Winners: The Hallstar Company
Products: CLEAR Oleoactif

Skin Barrier Repair

Winners: Sensient Technologies Corp., Ltd. (China)
Products: Natpure Xtra actives
Winners: Lonza Investments Co., Ltd(China)
Products: Metabiotics Resveratrol CN

Green/Sustainabl

Winners: Dow Chemical Company, Ltd. (China)
Products: MaizeCare style polymer
Winners: Ashland Holdings Co., Ltd. (China)
Products: Antaron ECo ethylcellulose

Hair Care/Scalp Care
Pregnancy/Baby Care

Winners: Shanghai JAKA Biotech Co.,Ltd.
Products: Phytobaby CAP

Software for Cosmetics

Winners: Coptis Asia Pte., Ltd.
Products: Coptis Lab version 57.0

Outstanding Individual of the Year

Winner: Masakazu Hashimoto (Ichimaru Pharcos Co., Ltd.)
Winner: Zhao Jianfeng (Jiangsu Jland Biotech Co., Ltd.)
"We're deeply encouraged by the positive feedback we've received since introducing the PCHi Fountain Awards," Peter LIU, PCHi project manager at Reed Sinopharm Exhibitions, said. "We sincerely thank all Award participants—your contributions to the industry are much appreciated. It is our firm belief that the PCHi Fountain Awards will continue to be a catalyst for the industry's rapid progress, and we look forward to more innovative products in the years to come."