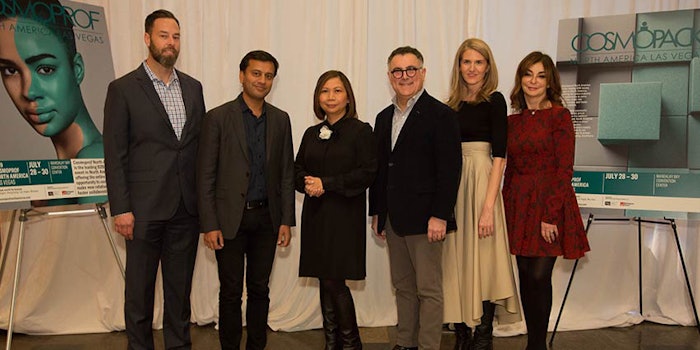 April proved an eventful month for Cosmoprof North America (CPNA).
On April 11, 2019, CPNA, in partnership with the Fashion Institute of Technology's (FIT) Cosmetics and Fragrance Marketing and Management master's degree program, hosted a panel discussion on the topic of sustainability in beauty packaging.
Moderated by Jenny Bailly, executive beauty editor of Allure magazine, speakers included Piyush Hain, vice president of hair care at Unilever; Lana Glazman, vice president of beauty and home at Aptar; and Joe Licari, executive director of packaging development for Shiseido Americas.
Key takeaways from the event:
2025 and 2030—Save the Dates
When it comes to sustainability, setting goals is key. For Unilever, the comes in the form of becoming completely carbon positive by 2030—eliminating fossil fuels and sourcing all of its operational energy from renewable sources. Hain also announced that, by 2025, the company would increase recycled plastic in its packaging by at least 25% (in North America, that number will be 50% by the end of 2019).
The Next Big Trend: Refillable
When it comes to solutions to keep an eye out for at Cosmopack 2019, refillable is at the top of the list. "We put all this effort into making this beautiful package, and at the end it just goes into a landfill, and I think consumers understand that," said Licari.
Also on the radar—programs such as TerraCycle, which makes it easier for consumers to recycle products ranging from razors to lip butter—and, noted Glazman, on the retailer side, "efforts to reward consumers" through incentives such as discounts for returning empty packaging.  
Related: Cosmopack is Coming to North America
The Field is Not Without Challenges
Licari, noting a statistic stating the world will run out of materials to support our current lifestyle by 2050, asked "how do we get some legislation—especially in the United States" to increase sustainability. "I think that's where we need to go. I could design you the best packaging in the world that can be recycled in a closed loop system, but if you live in the middle of Arkansas, there's just no system… to bring [your] packaging to be recycled right now."
Technology is the Future
"In today's market, if I really want to learn about something, I'm getting on YouTube," said Licari. "So let's let digital, our smart phones do the education. Do we really need cartons anymore? These are some of the [ways] we could really be challenging ourselves as beauty people."
Hain pointed out the ways in which technology can be applied directly to the product, too—think shampoo that requires less water usage—noting "technology [can be applied] to both the product side and the packaging side" of the sustainability equation.  
Start Spreading the News: BolognaFiere Comes to NYC
Earlier in the month, on April 3, 2019, BolognaFiere opened a new office in the Big Apple, strengthening its U.S. presence and creating a single location for marketing efforts for Cosmoprof North America (CPNA) and organizational efforts for the New York Rights Fair (NYRF).
Launched in 2018, the NYRF is the result of a partnership between BolognaFiere and the Bologna Children's Book Fair, a trade show for publishers of children's and young adult literature.
"The New York location will give us access to a very large and important network of industry executives to fuel the growth of CPNA, NYRF and other events in the BolognaFiere portfolio," said BolognaFiere general director Antonio Bruzzone.
CPNA director of marketing Liza Rapay added: "CPNA and NYRF are integral pieces in BolognaFiere's offerings and this office demonstrates BolognaFiere's long-term commitment to building and strengthening relationships in the North American market."
Cosmoprof North America will be held July 28-30, 2019 at the Mandalay Bay Convention Center in Las Vegas.