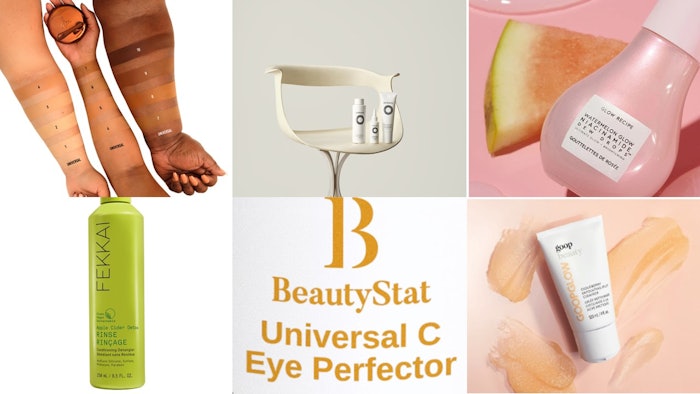 After a three-year hiatus, Beauty Accelerate returns in-person in NYC September 28-29, 2022 at the Metropolitan Pavilion, featuring newsmaker brands, R&D innovators, market analysts and retail thought leaders offering actionable insights as we head toward 2023. Marquee names include GOOP, Allure Store, Danessa Myricks Beauty, Glow Recipe, Olaplex, Estee Lauder, Beekman 1802, Fekkai, Bloomeffects and BeautyStat.
The event will also feature a boutique expo floor, featuring the latest concept products to inspire attendees' innovation, as well as packaging, ingredients and services to accelerate their businesses. 
>>>Beauty Accelerate registration is open; act now for best rates.<<<
Founders & Leaders in Focus
Among the brand founders and leaders who will take the stage at Beauty Accelerate include:
Sarah Lee and Christine Chang, cofounders, Glow Recipe

Ron Robinson, founder, CEO, BeautyStat

Sam Archer, VP of product marketing & innovation, 

Nutrafol
Charlotte Watson, CMO, Olaplex
Helene Caillate, general manager, Flamingo/Harry's
Jill Scalamandre, CEO, Beekman 1802
Danessa Myricks, founder, Danessa Myricks Beauty

Kim van Haaster, founder, Bloomeffects

Andrew Silberstein and Eli Bailey, founders, Solawave

Diarrha N'Diaye-Mbaye, founder, Ami Cole

Frederic Fekkai, founder, Fekkai

Britney Winters, founder, Upgrade

Chris Skinner, founder, School House
These leaders will offer first-hand insights into growth and longevity in a crowded marketplace.
Beauty Data: Looking Ahead at 2023
To help our attendees prepare and strategize for growth through the end of the year and 2023, Beauty Accelerate will feature a wide range of data briefings from leading firms presenting the latest data decoding industry opportunities. Key talks will include:
Beauty Growth Opportunities: The Gen Z Beauty Consumer
Gen Z is the obsession of many new and existing beauty brands in 2022. This cohort currently comprises 30% of the global population, 97% of which find shopping inspiration on social media. They are also highly distinct from their millennial counterparts. In this presentation, Olivia Stelmaszczyk, research analyst, Euromonitor, will discuss insights into Gen Z that beauty brands can leverage in future innovation and business planning.
Beauty Growth Opportunities: the NielsenIQ Perspective
Taylor of NielsenIQ will present actionable data on growth opportunities in the beauty industry. NielsenIQ's trustworthy data measures and predicts shopper behaviors to assist in organizational decision-making. Attendees will come away with fresh data that can shape future planning and innovation.
Beauty Growth Opportunities: the Spate Perspective
Yarden Horwitz of Spate will present actionable data on growth opportunities in the beauty industry. Spate analyzes millions of online consumer searches to identify the next big trend. Attendees will come away with fresh data that can shape future planning and innovation.
Beauty Growth Opportunities: The NPD Perspective
NPD analyst Jennifer Famiano will provide insights into the beauty trends driving growth. As NPD has noted, the marketplace is being reshaped by channel shifts and indie brands. Therefore, the firm derives insights based on "what is selling, where, why, and for how much." Attendees will come away with actionable insights to apply to future innovation and business planning.
Retail Focus: Allure Store x Solawave
Beauty Accelerate is delighted to announce that Sonny Gindi of Stour/Allure Store and Solawave founders Andrew Silberstein and Eli Bailey will take the stage in NYC to discuss the state of beauty retail/distribution post-pandemic and what's driving growth in a changed world. This session will be a must-attend for any brand seeking better visibility on the state of channel distribution.          
In July 2021, Allure opened the Allure Store in NYC, allowing consumers to shop by editorial headlines and engage with brands curated by Allure editors. The space is a collaboration between Condé Nast and the Stour Group and has hosted a wide range of brands, including Murad, StriVectin, Hero Cosmetics, Sunday Riley, Patchology and BeautyCounter.
More recently, Ulta Beauty has collaborated with The Allure Store to open a pop-up, offering a monthly curated assortment of beauty products. Participating brands include the Ulta Beauty Collection, Andrew Fitzsimons, Billie Eilish Fragrance, Black Girl Sunscreen, Charli D'Amelio Fragrance, Fenty Beauty, Love Wellness, Morphe, NYX, Olaplex, r.e.m. beauty and Supergoop!. 
At the time, Gindi said, "One year after the Allure Store debut, we're thrilled to announce our first retail partnership with such a beloved leader, Ulta Beauty. We are proud to pave the path in merging beauty media and retail to disrupt traditional brick and mortar experiences. Our shared passion for meeting beauty lovers where they are and reimagining retail reinforces why this collaboration is a perfect fit."
Joining Gindi will be Solawave's founding duo, Andrew Silberstein and Eli Bailey. Mashable noted that the brand is "Tik Tok famous," while Harper's Bazaar recently declared, "the SolaWave Bye Acne: 3 Minute Light Therapy Spot Treatment is an excellent match to its lifting and radiance-enhancing sister device, the Advanced Skincare Wand with Red Light Therapy, and worth adding to any skincare rotation."
The brand is also a favorite of celebrities like Reese Witherspoon and Mandy More.
Emerging Tech Takes Center Stage
During "Tech x Beauty: Accelerating R&D Innovation,"  Peter Tsolis vice president, skin care R&D, The Estee Lauder Companies, will join Ron Robinson founder, CEO, BeautyStat, and Akshay Talati VP product development research & innovation, GOOP, in a discussion about ideas for leveraging technologie,s including tips and tricks, and the pitfalls to avoid.    
Sustainability & Safety in Focus
As the industry pivots further and further toward sustainability, Beauty Accelerate will address the challenges and opportunities.
First up, Anja Nikolova will present "Certifiable Sustainability: Packaging, Formulas, Processes and More," offering brands insights for their labeling and claims. 
Up next, "Transformative Times: Challenges in Cosmetic Regulations and the Opportunities They Present" will be led by Jay Ansell, Ph.D., VP cosmetic programs, Personal Care Products Council. Ansell's talk will address "a fundamental shift in the principles behind risk management that poses both challenges and opportunities for cosmetics."
Furthermore, this keynote will explore the impact of the changing regulatory environment on cosmetic product development, ranging from how modern science and animal testing bans have driven risk assessment toward health and safety and away from predictive animal studies to sustainability, fragrance transparency and more.
Attendees will walk away with a clearer understanding of today's cosmetic regulatory landscape and what that means for product development and safety. 
Skin Care Frontiers
NPD recently reported that U.S. prestige skin care sales growth accelerated slightly in Q2 to 12%, totaling $1.7 billion, highlighting ongoing engagement in the category. The growth comes amid a rise in clinical skin care brands. 
During "Skin Immunity and Health: Formulating Topical Solutions," Sabrina Henry, R&D manager, skin health, Johnson & Johnson, will discuss the next evolution of the category.
As Henry notes, recent years have shifted consumer priorities and emphasized the importance of self-care. This has drastically accelerated the pre-pandemic focus on health and wellness, with an added spotlight on immunity.
Henry's session will describe the development of topical products to reinforce skin health and bolster immunity. Topics will include:
how to integrate micronutrients and natural ingredients to strengthen the skin moisture barrier and support skin health;
ways to formulate mild cleansers and soothing moisturizers to balance the microbiome;
and more. 
Addressing Hair Care's Boom
Q1 prestige hair care sales in the United States jumped 32% year-over-year and jumped another 24% in Q2, per NPD data, displaying massive growth for a previously sleepy sector. One factor driving growth? Skinification. 
In "The Skinification of Hair Care: From Collagen to Hyaluronic Acid and More," Lavinia Popescu, chief scientist of R&D for Olaplex, will outline how hair care has experienced a makeover.
Years ago, the focus was sulfate-free formulas to reduce damage, and bonding agents to repair hair. While these trends continue, the focus has extended to scalp care and hair loss prevention, which meet at the intersection of a new phenomenon: the skinification of hair care. This refers to translating approaches for skin, e.g., anti-aging actives, repair agents, microbiome balancing, etc., to hair.
This session will explore the concept, explaining how hair can benefit from skin-centric approaches and ingredients; and provide examples of incorporating collagen, hyaluronic acid, etc., into hair care.