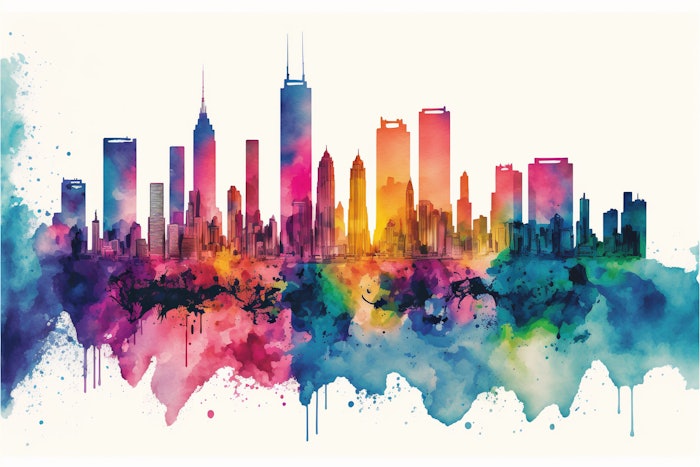 >>>Global Cosmetic Industry is the official media sponsor of the NYSCC Indie 360 program.
The New York Society of Cosmetic Chemists' (NYSCC) Suppliers' Day 2023 in NYC (May 2-3) will feature, one again, the Indie 360 Pavilion, featuring 16 indie beauty brands. Attendees can visit the participants at Booth No. 1917 and then cast their vote for the 2023 People's Choice Award.
Participating brands include Alexandra Organic, Aneley Cosmetics, Dr. Lili Phan Probiotic Skincare, Elims, Ina Labs from Susan Goldsberry, Madame Lemy, Manifest Beauty Official, Nicole Ravachi, Nulastin, Palmless, Raaka's World, república Skin, Roots Professional, SeSpring, Six Gldn Skincare and Truth Treatments.
Not signed up? Just visit the Suppliers' Day 2023 website to register. 
The Indie 360 program is curated by Daniela Ciocan, CEO at Access Beauty Insiders/Unfiltered Experience. Global Cosmetic Industry recently interviewed Ciocan about the pavilion and the broader program. 
What was the inspiration and mission behind the Indie 360 pavilion? 
Ciocan: Indie 360 was created to highlight up and coming beauty brands who use ingredients in a novel way or have a unique approach to market and allow the founders to connect with supplier companies exhibiting at the event to learn about new ingredients and programs that several ingredient suppliers offer to smaller indie companies to help support fast growth. It is a way of connecting small up and coming brands with suppliers at the show.
What do the brands taking part tell us about the state of indie beauty in 2023? 
Ciocan: We are seeing less emphasis on "clean" as a claim and more focus on ingredients, sustainability and a return to old age remedies adapted for the modern age. Palmless from C16 Bioscience uses a bioengineered method to create a substitute to traditional palm oil that is widely used in many industries and is a environmental issue due to deforestation. Truth Treatment created by a pharmacist features high end simple and very elegant formulations using very few ingredients with each ingredient delivering a specific benefit to heal the skin. Six Gldn uses principles from Korean herbal medicine built on a family legacy of nine generations of ancestral knowledge and using Korean botanicals in sustainable refillable packaging. 
How can brands and suppliers benefit from this type of cross-pollination at events? 
Ciocan: Participants in the Indie 360 have the opportunity to connect through one on one meetings to establish new connections. For the founders, it's a great opportunity to find out about new ingredients and programs available to help them through their growth stages and it also exposes them to the extensive array of raw materials suppliers that come from all over the world to participate in the event. After the event we see adoption of knowledge and ingredients found make their way into new product launches which as an organizer is always satisfying to know. For the raw material suppliers it's a way of learning about the pain points of these small startups and an opportunity to connect with them at an early stage so that as their business grows they can help support them. 
Finally, what help do indie brands need?
Ciocan: By and large the founders I talk to are over extended and they are challenged in finding suppliers willing to work with small quantities at a price and timing that suits these nimble companies.
About the Brands
Alexandra Organic is a company founded in Greece and inspired by Greek mythology with its heritage of healing plants. The full range of hair care and makeup products were a hit on social media where the founder shared the behind the scenes story of creating the products out of frustration and connected with Millennial and Gen Z consumers who love the natural ingredients and effective results. alexandraorganic.com
Aneley Cosmetics is an all-natural and organic makeup brand, made in the USA. Contains natural, breathable ingredients that are anti-inflammatory. It is specially formulated to be used after facials and waxing. Perfect for any skin type. From Foundation to eyeshadow, lipsticks and Shabbat approved powder line. PETA certified – cruelty free. 
With years of research and development in the making, our clinical skincare is based on 3 simple ideas: clean formulas, green ingredients and functional products that deliver the desired results. The sole intention for the Dr. Lili Fan Probiotic Skincare is to create a safe, high-performance regimen that works for all ages and skin types. The formulas are free of parabens, sulfates, glycols, phthalates, petroleum minerals and oils. It is the first professional line of anti-aging products formulated to harness the power of vegan probiotics and our patented peptides to give you firmer, smoother and younger-looking skin. 
Elims is building the future of sustainable oral care. Crafted by dentists and biomedical engineers, our mission is to advance human health while reducing waste for the planet. With Elims, you'll only get clinically + science backed products combined with real sustainability. We're here for the planet and everyone in it. elims.co
Ina Labs: Our founders, Susan Goldsberry (world-renowned cosmetic chemist) and Dr. Beri Ridgeway (leading OB/GYN), combine decades of disruptive product development with deep clinical expertise. Ina makes clean, clinically tested skincare for a woman's most intimate skin, from effective plant-based hygiene routines to OB/GYN-developed solutions for common concerns.
Madame Lemy is an all-natural, luxurious body care brand. Our products are vegan, cruelty-free, and free of toxic chemicals. Our unique powder formula can be used as deodorant, body powder, dry shampoo, and more and we have more personal and body care products in the works. h
Manifest Beauty is a clean, vegan, and cruelty-free California-based beauty brand for those who attract it all. We empower women to unleash their best selves through lip plumper's that amplify self-love and high vibrations. With this mission in mind, we give 3% of our net sales our to Look Good Feel Better. 
Nicole Ravachi Brand launched in 2018, offering genderless beauty for all skin types in LATAM. Our mission simplifies skincare, making beauty accessible. We're inspired by Nicole's ADHD, creating high-quality products that balance science, lifestyle and effectiveness. nicoleravachibrand.com
Female founded Nulastin is redefining what it means to be a beauty brand by focusing on performance-driven, scientifically backed, ethically derived elastin replenishment. Using proprietary Elastaplex® Technology, formulas are proven to revitalize lashes, brows, hair & skin. The simple routine takes minutes per day—and delivers natural, beautiful, ongoing results.
Palmless is the sustainable alternative to palm oil biodesigned by the scientists and innovators at C16 Biosciences and comes from a natural yeast. It was born at the intersection of performance moisturization and natural innovation. Our nourishing oil is powered by Palmless™ Torula oil, a luxe new bio-designed oil made from yeast, not from trees. It contains unique carotenoids and sterols found only in the fungal kingdom, which promote skin barrier function and help skin maintain moisture and a glowing appearance.
Raaka's World is an innovative beauty brand founded by Dr. Shobana Vankipuram, a first-generation woman physician whose mission is to empower women through easy, authentic, transformative self-care experiences. The brand offers luxurious, vegan products containing scientifically proven unique ingredients with their commitment to the highest sustainability & ethical standards. 
Our skin tells a sweet story of our roots, and like history, it deserves to be preserved and celebrated. Born and inspired by the Dominican Republic and founded by Julissa Bermudez – República Skin shares the rich heritage of sensually radiant skin with clean body care, inspired by nature. The hero product, Sugar Body Polish is the ultimate skin indulgence with a rich blend of naturally derived oils and butters paired with finely milled, organic sugar creating a sensorial gentle exfoliation all over the body. The result – Skin Sweet as Sugar.
Roots Professional brings the most complete cosmeceutical science for superior hair growth to the salon market, blending power and cosmetic excellence to introduce this technology into every woman's beauty regimen for proactive and reactive care. Club Roots carries this tradition for both men and women into mass retail and more. 
SeSpring is a Korean skincare brand that offers vegan, gluten-free, cruelty-free, multifunctional, simplified, clean skincare essentials that are clinically tested and suitable for all skin types and genders! Your skin's new BFF provides high quality ingredients derived from the Yeosu Island in South Korea with affordable prices without sacrificing results!
Six Gldn is transformative skincare for every skin type. Crafted with powerful botanicals and Korean herbal medicine it's formulated for maximum results in five steps. Doctor formulated, derm tested, and backed by impressive independent test results it's vegan, cruelty free and a member of 1% For The Planet.
Truth Treatments are topical nutritional formulas designed to heal skin. Formulated by Benjamin Knight Fuchs, R.Ph., a dermatology pharmacist who realized that what had heretofore been considered to be superficial, cosmetic skin care needs for dry and aging skin were really health considerations that were largely the result of nutritional deficiencies. The solution, as Pharmacist Ben discovered in his compounding pharmacy, by working directly with physicians and patients, was in the transdermal delivery of high concentrations of topical nutrients as well as intelligently formulated systemic supplements and thus was born Truth Treatments, 100% active and functional skin health products, formulated without wax, oil, silicone, preservative, water or anything else the skin doesn't need or want.