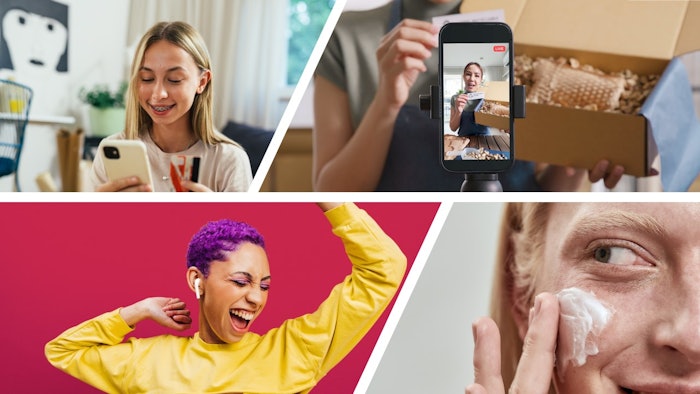 R&D innovation and consumer data are priceless to beauty brands. But connecting the dots between them is what allows executives, marketers, product developers, R&D leaders and their supply chain partners to unlock value.
That's why Beauty Accelerate Virtual is hosting multi-day briefings from top market data and insights firms—Euromonitor, Spate, NIQ, Mintel and Circana—to uncover key innovation opportunities across categories and consumer sectors.
All talks will be presented with a live Q&A but will also be provided on-demand for all attendees. 
>>>REGISTRATION IS NOW OPEN FOR LIVE/ON-DEMAND ACCESS.<<<
Attendee pricing is designed to be accessible for indie and major brands alike. Contact us for special group rate discounts.
1. Market breakdown: top-growth beauty sectors
Prestige and mass beauty grew in Q1 2023 by 16% and 10%, respectively, according to Circana, signaling strong growth even amid challenging economic times. But a closer look at the results reveals nuances across categories, including:
a clinical skin care resurgence; strength in mass facial care;
a lip product boom;
a jump in targeted treatments for hair;
and much more.
That's why the 4-day Beauty Accelerate Virtual event will host "Top Growth Beauty Sectors," an exclusive briefing from Circana's Jennifer Famiano, who will provide a breakdown of where mass and prestige sectors are going, as well as where the growth opportunities' lie.
Attendees will come away with new insights to fuel business planning, marketing and product development.
2. Holistic beauty market opportunities
Aging and skin health are impacted by the entirety of our exposome—the totality of exposures to which an individual is subjected throughout their life, including from the sun, pollution and climate change, as well as chemical and physical manipulation from skin and hair care routines. 
This has implications for product formulations, beauty routines, marketing and education, and much more.
During Beauty Accelerate Virtual, Mintel's Anna Keller will present "Holistic Beauty," a briefing that will consider mechanisms of aging and skin health from a holistic perspective.
Keller's presentation will consider facets including circadian rhythm, hormones, emotional states, stress and more, and explore ways to maintain balance for beauty.
This session will be a must-attend for product development teams, marketers, brand leaders and their innovation partners.
3. Decoding successful beauty brand innovation
Innovation is notoriously difficult, with up to 90% of new brands failing to stay on the shelf past their second year in the market.
According to PopSugar, for many founders, the "why" behind a brand is what drives them to create a business in the first place—and this idea is often what keeps them motivated when faced with potential failure. "That's why industry experts agree that focusing on a product's concept and point of distinction is what sets up a beauty brand for success in the long run," per the source.
What other factors drive a brand's long-term success? NIQ's (formerly NielsenIQ's) Anna Mayo will provide answers during "Decoding Beauty Innovation."
This session will take a deep dive into the state of innovation in beauty, including the top launches of 2022, and the main themes that are driving innovation forward. It also will share lessons learned and case studies on how brands can identify compelling concepts, develop successful products and activate in the market to increase their long-term chances.
4. Tapping the skinification of beauty
Solidified during the pandemic when consumers invested time and money in skin care routines, skinification is rapidly spreading across the beauty and personal care industry.
Growing self-care and wellness behavior encourages skinification in hair care, while U.S. consumers increasingly expect color cosmetics to not only provide aesthetic benefits but also treat skin concerns and improve skin health.
The rise of skinification coincides with the democratization of educational content on social media apps, especially TikTok. As inflation and rising costs of living pressure U.S. consumers in 2023, skinification is becoming a key tool in value creation strategies.
"The Skinification of Beauty," an exclusive briefing from Euromonitor's Olivia Stelmaszczyk, will provide insights and innovation opportunities for brands and their innovation partners in skin care, hair care, color cosmetics and beyond. 
5. What brands can learn from the latest search & TikTok data
TikTok has more than 1 billion monthly active users, 150 million of which are in the United States. Eighty percent of the platform's users are younger than 40. For these reasons, TikTok has been the go-to space for beauty brands seeking to connect with Gen Z and millennial consumers.
At the same time, online searches continue to be the go-to way shoppers across generations research ingredients, products and trends, often migrating social media interest to online queries.
"Top Growth Trends Beauty in Social & Search," an exclusive briefing from Spate co-founder Yarden Horwitz, will review the latest search and social media data (particularly TikTok), highlighting growth opportunities across product categories, including hair, skin and color cosmetic innovation.
Attendees will come away with new insights to fuel business planning, marketing and product development.
Horwitz recently explained how search and social platforms reflect consumer mindsets:
Trends tend to fall within one of the following categories:
big on search, low views on TikTok;
small on search, significant views on TikTok;
big on search, big on TikTok;
small on search, small on TikTok.
We like to look at these trends as follows:
Trends that are big on search show that there is consumer intent to purchase or engage with a trend. If these trends have low views on TikTok, there's an opportunity for brands to seize on this opportunity by creating content to establish themselves as a trend leader with a specific audience.
Trends that are big on TikTok but small on search are significant for content visibility but may not be reliable for development or marketing campaigns beyond social media.