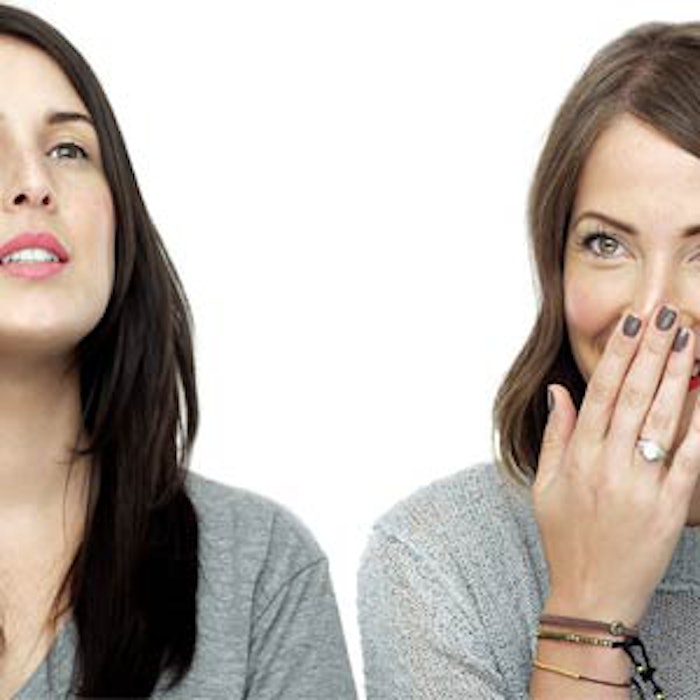 Not subscribed? Sign up here for your free Global Cosmetic Industry subscription.
Stowaway Cosmetics founders Julie Fredrickson and Chelsa Crowley based their brand on a simple concept: conventional makeup products are too large to carry and too big to finish before they expire.
Cosmetics' Planned Obsolescence
These "oversized" products, in their view, are poorly designed for consumers' on-the-go lifestyles and force them to throw out unused portions or, out of financial guilt, use expired makeup, creating a frustrating, dangerous situation.
Crowley and Fredrickson recognized that this "planned obsolescence" and waste of product created an opportunity for Stowaway. People want value, Fredrickson tells GCI, as well as products that fit in their lives. Conventional cosmetics simply weren't fitting the bill.
Stowaway combines Fredrickson's technology, ecommerce and retailing experience with Crowley's makeup artist background. Making smaller products is a strong brand proposition, Fredrickson notes, and so Stowaway set about creating makeup products consumers could carry and finish.
Large cosmetic firms focus on novelty and have little motivation to downsize their products, says Crowley, particularly as the cost of goods for a larger size is essentially the same as for small. Yet, says Fredrickson, three quarters of consumers don't finish all of their makeup products.
In this sense, bigger is not better, nor does it deliver additional value to the consumer. To make Stowaway successful, Fredrickson and Crowley needed to crack the "replenish code."
Stowaway's research found that 80% of women were hanging onto expired makeup out of a sense of guilt over wasting money. These women were getting less efficacy out of old products and putting their health in danger.
The Dangers and Drivers of Super-sized Products
A recent study led by Dr. Paul Matewele of London Metropolitan University at the request of retailer Escentual.com found that expired cosmetics could contain a range of potentially harmful bacteria.
As Stowaway notes, more than 80% of women keep cosmetics past their expiration dates, despite a loss of efficacy, out of a desire not to waste money or be caught without needed product. The insight comes from research conducted by Poshly and Stowaway.
According to the research, the vast majority of women between 25 and 50 often do not finish their makeup, particularly eye products, which raises some rather obvious safety concerns. Purchase patterns play a role, according to the research.
While consumers may own 40 products, they may use and carry just five each day, representing an eight-fold excess of products. The conclusion, per Stowaway: "traditional cosmetics companies aren't manufacturing sizes that are designed to be finished."
Right-sizing Products
While conglomerates might be too big to pivot, Stowaway was in a position to change the model by creating a line of products that were half the size and price of conventional makeup. The brand's current range includes Radiant Complexion Beauty Balm, Creaseless Concealer, Cheek & Lip Rouge, Creme Lipstick, Effortless Eyeliner, Extreme Lash Mascara and Defined Lash Mascara. Stowaway also offers a kit—"your little black dress of beauty"—that includes a mix of products.
These products prevent loss of product through expiration, alleviating consumer guilt over waste. Fredrickson and Crowley point to brands such as Warby Parker eyeglasses, which previously proved that lesser cost shouldn't necessitate a worse product.
The Replenishment Code
Fredrickson believes that companies that don't change will suffer in the long run. This is a difficult challenge for large, highly consolidated brands. But by changing the distribution strategy, Fredrickson believes Stowaway can successfully change the cost-to-market structure.
The brand is harnessing a more direct relationship with its consumers via its online sales structure. This allows Stowaway to achieve a broad reach, to have direct access to its customer relationship management (CRM) data and to control the price of its products.
And, because Stowaway's products are small, it's easier to prompt consumer reorders. Crowley says that the brand's early adopters have already replenished, with 20% of customers returning for repurchase.
To ease this process, Stowaway has introduced a subscription plan that is customized according to feedback from a quiz that asks customers about preferences and habits. The current subscription plans include All About Eyes, Complete Solution and Complexion Perfection.
Crowley and Fredrickson say their model allows them to hear directly from consumers and to apply those insights to future product development.
Refining the Message
Crowley and Fredrickson count Marc Ecko, the fashion designer and founder/chief brand officer of Complex Media, as a mentor. As Stowaway was being conceived, Ecko urged the founders to focus on the size of products in their brand messaging.
"No one is as interested in your brand as you are," says Fredrickson. As a result, she says, it was important to keep the brand simple so that its concept would come across quickly and easily—particularly in the online channel. Over time, Stowaway was able to expand its messaging focus to waste, safety and the ingredients they can avoid as a result of not requiring long shelf lives.
Fredrickson says it's important to not be afraid to make some mistakes along the way. Crowley agrees, adding that it's important to be flexible in one's thinking and to be able to change quickly: "You think you know who your customer is, but you don't find out for sure until she comes to you."