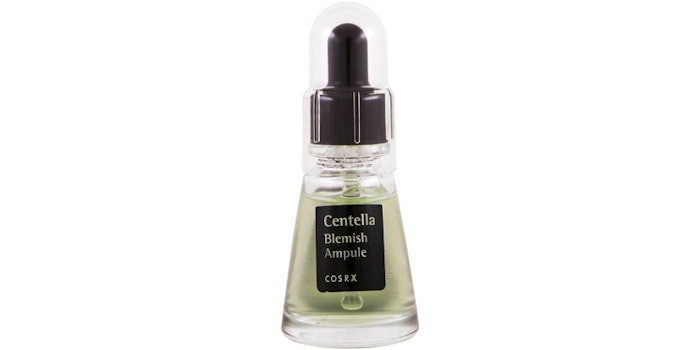 Centella Blemish Ampule Serum from COSRX was developed to provide a calming and soothing solution to address problem areas and alleviate stressed skin. Infused with natural Centella Asiatica extract, the product is said to help control sebum production while replenishing moisture. Its purifying properties aim to decongest clogged pores and protect against stress and irritation.
The serum is designed to strike a balance between skin moisture and oil, and reduce the signs of redness associated with spots. As a result, skin is said to look healthier, and feel more comfortable and refined. This column will review the ingredient listing for claims substantiation and functionality.
Water Base
This formula is based on Centella leaf water and extract, an antioxidant-rich source of amino acids with skin-soothing properties. Centella asiatica, known as Gotu kola, is a medicinal plant with active compounds including pentacyclic triterpenes; mainly asiaticoside, madecasosside, asiatic acid and madecassic acid.
The plant extract is effective for improving the treatment of small and hypertrophic wounds, as well as burns and psoriasis. The mechanisms of action involve promoting fibroblast proliferation; increasing the synthesis of collagen and intracellular fibronectin content; improving the tensile strength of newly formed skin; and inhibiting the inflammatory phase of hypertrophic scars and keloids.
Conditioners and Other Ingredients
Butylene glycol and 1,2-hexanediol are used as solvents with conditioning properties, and both glycerin and betaine serve as humectants. PEG-60 hydrogenated castor oil is a surfactant and solubilizing agent; carbomer assists in gel formation; and hydroxyethylcellulose is a thickening agent.
Allantoin serves as a skin-soothing agent. Sodium hyaluronate is a hygroscopic macromolecule, used to ensure hydration. Arginine is an amino acid and conditioning agent. Finally, the chlorophyllin-copper complex controls odor and helps wounds to heal by slowing the growth of anaerobic bacteria on the skin.
Conclusions
In my view, the ingredients in the formulation support the claims for calming and soothing stressed skin—more so than reported effects on sebum. Clinically, the product's soothing benefits are likely due to hydration and the modulation of inflammation.
Ingredients: Centella Asiatica Leaf Water, Butylene Glycol, Glycerin, Betaine,1,2-Hexanediol, Allantoin, Sodium Hyaluronate, Centella Asiatica Extract, Arginine, PEG-60 Hydrogenated Castor Oil, Chlorophyllin-Copper Complex, Carbomer, Hydroxyethylcellulose
Source: http://cosrx.kr/product_020.html