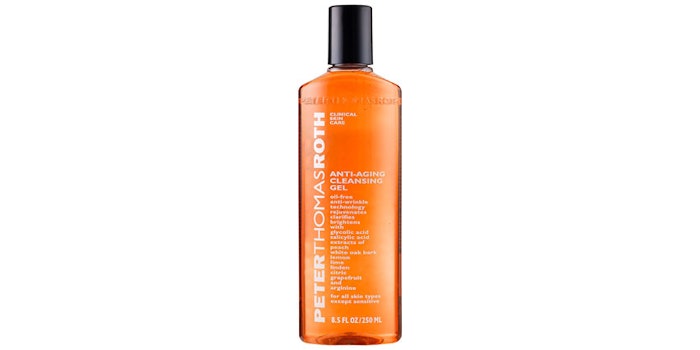 Peter Thomas Roth's Anti-aging Cleansing Gel was created to clean and refresh the face for a beautiful, youthful-looking appearance. It is designed to cleanse pores, emulsify skin sebum and improve skin texture as it gently sweeps away dead cells and impurities that can dull the complexion. This action helps to increase cell turnover and diminish fine lines, wrinkles and other signs of aging. 
Glycolic and salicylic acids, along with brightening botanicals, exfoliate and clarify the skin, leaving it clean, refined and revitalized. The gel is recommended for most skin types, except sensitive. 
Users are instructed: apply a small amount of gel over moistened skin using the fingertips. Work into a foamy lather, massage gently for one minute and rinse thoroughly. For combination, oily and acne-prone skin, use as needed. For normal and dry skin, start with two or three applications per week, gradually increasing.
This column will review the ingredient listing for claims substantiation and functionality.
Water Base
The cleanser is a water-based system with the solvent propylene glycol and a surfactant system comprised of: ammonium lauryl sulfate, ammonium laureth sulfate, cocamidopropyl betaine and cetearyl polyglucoside. Cocamide DEA is a surfactant and a foam stabilizer.
Actives and Extracts
Alpha and beta hydroxy salicylic acids act as anti-inflammatory keratinolytics, and research supports their anti-hyperpigmentation and anti-acne activity.1, 2 Peach extract has shown some efficacy in modulating UV-induced epidermal thickening and inflammation in animal models.3 Also, white oak bark extract demonstrates antimicrobial properties.4
Arginine is an amino acid and conditioning agent, and allantoin and panthenol are skin-soothing agents. Extracts in the formula include lemon, lime, linden flower and grapefruit; citrus bioflavonoids are antioxidants and have been shown capable of modulating inflammation with protective effect against UV-induced damage.5
Additional Ingredients
The cleanser is preserved by methylparaben and colored by the formulation dyes Red #40 and Yellow #5. The cleanser contains fragrance and the antistatic salt quaternium-15.
Conclusions
In my view, the ingredients in this formula support the claims for exfoliating corneocytes, removing sebum, refreshing and clarifying the skin, and subsequent improvement in skin texture. The anti-aging effect on lines and wrinkles derived from a wash-off product may not be as significant. Importantly, as advised, this cleanser is not for sensitive skin types.
Ingredients: Water (aqua), Ammonium Lauryl Sulfate, Ammonium Laureth Sulfate, Cocamidopropyl Betaine, Cocamide DEA, Cetyl Polyglucoside, Propylene Glycol, Glycolic Acid, Arginine, Salicylic Acid, Peach Extract, White Oak Bark Extract, Lemon Extract, Lime Extract, Linden Flower Extract, Grapefruit Extract, Allantoin, Panthenol, Citrus Bioflavonoids, Methylparaben, Red #40, Yellow #5, Fragrance (parfum), Quaternium-15
Source: peterthomasroth.com/anti-aging-cleansing-gel-1011815.html
References