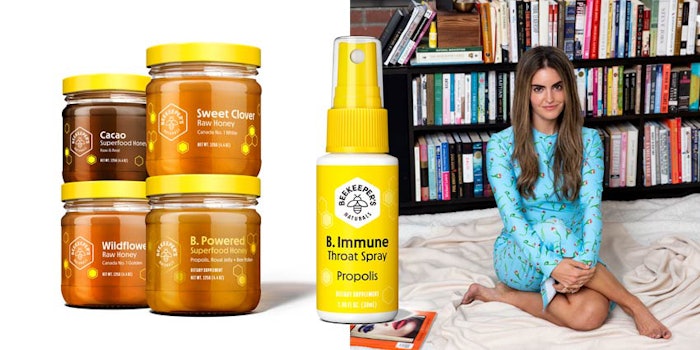 Beekeeper's Naturals has tapped immunity boosting bee propolis to propel its wellness product range. As Google data showed early in the pandemic, consumers have become increasingly focused on solutions that supercharge their immune systems.
Recently, the brand introduced a selection of products just in time for flu season. Products include the B.Immune Throat Spray ($13.99), featuring propolis and antioxidants; the Better Cough Syrup ($14.99), designed to be taken four times a day; Powered Superfood Honey ($39.99), which is claimed to strengthen the skin's moisture barrier and support collagen production; and the Soothed Honey Lozenges ($9.99) to address dry, scratchy throats.
Report: Beauty Ingestibles During a Pandemic
We asked Beekeeper's Naturals founder and CEO Carly Stein about how the brand has fared in the last 12-plus months, as well as what's next for the brand.
Which products have resonated most with consumers during the pandemic?
Stein: B.Immune Propolis Throat Spray has always been our hero product, but during the pandemic, we saw even more customers reach for B.Immune as a simple, daily way to support their immune systems.
Propolis acts as the immune system of the beehive with antioxidants and vitamins including vitamin C, iron, zinc and B vitamins. It's been used across cultures to help people keep their immune systems strong.
How have purchase behaviors shifted in the last 18 months?
Stein: In the last 18 months, we've seen people prioritize their immune health above all else. A number of expert voices have called out propolis as a key immune-supporting tool during the pandemic, and that generated a lot of buzz and curiosity about our favorite bee ingredient.
Our customers have also reached out to us and asked for more education about how the immune system works. With the help of our Scientific Advisory Board, we've really been able to have an ongoing conversation with our customers about how important it is to care for your immune system every single day.  
During the pandemic, we also launched a 50% off deal for all frontline workers, so they could feel like they were truly supporting their bodies while they were doing such important work. Many of them have now become longtime customers of ours, and having them in our community has been invaluable.  
How important are immunity-boosting claims to the resonance of your brand?
Stein: Incredibly important! Our hero product, B.Immune Propolis Throat Spray, supports everyday immune health. It's important to us to not just use immunity buzzwords, but to actually make sure our community understands the science behind these products.
For example: propolis contains vitamins and minerals, including quercetin and acacetin: flavonoids that may provide support during allergy season. Propolis is considered an immunomodulatory agent, that may also inhibit histamine release.
Propolis is a powerful antimicrobial, which is why the bees use it to protect their hive from germs. It has been shown to kill some bacteria, fungi and viruses.
We also constantly communicate to our customers that immune health is intertwined with holistic health, including how we sleep, eat, move, and mitigate stress. In a world that's constantly asking more of you, propolis is one easy, natural, effective way to lend your immune system a hand.
Looking ahead, are there areas/consumer needs you will be focused on for future launches?
Stein: The human body is home to 11 major systems. So far, we've created products designed to support a handful of them—including the immune system, respiratory system and nervous system. In the (very!) near future, we're launching a product that will expand our reach into a new bodily system ... and we have a gut feeling that you're going to love it.