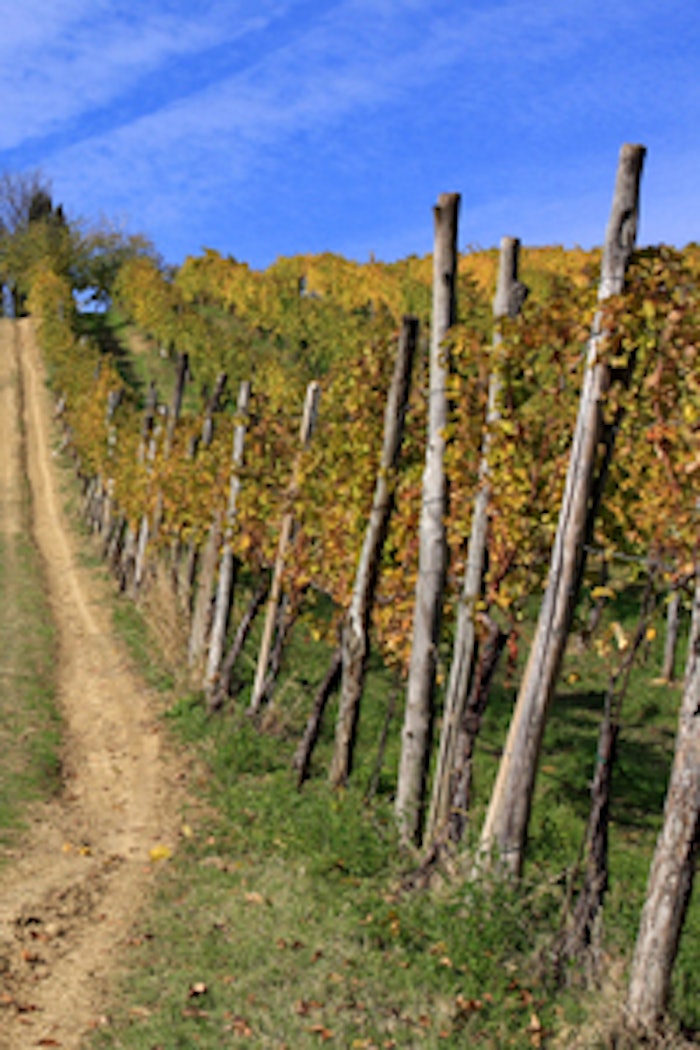 Winemakers from the rolling hills of Faenza, Italy, to the vineyards of California's Napa Valley, have ties to their land as deeply rooted as the bonds of family. The generational craft of nurturing grape vines, harvesting and fermenting their juices, has spurred business savvy—personal care lines recycling the grapes used in wines. But the ever-expanding, wine-inspired beauty trend, largely supported by the benefits of grape seed oil, spans further than niche skin care brands. It has also broken into the cosmetics arena, hair care and spa markets.
'Wholly' Grapes
Lydia Mondavi, principal of 29 Cosmetics, produced in the Napa Valley by 29 Luxury Goods, married into the historic wine-producing Robert Mondavi family before finding inspiration to launch her luxury cosmetics line exclusively to Neiman Marcus department stores. Six thousand miles away, Loretta Magnani honored a similar family tradition. She founded Silvi '59 in remembrance of her mother, who opened the Italian beauty boutique Silvana Profumeri in 1959. As passionate about wine as her grandfather, who worked in a Sangiovese vineyard for the Bishop of Faenza, Magnani to this day uses the red grapes of the region for her skin care line.
"I remember my grandfather saying that the polyphenols in grape seeds have incredible properties. They make life longer and healthy," says Magnani, whose grandfather lived to be almost 100. "Grape seed extract is known as a powerful antioxidant that protects the body from premature aging, disease and decay."
But other parts of the grape, not just its seeds, are becoming popular main ingredients in personal care brands. Mondavi recycles every part of the grape from the moment the seeds are pressed and removed from the winery. She even swears by grape seed supplements in her diet, which she says protect against environmental toxins and free radicals. "We use crushed grape seeds, grape seed extract and grape seed oil," Mondavi tells GCI magazine during the 29 Cosmetics launch in April 2008 at Oak Brook, Illinois' Neiman Marcus. "We also use the pomace and the grape skins in spa treatments, and stems get turned into mulch."
Caudalie, the company that started the grape-based skin care trend, circa 1993, claims nearly every part of the grape can be used in personal care products. According to its Web site (www.caudalie.com), grape pulp provides water rich with oligoelements, the seeds contain antioxidant polyphenols and oil, and the stalks and stems contain resveratrol, an antioxidant that stimulates cell growth and is found in the skin of red grapes.
Wine and the Family Appeal
"Formulation in making wine and making cosmetics is very similar in that they are both luxury products requiring much dedication, perfection and quality," says Mondavi, who, along with her wine connoisseur husband, Rob Mondavi, co-produces an old vine zinfandel for Medusa Wines and petite syrah, chardonnay and cabernet through Spellbound Wines' label. "We utilize the grape seeds from the wine-making process to create the 29 collection as a grape seed age protecting line," she says.
Mondavi, who worked in the skin care industry for 13 years, noticed the need for a cosmetics line with grape seed extract as the main ingredient. In 2007, after more than four years of formulation, she and her family launched 29 Cosmetics. The line is manufactured in Italy, and the finished goods are shipped by boat to their warehouse in Georgia, where Mondavi's stepfather, Arthur Wilbanks, handles shipping, receiving and logistics. Continuing the family affair, Mondavi's grandmother, Stella Abernathy, handles quality control, bar-coding, gifts, press and marketing sets. But most instrumental in the marketing front for the cosmetics line is Mondavi's mother, Anita Wilbanks, who developed the design of the tester units and appears beside Mondavi at each Neiman Marcus brand launch. "Anita and I spend every day in store with the sales associates, product specialists and clients, showing the features, advantages and benefits of each product," Mondavi says. "We love getting to know the stores, the demographic areas and the clients." Rob Mondavi even makes appearances during the monthly launch events, co-hosting with his own wine tastings.
The success of the brand sparked the creation of this year's 29 skin care and body care collections, as well as the 29 amenity collection in the hotel rooms at the newly opened Mansion on Peachtree, A Rosewood Hotel & Residence in Atlanta. But Mondavi's cosmetics line is what started it all. "Our Napa Mist is one of our best sellers; it replenishes the skin with rose water and grape seed extract," Mondavi says, noting that First Crush Lip Exfoliation Treatment, used in combination with Wine Blot (moisturizer with SPF 15) and Hint of Honey (glittery balm), make up clients' most popular uses of her products.
Mondavi recognized the importance of quality product presentation on the store floor, so before approaching Neiman Marcus as a distributor, she asked architect Caroline Rolader to render watercolor drawings and mock-ups for the design of the line. The 29 Cosmetics demographic is the luxury client who travels often, so each Neiman Marcus counter selling the brand features a charming, old-world steamer trunk display of the products. "We wanted a feminine look with luxury and elegance with a contemporary, clean and modern feel," says Mondavi. "We created many of the color palettes inspired by the Napa Valley. The company is based in Napa, my home is in Napa and the creation of the brand with the grape seeds came from Napa."
The trick to performance value of the Napa-born grape seed extracts and oils in the cosmetics, Mondavi says, is a triple-milled formula that enhances the photographic quality and performance of the makeup. Neiman Marcus models have already worn the 29 Cosmetics line in numerous runway shows. However, the grape seeds' oils and extracts aren't the only ingredients contributing to the products' performance. Mondavi also combines her products with vitamins C and E, as well as sunscreen, to further protect skin against free radical damage.
Complementary Ingredients
According to Wayne Beckley, founder and president of Merlot Skin Care, combining red grape seed extracts with peptides such as argireline and matriyl 3000 helped to stabilize his products, maintaining a pH level of 6.2–7.2. When he discovered the high antioxidant quality of grapes, Beckley quickly transitioned from his background in chemistry into the mass drugstore skin care arena, formulating his own products and utilizing contract fillers to bring his formulations to market in El Paso, Texas. Beckley launched Merlot Skin Care, named after the red wine he says his research determined "women love most," to five Walgreens drugstores. Since 2001, his business has boomed, landing the line in 6,000 Walgreens stores, in GNC stores and in Ulta shops.
Another relatively small business with growing global sales, Silvi '59, has determined additional ingredients to complement grapes. Magnani uses sea collagen, aloe vera and other materials in her line, which are certified and microbiologically tested by her manufacturing partner. Magnani says she chose the contractor, located in Varese, because it is only two of approximately 100 medium-sized Italian cosmetic production facilities with an internal R&D facility.
"Apart from grape seeds, grape skins and grape leaf extracts, Silvi '59 creams contain natural ingredients such as sage, lavender, mallow extracts, rosa moschata oil, shea butter, calendula, olive oil, helichrysum, sweet almond oil, camomile, liquorice, witch hazel, rosemary, chitosan, avocado oil, peppermint and even precious stones high in microelements (rhodochrosite and malachite extracts)," Magnani says. In addition, some of Silvi '59 creams contain alpha hydroxy acids (AHAs) for exfoliation and moisturize. "Since delicate skins can be sensitive to AHAs, we have decided to use only three of those acids," Magnani adds. "We mixed them with the extract of camellia, which has an antioxidant and soothing effect. The pH of our creams is 4.5/5; healthy skin has an acid value of between 4.5 and 5.9."
Small Brand Advantages
With product lines such as Silvi '59 and Merlot Skin Care having properties that even sensitive skin can enjoy, brand loyalty remains high. In fact, Beckley reports that Merlot Skin Care has a 95% return consumer rate. The newest Merlot Skin Care product, a grape seed-based peel-off facial mask, released in summer 2008, sold out during its first run. "The mask developed as a result of finding a distinct need/void in the marketplace," he says. However, Beckley didn't use a major marketing campaign to get the word out. Instead, he and his team utilized drugstore promotions. He began giving Walgreens pamphlets about his products and samples to hand out, as well as videos for in-store TV sets. "We want consumers to try our products," Beckley says. Apparently, he says the high cost of sampling has been worth it.
Appealing to a mass retail and drugstore consumer, ages 18 and up, Beckley also began marketing to them online, via banner ads on Web sites for magazines such as Martha Stewart Living. As for leading a small business, he couldn't be happier at his success thus far. "You can move fast as a small-business owner," Beckley says. "Big brands such as P&G don't have that luxury due to their chain of command. It can take two years for them to get a product idea into formulation."
Beckley believes the best way for bigger companies to stay ahead is through acquisitions of smaller companies such as his own. However, he notes that small business owners have to try twice as hard to stay ahead of trends. He stays innovative by shopping in Ulta and Sephora stores, networking, attending trade shows for packaging and product ideas and speaking with Walgreens' cosmeticians firsthand.
Big Brands and More Luxury Lines
Whereas smaller companies take advantage of quick turnaround times for new products, enabling them to launch full grape-based lines faster, bigger brands such as Christian Dior don't rely wholly on their grape-based lines; rather, they sell them in conjunction with other popular lines. For instance, one of Dior's many lines, L'Or de Vie, features luxury antiaging skin creams and serums produced from the extracts of white wine vines, sourced from LVMH's prestigious Château d'Yquem. Similarly, L'Occitane launched Grape Body Care line, partially enriched with black muscat grape juices from Provence, France. In addition, Carlo Mondavi, the grandson of wine-making icon Robert Mondavi, co-founded Davi Skin, a luxury grape-based skin care line, in 2004. The Davi Skin line features products for men and women and is sold online through Bergdorf Goodman in New York and several country clubs and hotels.
Grape Seeds Expand into Hair Care Arena
Although the majority of brands touting grapes as a main ingredient can be found in the luxury and mass retail skin care arenas, hair care is another point of entry for brands. Garnier Nutrisse has combined grape seed and avocado oil into a permanent hair color cream, endorsed by Sarah Jessica Parker. Also in the mass market, Organix launched a specialty line in 2008, featuring Reviving White Tea Grapeseed Shampoo and Conditioner.
"We created the Organix brand with an emphasis on 'good for you' ingredients," says Organix representative Ross Reback, executive vice president, Vogue International. "As we've expanded the portfolio of products, we researched a variety of ingredients that would allow us to remain consistent with this philosophy. We undertook the opportunity of creating an exclusive flavor of shampoo and conditioner for Walgreens and remained committed to thinking outside the box for ingredients that would provide benefits to the consumer and at the same time would be unique and distinctive to the hair care category. Our research of ingredients led us to grape seed oil, as it fit with not only our overall philosophy, but also in our desire to create a reviving segment of shampoo and conditioner.
"We use a combination of oil from red and green grape seeds, which we found provided the benefits that we were seeking," Reback continues. "Although we researched grape seed oil from many regions, we elected to use grape seed oil from Italy. Because of their abundance of production, it provided better source pricing for our product. We had also considered sources from Spain, Italy, France and Argentina, as well. We combined grape seed oil with white tea, because in addition to the regenerative and restructuring qualities of grape seed oil, we desired a natural ingredient that was a potent antioxidant and had antibacterial and antiviral qualities. We also added whipped yogurt proteins to help smooth and nourish the hair."
With growing market success in the hair care arena, skin care brands such as Silvi '59 are also considering the creation of hair care lines. "During 2007, we created new business assets, organization, coordination and affiliation to other companies, transformation and growth," says Magnani. "Our mission for 2008 is to give birth to new lines of our products such as facial and body masks. I also would like to create a line for hair care with shampoo and conditioner."
Spas Take Notice
In the grape-infused hair care market, retail lines are beginning to flourish, attracting holistic day spas and salons to the concept. However, the point of entry for spas and salons differs, instead stemming from specialized skin care lines and cosmetic treatments utilizing winemaking materials, known as "vinotherapy." The Body Restoration Spa in Philadelphia, for example, discusses on its Web site (www.bodyrest.com), its partnership with Chaddsford Winery. The spa uses the winery's grapes and other by-products in moisturizing and exfoliating spa scrubs. Dehydrating the mixtures and adding other ingredients for panache, a fine grape paste becomes the Crushed Chianti Scrub for shedding dead skin cells and stimulating cell growth. In addition, the spa offers D'vine, a wine-based skin care line, to customers, and lavish treatments such as the 90-minute Chardonnay Massage, with grape seed oil. Medical spas also carry wine-based skin care. The D'Vine Medical Spa by Mauer, located in Waterloo, Iowa, focuses on noninvasive treatments, including a signature facial derived from D'Vine vinotherapy products. "Forefather" Caudalie even expanded its line to vinotherapy spas around the globe, including treatments such as the popular Red Vine Bath for young mothers, said to "help regain the silhouette you had before pregnancy," according to its Web site.
Business Potential
Even for a relatively small skin care company such as Silvi '59, the growth potential for the wine-based beauty market is extraordinary. "Our company's current structure is capable of €350,000. We are still a small company in the big panorama of the Italian cosmetics and body care manufacturers, but our results are excellent," president Magnani says. "In 2005 and 2006, our company realized respectively a 23.81% and 44% ROE (return on equity), a 8.45% and 26.6% ROI (return on investments), a 4.59% and 13.82% ROS (return on sales). These increasing results have encouraged our small company to build a new project of innovation and specialization."
With Magnani's husband taking care of the administrative side for Silvi '59 and her son handling the marketing side, the company has little overhead cost and can spend more money on quality products. "I have always wanted to create a product for those customers still looking for the homemade and genuine product," Magnani says. "We don't promise eternal youth but just the benefits of some healthy plants well-known and transmitted from our progenitors."