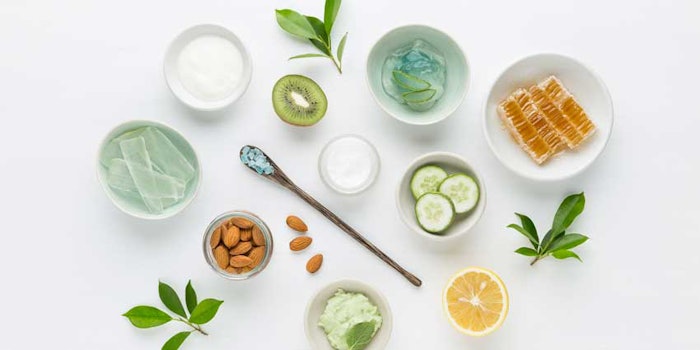 From regional ingredient concerns to the emerging ingredients ready to take the beauty industry by storm, these are the biggest ingredient trends of 2019. 
1. Online search evolves
Consumers have an unprecedented desire to know more about beauty, said Google's Flynn Matthews. The numbers bear this out. In 2018, there were 40 billion beauty-related searches on Google in the United States, France, Spain and Japan. The United States alone contributed 23 billion of those searches.
The anatomy of an ingredient search is complex. Matthews noted that naturals-related searches cropped up in 2016, followed by cultural searches such as K-beauty in 2017; 2018 was all about naturals again.
Matthews explained that new or trending ingredients tend to follow a fairly standard path. First, consumers search generically (ex: rice water), then expand to how-tos (ex: DIY rice water skin care), then product-related queries (ex: rice water face masks), followed by searches for best products and specific applications (ex: rice water for dry skin).
Matthews said that a mature category will then be dominated by searches for specific brands, with a notable decline of DIY and generic searches.
2. Consumer expectations: conventional vs natural/organic ingredients
Consumer searches for ingredients have grown, but they have also changed, illustrating the typical evolution of beauty search.
Matthews noted that U.S. natural beauty searches totaled 45 million last year, with 20 million dedicated to organic.
Notably, searches for specific ingredients reached 1 billion in the same period, with 600 million natural searches and 400 million conventional ingredient searches.
Searches in the conventional and natural ingredient space vary significantly, said Matthews. For instance, searches for ingredient benefit are overwhelmingly targeted toward naturals, while conventional ingredients barely register. However. When it comes to side effects, conventional ingredient searches dominate. Naturals and conventional ingredients register equally in efficacy related searches.
Top efficacy related questions include vitamins C/E and vitamin serums; Botox before and afters and costs; retinol formats and before and afters; and zinc, particularly in relation to niacinamide and acne.
3. Natural vs natural-containing
Karen Wolfe of Nielsen noted that consumers increasingly demand products that promise wholly natural formulations. While the overall U.S. natural beauty product space slowed in growth in 2018, wholly natural products rose 7%, compared to natural-containing products, which climbed just 3.9% year-over-year.
4. Regional ingredient concerns
According to Matthews, top 2018 beauty ingredient safety searches included sulfate, aluminum, parabens, silicone and alcohol (alcohol-free). She cautioned that search increases are not always negative indicators. For instance, if new evidence affirming an ingredient's safety is publicized, safety-related searches of that material are likely to rise.
She added that just because consumers are concerned doesn't mean ingredient worries cannot be addressed successfully with clear communication, transparency and claims substantiation.
Matthews noted that not all markets focus on the same ingredient concerns. For instance, Keratin and talc are of particular concern to Indian shoppers, while endocrine disrupters and sulfur dominate French concerns. For the United States, gluten and oxybenzone lead the way.
Matthews added that while concerns are regional they can spread, so a global awareness is critical for keeping ahead of consumer worries.
5. Free-from: "what's out is in"
What's not in a product is as important as what's in, said Google's Matthews. Nielsen data presented by Karen Wolfe backs this up. "Free-from artificial fragrance" brand dollar sales rose 2% in 2018, compared to 0.1% for the total personal care sector, according to the company, and now represent about 28.2% of the total market.
However, the latest update to the EU's EC No. 655/2013 regulation now prohibits free-from claims as of July 1, 2019.
The latest annex prohibits the use of free-from claims for ingredients prohibited by the EU Cosmetics Regulation (e.g., heavy metals), for formulations that are merely in compliance with the law, for ingredients that aren't supposed to be present in the product, for products that leverage an ingredient for specific attributes (e.g., preservation or fragrance) without claiming those attributes (e.g., an aromatic material not claimed as a fragrance) unless that attribute is a side function of the general ingredient family; or for ingredients/ingredient families that are legally used.
There are instances where free-from claims will be allowed, including designations for vegan products (free-from animal-derived products).
6. Humane-certified formulations
Following gains by Cruelty Free International and allied brands, humane-certified brands grew 19% in 2018, accounting for 4.3% of the market, per Nielsen data.
7. Distinctive naturals
To the consumer, natural ingredients are a given, said Wolfe. At the same time, top brands have underleveraged novel naturals. Wolfe noted that in order for these brands to introduce something new, they must first offer a clear description of what benefits the ingredient offers.
Presenters at the CEW event cited a number of recently popular materials, including new and classic ingredients.
Turmeric: This isn't a new ingredient to the beauty space, but in 2018 it garnered 7.5 million beauty-related searches, more than trendy CBD, according to Google data.
Rice water: Another ingredient that has migrated from the food and beverage space, rice water spiked in 2018, with 300,000 beauty-related searches on Google. It's too early to determine whether this will be sustained, but the material is certainly hot at the moment.
Witch hazel: What's old is new again. Witch hazel, a wellness standby, has been trending in the United States, particularly in alcohol-free products.
Tamanu: The oil derived from the seeds of this fruit have been trending in France, according to Google data. The material is closely associated with skin care.
Onion seed: This traditional material has been trending in India, according to Google data. The material is associated with hair growth claims in some marketing.
Tulsi: Known as holy basil, this ingredient is associated with de-stressing and is trending in India, per Google data.
Coffee/espresso: Sales for products touting java-inspired materials rose 71% in 2018, per Nielsen data.
Avocado oil: Brands featuring this ingredient experienced dollar sales gains of 45% in 2018, per Nielsen data.
Lavender: Nielsen's Wolfe explained that lavender, a legacy ingredient, is beginning to shift in the marketplace. Dollar growth for lavender-touting products totaled 4% in 2018, with artificial lavender scents dropping 4% and natural lavender scents rising 13% in the period. Dollar sales grew 11%, representing 1.7% of the market.
8. Natural functionals
Standbys such as castor oil, aloe and tea tree oil continue in popularity, according to Google data. Matthews noted that tea tree has matured in acne treatment but is under-leveraged in skin care. Aloe, meanwhile, is underrepresented in hair care, another potential opportunity.
9. Emerging star ingredients
Creatine: Sales of creatine-touting beauty brands grew 4,836% in 2018 (from a low base), per Nielsen data.
Arginine: Brand sales featuring arginine rose 720% in 2018, per Nielsen data.
Probiotics: It's no surprise that probiotic brands grew 355% in 2018. Probiotics have high credibility and are considered high-need, per Nielsen data.