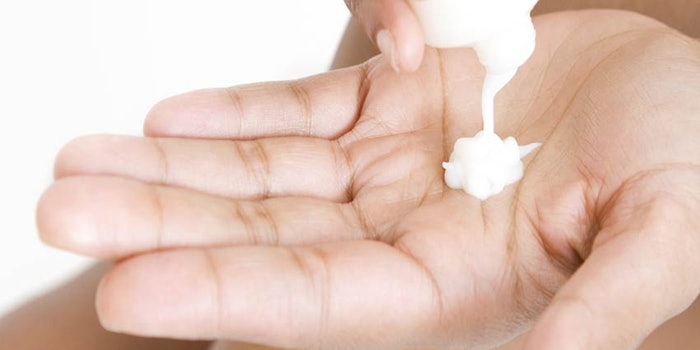 Sensorial ingredients heighten the consumer experience, creating new ways to differentiate products and brands through touch, texture, and cooling and heating sensations.
During a press briefing at in-cosmetics Global, Evonik presented a range of highly sensorial demo formulations, including a cream that breaks out in milky droplets upon contact with the skin, creating a silky, light texture.
The company's Caring Oil Release Cream demo comprised 70% oil phase, while its Magic Touch Snowball aerosol spray lotion system that created a foam that imparted a silky after-feel and cooling effect.
Lucas Meyer/IFF presented Lecigel, a gelling-emulsifying agent that can provide a supple and slippery texture, cool skin feel and quick break effect upon application. The supplier displayed the ingredient in an anti-pollution micellar gel, anti-aging nutritive cream, cooling gel cream, gel-to-milk formulation, whipped butter skin care and in an active primer.
The material can be applied in face care, body care, sun care, makeup, hair care, baby care and men's care. Lucas Meyer/IFF claims that the ingredient is versatile, replacing four materials with one, thus simplifying brands' supply chains.
Chemyunion took the Silver in the Sensory Prize at in-cosmetics with its Emulfeel SGP CHI, a cold-processed texturant developed by Häagen-Dazs to reduce the fat content of ice cream without sacrificing on texture.
The technology, transferred to the beauty space, builds sensory from within by changing the oil phase and allows formulators to reduce overall ingredients by 44%, according to Chemyunion, thus supporting simplified formulations.
Innospec presented a range of concept formulations, including a Skin Drink Cooling Gel that featured Gelaid CPE and peppermint essential oil. The sprayable lotion broke out in a watery texture on the skin, creating a transparent gel that left the skin feeling fresh.
Symrise presented Thermolat, a substance that generates a warm feeling in skin care applications like creams, gels and masks. The ingredient kicks in within the first five minutes post application, according to the company, and continues performing for up to two hours. In addition to soothing benefits, Thermolat can signal to the consumer that the product is working.
In addition, a range of companies offered transformative products that heightened the product experience. For instance, Brenntag created a face cleansing powder that morphed into a foam, as well as a milky oil that turned into a lotion that offered moisturization without the greasy after-feel.
Meanwhile, IFF/Lucas Meyer's Lecigel and Heliofeel figured into a range of bouncy textures, while Vivistar CS 302 SV from J. Rettenmaier & Sohne figured significantly in a powder that morphed into a cleanser.