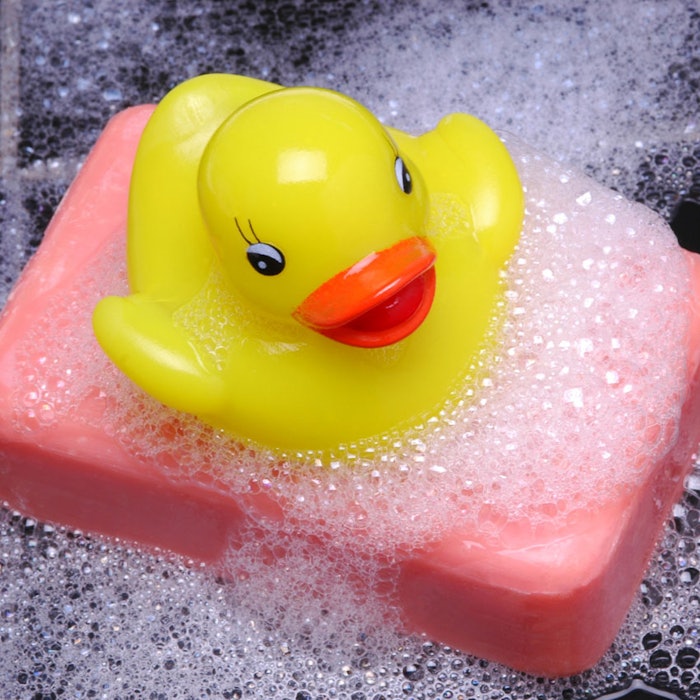 Grab the rubber duck and look into including Colonial Chemical, Inc.'s four latest ingredients for cleansing.
As a clear liquid betaine surfactant derived from natural fatty acids, ColaTeric CDB (INCI: Cetyl Betaine) serves as a mild, secondary surfactant, which can improve the viscosity response of sulfate-free and conventional anionic surfactant systems. Formulated for cold processing and easy handling, ColaTeric CDB can also be used as a primary surfactant, foam booster or static control agent. Additionally, the ingredient is compatible with anionic, nonionic and cationic surfactants. Applications include: shampoos and shower gels, bubble baths, baby products, hand soaps, facial cleansers, pet shampoos, hair conditions and cream rinses.
DEA-free mild pet shampoo concentrate, ColaDet BSC-ND (INCI: Sodium Laureth Sulfate and Disodium Oleamido-MEA Sulfosuccinate and Disodium Cocoamphodiacetate and Cocamidopropyl Betaine) can be economically formulated into marketable pet products that provide mildness, while offering foam and viscosity. All materials formulated with ColaDet BSC-ND are registered EPA inert ingredients used for disinfecting, sanitizing and flea and tick products for pets. With low irritation properties, this ingredient can also be included for mild cleansing products used for babies, children and adults with sensitive skin. Benefits include a thick and rich lather, mildness for skin and eyes and easily built viscosity.
A sulfate-free AHA cleanser concentrate, ColaDet EQ-20 (INCI: Sodium Laurylglucosides Hydroxypropylsulfonate and Sodium Cocoamphoacetate and Cocamidopropyl Hydroxysultaine) blends mild surfactants useful in formulations of alpha and beta-hydroxy acid cleansers. ColaDet EQ-20 contains surfactants that are hydrolytically stable under moderately acid conditions. Some key benefits include stability at a low pH, producing clear, mild skin cleansers, building viscosity and being a cold-mixable.
A naturally derived pearlizing concentrate designed to be free of sulfates, amides and ethylene oxide, SugaDet Pearl (INCI: Water (and) Glycol Distearate (and) Sodium Hydroxypropylphosphate Decylglucoside Crosspolymer (and) Cocamidopropyl Betaine (and) Sodium Stearoyl Lactylate) is a primary dispersant derived from a non-petroleum based renewable ingredient, alkyl polyglucoside. SugaDet Pearl can turn clear formulations to pearlized with cold mixing at 3-7 percent. This ingredient does not decrease foam or viscosity and holds stability after three cycles of freezing and thawing. It can be applied to bath gels, shampoos, liquid hand soaps, bath wash, bubble bath and cleansing products.