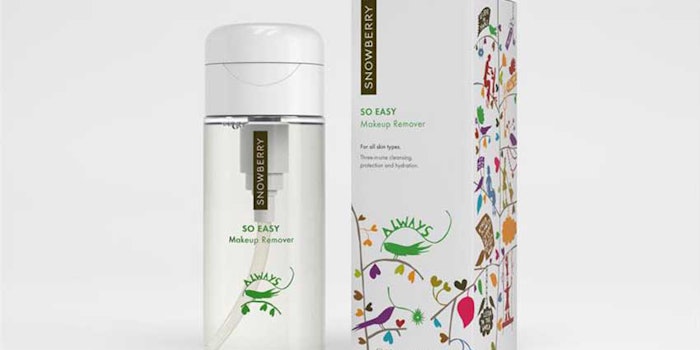 Snowberry New Zealand, reportedly the first carbon neutral brand in the country, has expanded its skin care brand to the US.
Snowberry created a system of natural, cruelty-free, almost vegan (with the exception of honey and cultured pearl) skin care products that contain a variety of skin benefits. The range includes a cleanser, toner, exfoliator, eye care, moisturizer, night care, serum, sun care and body care.
Spotlighted is the "So Easy" makeup remover that features the company's key ingredient Dermofeel (INCI: Polyglyceryl-6 Caprylate) and sodium hyaluronate to gently remove makeup from sensitive skin. The formulation contains no aggressive surfactants. It includes a soft, coconut-derived surfactant and kanuka honey extract, which is claimed to reduce redness and inflammation.

Snowberry reports each of its products are carboNZeroCert certified; i.e., the company's activities are measured and managed to be carbon neutral. In other words, any carbon the company produces at any given time is neutralized by mechanisms such as registered forest regeneration, which extracts the same quantity of carbon dioxide from the air.
The carboNZero program in New Zealand is the only accredited ISO14065 greenhouse gas verifier outside of the US and the world's first internationally accredited greenhouse gas certification scheme. This accreditation means that Snowberry can measure and report its carbon footprint with confidence that has been verified against a global standard and is accepted in 50 major world economies.

Ingredients (So Easy Makeup Remover): Water (Aqua), Polyglyceryl-6 Caprylate, Benzyl Alcohol, Disodium Cocoyl Glutamate, Xanthan Gum, Sodium Cocoyl Glutamate, Glycerine, Dehydroacetic Acid, Sodium Hyaluronate, Kunzea Ericoides Mel (Kanuka Honey) Extract.
For more information, visit the Snowberry New Zealand website.