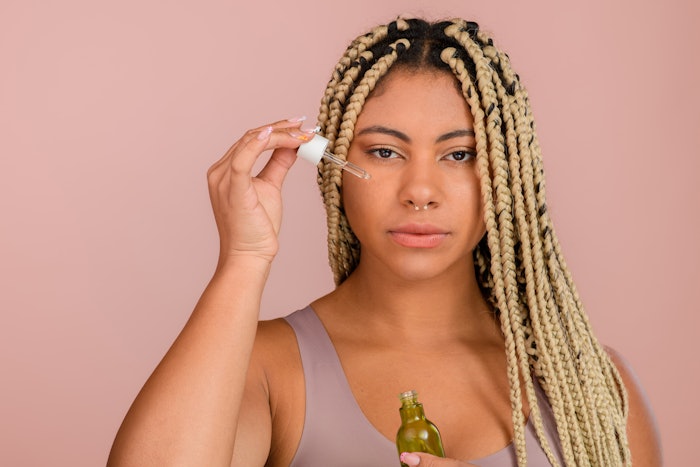 Lubrizol's oil-soluble Argireline YOUth peptide addresses the prejuvenation anti-aging concerns of younger consumers by slowing the onset of the signs of aging in a way that mimics botulinum toxin.
As Spate recently reported, younger consumers are increasingly exploring medical aesthetic procedures, as well as cosmetic products that offer similar results.
Argireline YOUth represents an alternative to the company's standard Argireline peptide, which was designed to smooth out wrinkles and now.
The new Argireline YOUth peptide benefits from the LipoClear inverse micelle delivery system, which allows for the creation of an oil soluble active ingredient. As a result, the new peptide can reportedly be expanded to new applications, including oil-based skin care, especially transparent serums, oils and sticks.
These products can be used as alternatives to professional treatments or as a stopgap between aesthetic treatments. 
Volunteers of Caucasian and Latin American descent between the ages of 19 and 35 were given a makeup foundation with 2% Argireline YOUth peptide oil solution to apply daily.
Volunteers of Asian descent between the ages of 25 and 40 were given an oil serum with 0.8% Argireline YOUth peptide to apply daily.
The in vivo results showed a minimized appearance of expression lines, without compromising the smile expression, as well as shorter and less visible wrinkles around the eyes, per Lubrizol.
Smiles were assessed via AI that leveraged SmiLearning smile rating technology that reportedly measures post-skin-treatment satisfaction. Per Lubrizol, volunteers registered a 22% bigger smile, compared to placebo.
Furthermore, the technology smoothed the skin around the eyes and in the nasolabial and forehead regions, while also diminishing the appearance of "tech neck" lines.
With the rollout of the technology, Lubrizol launched the Argireline peptide verse, an immersive metaverse experience that allows guests to create their own avatars and explore an environment inspired by the structure of skin.
Visitors encounter informative displays while meeting, interacting and even speaking with other virtual visitors.
The platform also includes an arena for large groups to meet and view videos.