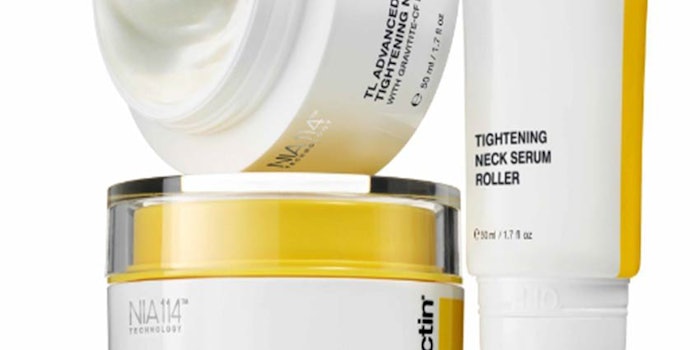 StriVectin, which recently named a new CEO, has trademarked Tech Neck for its line of neck products, which reportedly tighten, lift and smooth lines, "while fighting the effects of technology" on neck skin.
The repetitive movements of the neck during the use of mobile devices and other electronics has led the company to position its products as a solution to 21st century technology.
The brand's research has claimed that the average person checks their mobile device about 221 times a day, a number that is rising. Strivectin believes it is poised to become the consumer's educator on the subject.
"As a brand perpetually seeking to fill voids in the current innovation landscape.."
Its Tech Neck products contain the company's skin-barrier-defending NIA-114 technology, which protects against gravity-induced damage sustained from head-down positions caused by the use of mobile devices. The collection includes:
Advanced Light Tightening Neck Cream
Advanced Tightening Neck Cream
Tightening Neck Serum Roller
"Just as the repetitive action of furrowing your brow can lead to wrinkles, the same principle applies to the neck," the company noted. "These repeated motions can cause wrinkles to be more permanent and lead to horizontal neck lines and sagging skin known as 'Tech Neck.'"
"We are firm believers in neck care as necessity," said StriVectin CEO, Joan Malloy. "As a brand perpetually seeking to fill voids in the current innovation landscape, we made it our mission to further our research in a category where we have already achieved #1 status. With the Tech Neck trademark registration, the launch of a new product, TL Advanced Light, and our upcoming campaign, our strategy is to inform consumers about this often overlooked area and that it's never too late to take the 'neck' step. Which, of course, is made easy when armed with proven formulas designed with their ever-changing needs in mind."