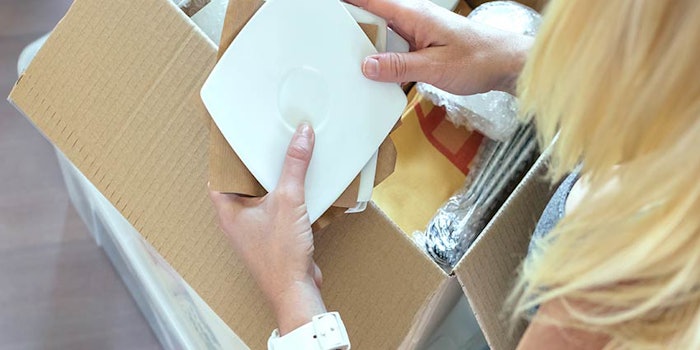 For health, beauty and personal care brands, packaging has always been a key driver of purchase. As more and more of the shopper's wallet has shifted from in-store to online, it's tempting to think that the product package plays a smaller role in this less tangible, digital shopping experience.
However, packaging still plays a critical role in satisfying the shopper's expectations of the product experience. When those expectations are not met, costly returns result, according to "Packaging and the Digital Shopper: Meeting Expectations in Health & Beauty," an analysis by Pantone, Esko, X-Rite and AVT. Here are three things leaders can do to move from insight to action.
Related: What Digital Shoppers Expect from Packaging
1. More than half of online purchase returns due to packaging can be attributed to miscommunication.
One-third of shoppers reported that they had returned a product they'd bought online in the last three months due to the packaging. Most of these returns (52%) were because of miscommunications or miscues about the product online. We know this because 30% of respondents cited that they had bought the wrong product.
A confusing purchase experience or inadequate product imagery, description or content online can contribute to these returns, especially because color is one of the top elements of fun and engaging packaging that health and beauty shoppers most frequently mention.
Additionally, 12% of returners believed the product they received was a fake, and 10% said the color was "off." These two reasons essentially capture mismatches between the product's online appearance and the actual physical product itself.
Solution #1:
Mirror all the information on the package in online retail to dispel confusion. The information on the package has already been digitized in the process of developing packaging. The text is sitting in your packaging management system, digital asset library or perhaps in the live text on the packaging design file of your graphic designer.
It's a common work-around to pay a service provider to re-key the words and numbers from the finished packaging and send that to a syndicator, but this method exerts an unsustainable amount of effort, and the time it takes (usually six weeks) is no longer acceptable.
It is far more cost-effective and faster to find the high-quality, multiply-approved packaging files themselves and pull the information from those. Then, automate.
Solution #2:
Leverage color and appearance specifications online. If you create digital links between online commerce and your packaging or product files, including computer aided design (CAD) files, your online imagery will more accurately showcase your products.
Color specifications can flow from packaging or material specs to help achieve consistency. At the same time, photo-realistic 3D pack shots achieved through automation can reduce the costs of expensive photo shoots and the time it takes to update the online channels when products and/or packaging changes.
2. Structural packaging needs more attention in a ship-to-consumer channel.
According to Greg Tucker, chairman and CEO of Bay Cities, whom I heard speak at E-Pack in Chicago, products that are delivered to shoppers' homes are handled four times more (about 24 touches) than products trucked on pallets to retail stores (about six touches).
In our study, one-third of shoppers reported they had returned online purchases due to packaging, and 34% of those reportedly did so due to damaged product packaging. It's clear that changes to packaging (both primary and secondary) to better protect the product would have a positive impact on return rates.
Solution #1:
Create more durable packaging versions for e-commerce. This increase in movement and handling and the resulting losses from damaged packaging require a different kind of structural packaging than what appears in-store. Changes to the strength of packaging materials will affect the dielines and, of course, the graphics on-pack, which may increase the cost of packaging material. 
Solution #2:
Consider bringing structural design in-house. In the past few years, as packaging design changes have increased in frequency, more and more brands have brought packaging graphics design in-house.
With this new need for flexibility in structural design changes, I wonder if more brands will also begin to bring structural or industrial design capabilities in-house as well. It is not difficult to see the benefits of having both 2D and 3D design under the same roof. 
3. When it comes to packaging, there is a tension between increased protection and brand consistency.
Even though e-commerce handling demands greater strength, 77% of shoppers agree that they expect the products they buy online to be the same as in-store. To add further complexity: 46% of shoppers expect the image they see during online purchase to be exactly the same as what is shipped to their door.
We learned by reading write-in comments that part of the reason beauty and personal care shoppers buy online is to save trips to the store, so they are expecting to receive equivalent products that they would find at their local store. 
Solution:
Leaders must advocate for the shopper when redesigning for e-commerce. This means respecting the shoppers' need for consistency and balancing this with the functional need for variation. In their eagerness to bifurcate packaging for the online purchase channel, leaders should keep in mind that shoppers expect consistency of appearance from health and beauty products.
To the shopper, the product is the product. So be careful that your e-commerce re-designs aren't so different that they cause shoppers to question the product's authenticity. This spans beyond health and beauty, as consumers demanded similar food and beverage product packaging, regardless of channel.
Returns Are Preventable
Considering these learnings, brand leaders can make strategic decisions to countermeasure the most common reasons for returns of online purchases due to packaging.
The great news: most of these are preventable. By increasing the accuracy and completeness of your product information and imagery online and by modifying (not reinventing) the structure of your product packaging you can reduce these most-common reasons shoppers return their online purchases.
Taking actions like these recommended here could reduce losses from returns and lift the bottom line for health, beauty and personal care brands.
Danielle Sauvé is a marketing technologist, writer and strategist for a collection of global companies owned by Danaher (www.danaher.com), including Pantone, MediaBeacon, Esko, X-Rite, AVT, Laetus and Videojet. Throughout her 16-year career, Sauvé has held positions in many parts of the consumer packaging ecosystem: consumer goods manufacturer, promotional agency, brand strategy and package design firm, premedia firm, and packaging management software start-up, giving her a uniquely broad perspective on simplifying the packaging value chain.