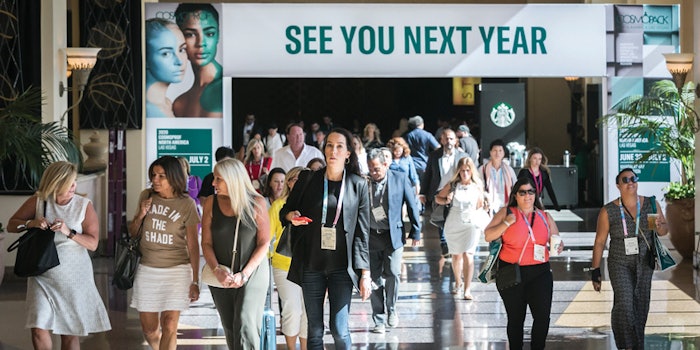 As seen in the latest prestige beauty sales figures (see Page 12), the beauty industry continues to shift rapidly, featuring ethical/eco-friendly innovation, shifting preferences among categories and product formats, a continuing focus on indie brands and, as always, relevant innovation.
Ahead of Luxe Pack Monaco (September 30 to October 2, 2019; www.luxepack.com) and in the wake of Cosmoprof North America, we reviewed the innovation trends that are shaping packaging and contract and turnkey manufacturing options.
Eco Designs Break New Ground
During the ICMAD and PCPC breakfast at Cosmoprof North America, Karin Ross, vice president, government affairs, PCPC, noted that beauty's environmental impacts represent the future of regulations, which could face state-by-state regulations in the absence of federal action.
Furthermore, while ingredients and formulas have typically represented the key battleground for the industry, packaging is increasingly taking center stage in the minds of regulators and NGOs. Notably, she said, regulators will be looking at packaging materials, the ultimate fates of materials in the environment, etc.
It's no surprise, then, that a wide array of eco-friendly concepts have been launched by turnkey and contract manufacturers, as well as packaging firms, including PCR, recyclable, refillable and biodegradable packaging. Here is a rundown of some recent innovations reaching the market.
Eco boost for skin care
APC Packaging, which recently relaunched its website (www.apcpackaging.com) has announced that its standard recyclable PP jars are now available in PCR materials. These recyclable HBPP jars appear in the company's in-stock packaging collection and feature surfaces large enough for decoration such as silk screening, hot stamping and labeling. The packaging is recommended for products such as moisturizers, creams, lotions, masks, gels, muds and balms.
Eco-material with flexible design parameters
Eco Baralan, presented by Baralan, is a sustainable packaging innovation comprising different categories of items such as screw caps, overcaps and overpumps, sticks, jars and compacts, all made with a biopolymer derived from renewable resources compatible with thermoplastic processes, representing an evolution for packaging technology.
The innovation can be paired with recyclable materials, such as glass, as seen in a roll-on stick concept pairing a biopolymer body and glass roller ball.
The biopolymer is made from natural fibers and waste material produced from an undisclosed non-food manufacturing process. The material can be used to produce certain standard packaging components using injection molding technology, similar to the manufacturing processes of polypropylene and SAN.
The result is a bioplastic item obtained by a biopolymer that can be recyclable, biodegradable, compostable (under certain thickness conditions), heat-resistant up to 120°C, accessibly sourced and with flexible manufacturing applicability.
It is compatible with selected existing Baralan molds because all Eco Baralan items are produced in the company's manufacturing plant, Labor Plast, located in Italy.
The range is presented in its neutral color from the original biopolymer raw material, to respect the overall campaign on sustainability; however, it includes the possibility of obtaining colored variants, as well as an expanding array of decorating options, based on customer needs and requests.
Clean packaging meets clean formulas
HCT Group's booth at Cosmoprof signaled the edgy, clean beauty presented in its collection, which fundamentally represented a "reset" in formulations and the creation of an ingredient blacklist reflecting the regulatory, retail and consumer realities of the evolving beauty market.
HCT Group's eco program has expanded, including a mono-material Eco Lipstick pack made of 100% PET as part of the company's new EMA (Eco Modern Approach) program. According to the company, packaging under this category has been optimized for recycling in HCT Group's current waste stream. The company is experimenting with various decorations to ensure the design remains eco throughout the production process.
In addition, the company has built out a turnkey beauty collection highlighting its clean innovation and in-house ingredient blacklist to help companies deliver on-trend products without any of the materials that limit retail, market or consumer engagement.
The blacklist includes materials such as palm oil, nanoparticles, soy derivatives, sulfates and many more. Concept products included the Prime and Reset, a skin-perfecting primer and setting spray featuring water lily for soothing of inflamed skin, chicory root for hydration and even skin tone appearance, and a polymer stabilizer to support the milky spray that offers a fresh feel and melting texture. The vegan formulation provides a lumi-matte finish for the user, according to HCT Group.
Refillable skin care
Yonwoo's refillable Show Jar can be refilled and reused by leveraging a refillable insert. The airless, dual-wall design is ideal for skin care such as body lotions, as well as cosmetics and general travel products. The design comes in 30 ml and 50 ml capacities and features a locking actuator to prevent accidental dispensing.
Expanding natural/organic manufacturing and a new clean skin care line
Contract and private label manufacturer Naturich Labs, based in Garland, Texas, has purchased nine acres in Texas to construct a new facility to support expanded capacity and innovation, particularly in natural and clean beauty.
The company offers full-service R&D and in-house micro testing. Its current facility uses 100% wind power from Green Mountain Energy, is FDA-registered for OTC products and OTC-certified, cGMP-compliant, certified by the Soil Association for COSMOS Organic and COSMOS Natural products, and certified by Oregon Tilth for USDA and NSF ANSI 305 personal care products.
To highlight its on-trend innovation for label-reading salon clients, the company recently launched a new private label skin care range, Cellebrate, featuring stem cell blending technology and high-performance botanical extracts. The collection is designed to "address the systematic needs of the skin at a cellular level" to focus on lines, wrinkles, hydration, skin tone, texture and skin elasticity, according to the company. Naturich Labs also notes that Cellebrate is "all about optimizing the functions of the dermal layers, to rejuvenate the skin processes, evolving skin into a healthful protective barrier that radiates wellbeing and beauty."
The collection includes the Cellebrate Special Facial Cleansing Gel, which removes dirt and makeup without stripping the skin's natural lipid matrix in order to stimulate the skin's cell turnover cycle, according to the company, providing an overall detoxing effect. The formulation comprises lactic acid, Quillaja saponaria (soap bark), green tea, green algae and aloe.
Clean, sustainable and trend-forward turnkey & packaging
Fusion PKG, which is celebrating its 15th anniversary in 2019, has expanded its BeautyLab turnkey activities following the March 2019 acquisition of Architectural Beauty, a New Jersey-based formulation, marketing and turnkey provider. Architectural Beauty bolsters Fusion's portfolio of formulas and expands its capabilities to include marketing and design services. In effect, according to the company, BeautyLab now presents a total skin care and color cosmetic solution for faster innovation.
At the center of the turnkey expansion are increasingly eco-friendly packaging designs and clean, sustainable, effective and pre-trend-focused product concepts and formulations. The company's clean and sustainable skin care innovations are available in formats such as cleansing balms and sticks, toners, face serums, eye treatments, bronzer treatments, moisturizers, foundations and primers, while packaging options include PCR (PP, PE and PET), refillable components, monomaterials, bio plastics and recyclable plastics. Decoration options have been developed across all packaging formats.
Formulations include free-from ingredient decks that eschew mineral oil, SLS and SLES, triclocarbon and many other materials consumers, retailers and regulators may frown upon. These restrictions are in line with retailer clean beauty standards, including Sephora and Credo.
BeautyLab also offers cannabis skin care and color cosmetic innovations pairing a CBD isolate, hempseed oil and an adaptogen blend for anti-inflammatory, skin calming effects, protection from environmental stressors and general promotion of healthy skin. Cannabis-focused formulations include facial oil serums, facial mists, moisturizers, eye serums, clay masks and exfoliating cleansers, as well as foundations, lipsticks, mascaras and lip glosses.
Among the company's unique packaging concepts is the Brush on Top, featuring a compact that can be manufactured in multiple shapes, include squares and circles, and which features a concealed brush that can slide out of the slim design for easy, on-the-go product application. The packaging concept can be filled with turnkey formulas such as foundations, powders, bronzers, blushes and highlights.
Microplastic-free jars
Express Tubes has launched bio jars that are 100% biodegradable and free from micro plastics. The jars comprise material harvested from sustainably managed Nordic forest timber and natural proprietary binders.
The jars are available in round and square formats in a range of sizes (minimum order quantity: 5,000 units)—15 ml, 30 ml, 50 ml, 100 ml 200 ml—and colors—Warm Granit, First Snow, Natural Wood, Wild Cloudberry, Hearty Pine, Sweet Blueberry, Blooming Blackberry, Summer Strawberry and Cherry Blossom. The jars can be embossed, engraved, silkscreen printed and labeled.
The jars can be filled with anhydrous oil-based products, the company notes, while water-based products may be housed in the 200 ml bio jar when paired with water-resistant coating.
The jars are REACH and Proposition 65 compliant and meet the European Commission framework No. 1223/2009 for cosmetics products. According to Express Tubes, the bio jars are disintegrate after about 12 weeks in an aerobic industrial compost facility. The liners are also 100% biodegradable.
Wooden compact
APR Packaging has introduced a fully wooden compact composed of material from an eco-certified forest and decorated with water transfer to boost its eco friendliness.
Biodegradable tube
APR Packaging's new D2W tube biodegrades beginning at 36-48 months and completely degrade at 5 years, according to the company. The innovation is only available in tube formats as of press time.
Non-aerosol continuous spray
Seacliff Beauty has introduced a clear continuous sprayer that is non-aerosol. The PET design and lack of aerosol boosts recyclability and removes any issues with fluorocarbons.
Waste minimizer
Seacliff Beauty's new slim pack Side Button serum pen design is available with a Pipette or Rollerball variant. The design reportedly evacuates 99.9% of product, meaning virtually no waste for the consumer.
Want to read the full article? Check out the September 2019 digital edition of Global Cosmetic Industry magazine.