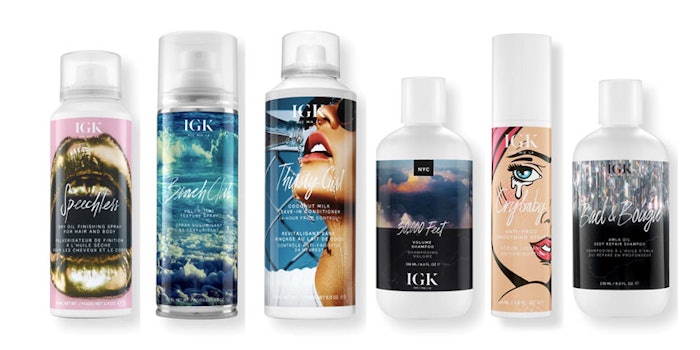 While DTC brands like Prose are leading the way in hyper-customized formulations, we're seeing exciting ways in which retail brands are innovating through format and packaging to deliver innovative personalization.
Clinique ID: Personalized in Every Pump
What it is: 
Serum dispensers that are insertable into their core product line, to add targeted benefits.
Why it's interesting: 
Here, Clinique is using innovation to strengthen its core products. This is a simple way of tapping into the trend of customizable serums in a way that drives new consumers back to the otherwise traditional brand. This is clever, as it's likely to reach a new generation of users (normally, it's their mom's skin care brand).
Skylar Perfume Palette: Scents Made to Blend
What it is: 
A set of fragrances that have been formulated to be worn on their own or mixed and layer with each other. 
Why it's interesting:
 It is more than customization for functional needs—it makes customization fun. By tapping into your creativity, this kit gives you starting places but also lots of room to explore confidently. It's also an interesting sensory/mood customization play, that of using scents to match your mood or vibe in the moment.
Kjaer Weis: DIY in Style
What it is:
A makeup brand with sustainability in its core—buy the compact once, then use the super minimally packaged refills.
Why it's interesting:
It makes "sustainability" feel personalized and premium. When you get it the first time, the premium package makes you feel like you are opening a beautifully wrapped present. The metal compact is beautifully designed and is heavy in your hand, making it feel even more precious. With refills that are sleek, modern and easy, doing it yourself is still a luxurious experience.
Jart Focuspot Micro: Target Your Custom Needs
What it is:
A pack of face sticker "dots" with a unique tipped patch that more deeply drives ingredients into the skin.  Available in a range of targeted skin needs (pimple, wrinkle, dark spot), each with different ingredients and different shaped stickers, designed for results.
Why it's interesting:
Dr. Jart is known for its huge assortment of face sheet masks for every skin type and need—providing a tailored selection, but not true customization. To give that power to consumers, Dr. Jart has cleverly created a new craze of things to stick to your face alongside its sheet masks. No doubt we'll be seeing lots of brands getting in on the face sticker wave.
IGK Hair: Curate Your Hair Style
What it is:
A hair care brand known for its variety of striking graphic labels and appropriately witty product/benefit needs, such as the Thirsty Girl leave-in conditioner.
Why it's interesting:
Personalization is about more than just getting functional benefits designed for you. This is a brand that lets you curate your Instagram ready bathroom with products that aren't only made for you but designed for you. Here, users can customize their hair care identity through the collection of products (and designs) they display.
While the nature of retail limits brands' ability to deliver the level of customization available to DTC brands, these examples prove there is no need for brands to limit the creative ways they can tap into the personalization trend.
Whether this is through innovative packaging, formats that let you customize and target specific skin needs (offering a sense of DIY ownership), or through designing for different tastes and styles, these brands show that delivering personalized benefits doesn't rely on individually customized formulas. Personalization can be effective simply by putting more choice and more control in consumers' hands—and with every use.
About the author: Emily Cristoforis is the director of strategy at Vault49, an independent global design agency with expertise in brand experience and packaging.