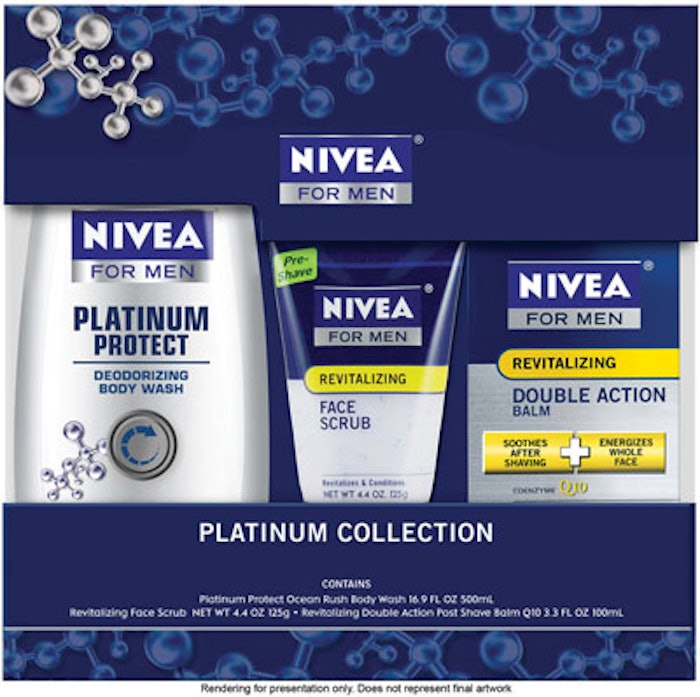 Gift sets truly allow significant branding space at the point of purchase.
Gift sets are more attractive if they cross over categories rather than contain several of the same product types.
Gift sets allow brands to tap into successful flagship products while prompting trial of newer categories.
The holiday season gets longer and longer each year, and, therefore, retailers want gift sets with shelf appeal beyond the winter holiday season.
When you think of timeless, global brands, 100-year-old Nivea certainly fits the bill—and while annual holiday gift collections are a staple in the world of personal care and beauty, celebrating a century calls for some reflection on the past to take advantage of a rare brand-building opportunity moving into the future.
"Individual products on the shelves simply don't allow brands to scream our '100 Years Skin Care for Life' message," explains Diana Arena, trade marketing manager on Nivea skin care for Beiersdorf USA. "Gift sets truly are a great way to utilize all of that branding space and celebrate our heritage with consumers at the point of purchase. That's why the packaging of gift sets was even more important this year from a branding perspective."
Though the 2011 collections that will hit retail shelves as early as October were locally developed, Beiersdorf USA tapped into the expertise of its global counterparts to see what they had done. Arena says collecting information from the past is just one step in the process in the conception and development of a new gift set that involves a cross-functional team within the company. With the benefit of history in hand and concepting underway, the team then locks in product mix and design—and moves the sets to execution.
Sarah Pomposello, trade marketing manager on Nivea personal care, explains that choosing products that go into each gift set as well as the set names involves marketing and sales asking what the best selling items are—and then grouping the products to appeal to the consumer. "We've learned that sets will be more attractive if you cross over categories rather than have several of the same exact items. For example, a gift that includes a hand or body lotion, body wash and lip care product all in one."
This aligns well with the brand strategy that builds on the solid heritage of the hand and body products under the Nivea umbrella, according to Arena. "Gift sets are a great way for us to tap into the success of our flagship product while prompting trial of our newer categories that we're just beginning to develop."
Offering a supply chain perspective, Janet Lyngdal, marketing procurement manager, Beiersdorf Inc, says, "Particularly on the women's sets, we could see how disjointed everything was last year and how much trouble it caused the supply chain having different-sized sets, so our objective was to make common-sized sets to cut down on the logistical cost, the pack-out cost, and ultimately the purchasing cost in final production."
Retail-driven Sales Samples and Packaging
Lyngdal had worked with CL&D Digital on the 2010 gift collection sales samples to secure retail shelf space before full-run production (Beiersdorf typically uses digital printing for packaging samples of 100 or less pieces). She shares that another lesson learned and carried over to 2011 was that the weight of the 2010 collection boxes wouldn't allow the sets to be filled with full product, since digital presses can print up to 18-point boards and the Nivea kits requires 24-point in order to hold the weight of full-size products.
"Retailers wanted to feel the full weight and worth—the real value of the kit," she elaborates. The company worked again with CL&D in 2011 for its small run, direct-to-plate offset printing capability—where many print providers are limited to large production-run size quantities.
Savvy digital printers understand that digital printing is not a one-size-fits-all solution. They know that clients that can't go digital due to package size, volume constraints or other requirements will still enjoy a streamlined process—the ability to handle smaller runs with quick-turns—when the project must go on another press. Since brands must be more and more responsive to retailer demands, including higher expectations in the appearance of "shelf like" sample packaging, digital printers must also be flexible in adapting to those needs.
Though Beiersdorf and other large, global brand owners typically work with digital printers for short-run packaging and label printing applications—including sales samples for product sell-in, test markets, or focus groups—smaller brand owners use digital to meet their full labeling and package printing requirements. In fact, the latest in technological advancements has thrown many digital printers into the long-run printing game, as some digital printing solutions providers can print from one to 100,000 pieces or 40,000 feet (depending on the package or label size and complexity of the graphics)—and still deliver within days.
Retailers Weigh In on Design Demands, Too
In addition to several new collection box samples, Beiersdorf enlisted CL&D Digital to also print the complex inserts to house the individual products. Working with Beiersdorf and designers Carmody & Long, an outsourced marketing services agency, CL&D produced gift collection packaging from files to delivery in seven days.
"Another lesson we've learned is that the holiday season gets longer and longer each year, which translates into retailers wanting gift sets beyond the Christmas season," Arena says, of the request for less seasonal packaging that can be used at different times.
Pomposello adds, "Retailers don't want boxes to be red and green, or gift sets that are perceived as a stocking stuffer. They don't mind a little seasonal touch in the form of a snowflake or two, but they want an upscale, quality gift that is easy to wrap but also looks like a gift on its own—and ultimately one that will sell through the holiday and beyond."
Bob Scherer is the vice president partner of CL&D Digital and a 25-year veteran in the printing and packaging industry as well as a conference speaker and writer. His message is designed to increase awareness of what digital printing technology can do and how it can help manufacturers get their products to market faster and cheaper. www.bobscherer.me