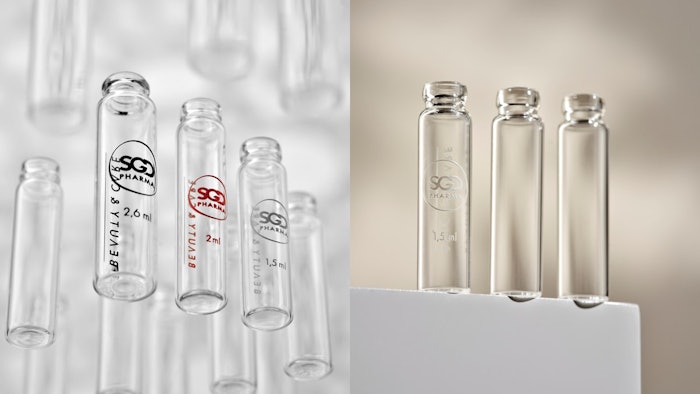 SGD Pharma is set to launch glass packaging innovations at Luxe Pack Monaco, taking place October 2-4, 2023, including fragrance mini samplers and the Eclipse refillable glass jar.
The company's pharmaceutical-grade fragrance mini sampler vials are available plain or with customized ceramic ink labels. The standard vials are offered in 1.5 ml, 2.0 ml and 2.6 ml variants that can be custom silkscreened in 19 monochrome PMS colors, including gray and black. The mini sampler sizes can be supplied to customers in North America, Europe and Asia.
SGD Pharma's Eclipse refillable glass jar features a twist and lock system that allows the inner plastic capsule to be loosened and secured to the glass jar without any adhesive or tools. The Eclipse refillable glass jar is fully customizable via lacquering, frosting, metallization, silk printing and other deco options.
The company also offers the Constellations range of glass packaging solutions in multiple shapes for skin care and nutraceutical applications.
Frédéric Barbier, general manager China and APAC, said, "Our Zhanjiang facility in China produces premium cosmetics and beauty packaging solutions. SGD Pharma also operates an in-house decoration workshop providing versatile decoration including lacquering, frosting, silk screening, pad printing and hot stamping. This offers customers unlimited opportunities for customization of their beauty packaging. We are committed to keeping our facilities state-of-the-art, with the next upgrade of our glass furnace planned in 2024 to increase capacity by an additional 15% and build greater flexibility for the benefit of our clients."