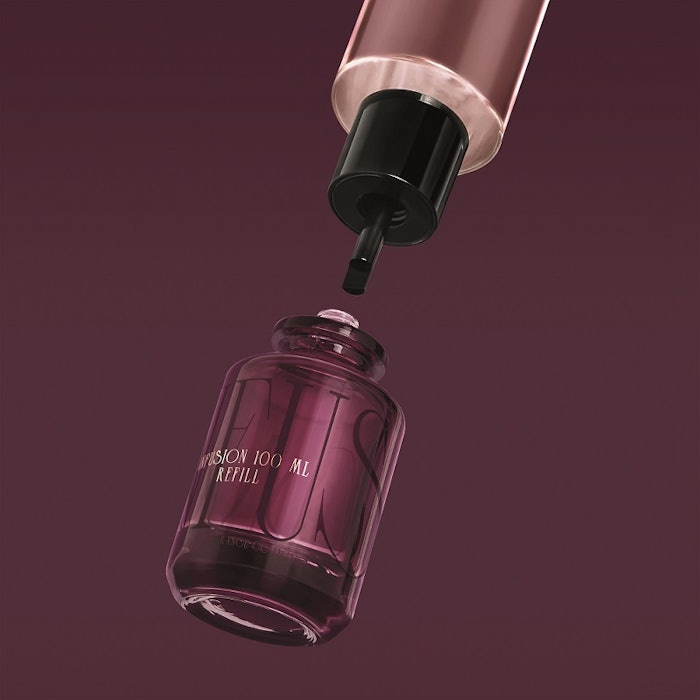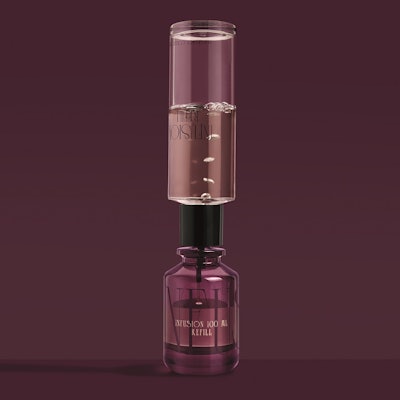 Berlin Packaging | Premi Industries is set to launch its new Infusion Refill collection for fine and prestige home fragrance at Luxe Pack Monaco 2023. 
The collection represents an evolution of the Infusion Fragrance packaging collection, featuring the 100 ml FEA 15 bottle in a refillable version featuring a screw neck and twist pump. The twist pump allows users to open the bottle for refills but also to separate the pump and bottle for easier recycling.
The refill packaging comprises a twist pump in combination with the Neville 150 ml bottle.
The Infusion Fragrance range is expanding from its existing 30 ml, 50 ml and 100 ml FEA 15 bottles, to add a 200 ml bottle with a 24-410 neck size. The range will also soon add a 300 ml variant.
The range can be combined with various dispenser pumps, wand diffusers, wooden or aluminum neck covers, and more. 
"Infusion has been designed to enhance the fragrances of high-end perfumery and home fragrance in the name of sustainability and personalization," said Alessandro Prestini, CEO of Berlin Packaging | Premi Industries. "The innovations introduced with this proposal are the fruit of our corporate mission, which drives us to create attractive and iconic premium full packaging solutions that are sustainable and future-oriented, as the luxury market demands."
Among the company's collections shown at the event will be Euphoria, comprising 30 ml, 50ml and 100 ml bottles for fragrance with a cylindrical conical section, round shoulder and "subtle" thicknesses, per the supplier.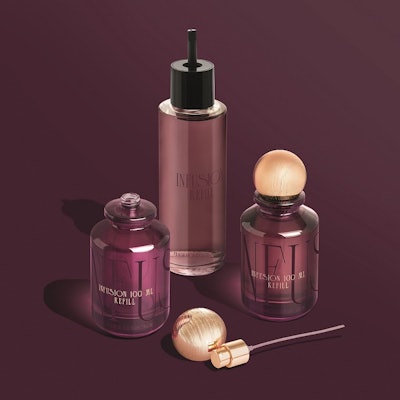 Also on display will be Himiko, a collection of glass bottles featuring a square section and apothecary details, available in 30 ml, 50 ml and 100 ml sizes with an FEA 15 spout.
Meanwhile, Berlin Packaging | Premi Industries' Moon collection features wide, slightly curved designs across two 75 ml bottles in a primary size and a 12 ml travel variant. Its Vip Fragrance offering, meanwhile, features glass bottles with travel sizes of 5 ml and 10 ml with FEA 13 and screw spouts. The designs are available in both cylindrical and square cross-sections.
The company will also present the Natural Vibes home fragrance collection of glass bottles and wooden closures for room diffusers and spray vaporizers. Matte finish coatings can lend a ceramic look to the glass bottles, per the company, embellished with tone-on-tone embossed lettering using 3D inkjet technology.
Berlin Packaging | Premi Industries will also feature Double Glass designs that feature tubular glass ampoules that appear suspended inside a transparent glass bottle (in 15 ml and 30 ml variants). The designs are intended for luxury formulas such as serums, creams, lotions, masks, gels, foundations and illuminants, and are refillable up to 25 times, per the supplier.
Finally, the company's slender Airglass Slim Refill & Go features airless packaging inside a refillable glass bottle. To optimize disposal, the design allows for the separation of the PP airless bottle from the glass bottle by means of a safety clip that blocks the dispensing of the pump.