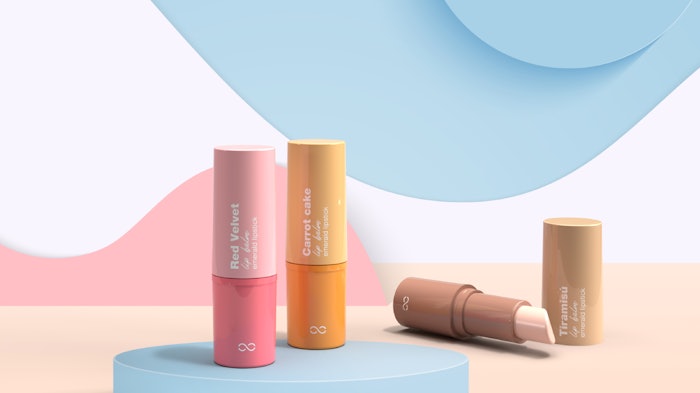 Quadpack's top-filling monomaterial Emerald Lipstick is designed around a sense of "minimalist elegance" that aligns well with recent "quiet luxury" aesthetic trends.
The launch comes at a boom time for the lip color category. According to Circana data, the segment was the fastest-growing prestige color category in the United States in Q1 2023, up 43% year-over-year. Notably, higher-priced lip brands grew at an even faster pace.
The new Quadpack lipstick is available in a square or cylindrical shape, with a choice of materials, including recyclable PET and as much as 100% recycled PET (rPET).
The smooth-working mechanism is POM-free for improved recyclability. Its 12.7 mm cup is compatible with most lipsticks on the market, per Quadpack, with a capacity of 4.0-4.5 g.
The Emerald Lipstick can be decorated with silk screening, hot stamping, matt spray and pearl varnish to further promote an aesthetic of simplicity and restraint.
The pack can be used to house color cosmetics, of course, as well as skin care such as balms and solid fragrances.