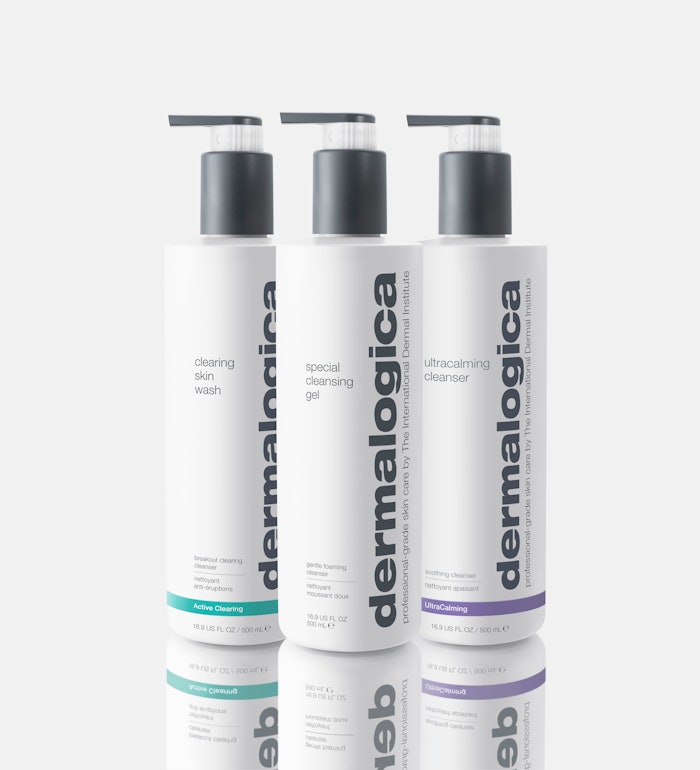 Aptar Beauty's Future mono-material pump has nabbed WorldStar (packaging materials and components category) and PCD (premium skin care category) awards in collaboration with Dermalogica's new cleansing line.
As previously reported, Future's design eschews metal components and comprises only polyethylene (PE), in particular the engine, easing recyclability. It is also available using post-consumer resin (PCR).
Future is e-commerce capable and ISTA 6 compliant, per Aptar, due to the design's incorporated locking/unlocking ring and 360-degree, free-spinning actuator, which is said to minimize potential breakage in transit.
Dermalogica was the first prestige skin care brand to launch its cleansing line, comprising the Special Cleansing Gel, UltraCalming Cleanser and Clearing Skin Wash, using the Future pump.
The PE pump, combined with Dermalogica's 50% PCR bottle, reportedly reduces reliance on virgin plastic and eases recyclability.
Kevin Davis, packaging engineering director at Dermalogica, said, "Aptar's pump is truly a game-changer in recyclability and mono-material packaging. In addition to its sustainability features, Future's e-commerce-friendly design is equally important to our brand since we ship high volumes via small parcel."
Xavier Joseph, VP global marketing and innovation, Aptar Beauty, added, "The awards recognize that Future answers to market demands from premium brands like Dermalogica. The combination of sustainability and e-commerce capability meets two major differentiating needs in the skin care market without compromising aesthetics."