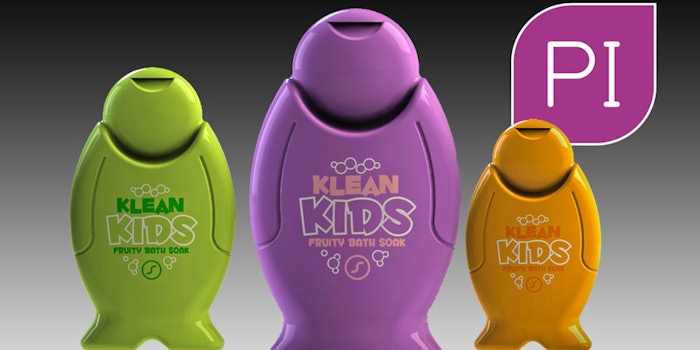 Spectra Packaging has announced that it will introduce seven new packaging prototype concepts at Packaging Innovations 2017 on March 1-2 in Birmingham, England. 
The company states that it will reveal…
A fun shaped kid's bath pack (pictured above)
A radial dual faced skin lotion bottle
A ergonomic tottle shower pack
A new sun pack
A round design with a angular shoulder contour
A new disc cap that will accommodate bottles with a 24mm neck
Advances in closure foil blocking
Jonathon Powell, sales director for Spectra, said of the new designs, "We've given our new containers a touch of branding which really brings the designs to life. The combination of cutting-edge pack design coupled with harmonious coloring and striking graphics is sure to inspire visitors at the show. It's the perfect introduction to Spectra's innovative capabilities".
Powell continued, "In the twelve months since our last appearance in Birmingham, we have been busy with a number of new projects, from new pack designs to expanding our closure portfolio to advances in decoration. This particular exhibition appears to be the perfect springboard for all things new at Spectra and we're looking forward to another busy show".