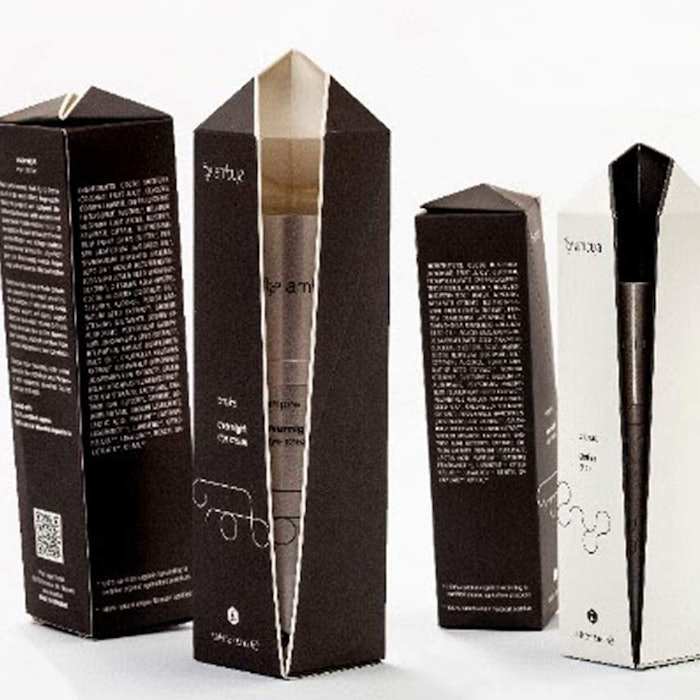 The packaging for ambuja, a natural skin care collection from Legart Forschungsatelier, has been named 'Carton of the Year' at the 2015 Pro Carton ECMA Awards. The winning packaging is made of Invercote G 200 g/m2 from Iggesund Paperboard and has an opening and closure mechanism that uses Invercote's structural properties.
"I'm very pleased at their victory and I congratulate them," said John Mitchell, who is responsible for Iggesund's European sales to converters and brand owners. "Their solution is brave and innovative and they've succeeded in combining a bold structural design with creating a tactile and high-quality experience for the consumer."
"And of course we are especially pleased when Invercote is used to create packaging that has a really distinctive design and stands out on the retail shelves," Mitchell added. 
The concept's central idea is based on an "organic" opening according to the principles of nature, like a fruit or blossom. A sound effect comes when closing the lid: the product is covered with an audible click and is kept safe at the same time.
The packaging was converted by the Austrian firm Offsetdruckerei Schwarzach for the brand owner Legart Forschungsatelier. The structural design is by Herwig Bischof and Johannes Gautier (Gautier also did the graphic design).