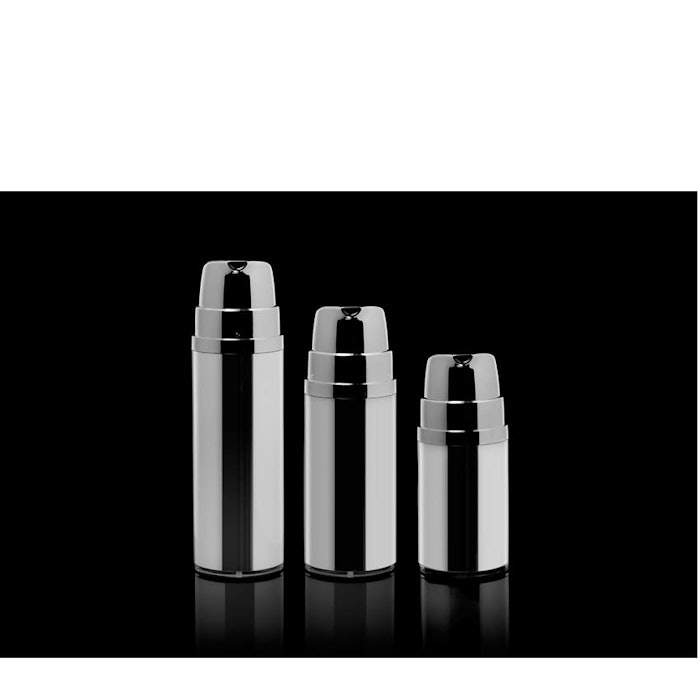 Packaging: Direct Effect Oval Tip Airless applicator; Prime 42 mm, Prime 48 mm Jumbo airless bottles (pictured in main image); Prime Jar; and Buxom collection.
Company: Fusion Packaging
Description: As part of its Direct Effect collection of piston-driven direct applicators Oval Tip Airless features a precision teardrop-shaped design to effectively target the delicate contours of the face. Ergonomically designed to aid in formula application and absorption, Oval Tip Airless is available with either a velvety Smooth or Stimulating TPE surface for additional massage benefits to improve circulation. This single-wall applicator adds a delicate silhouette to the Direct Effect Airless' existing product lineup, which includes the Curved Tip, Single Rollerball and Dual Rollerball applicators. This collection is available in 5 ml, 8 ml, 10 ml and 15 ml capacities with a 0.09 ml product output.
The Prime mid-range 42 mm and Prime Jumbo 48 mm airless bottles offer wider profiles for more ample brand billboard space, and a broader capacity range from 15 ml to 100 ml. The new Prime Jar combines a double-walled acrylic base and aluminum closure. This jar rounds out the Prime collection in 15 ml, 30 ml and 50 ml capacity options.
Similar in style to Fusion's Couture collection, Buxom blends a thick-walled acrylic bottle with a C-shaped actuator that does not require an overcap. This airless bottle's double-walled design offers a large canvas for brand art, and can be customized with a variety of decoration techniques, including vacuum metallization, hot stamping, silkscreen, and custom mirror, frost or gradient sprays. Buxom is available in 30 ml and 50 ml capacities.