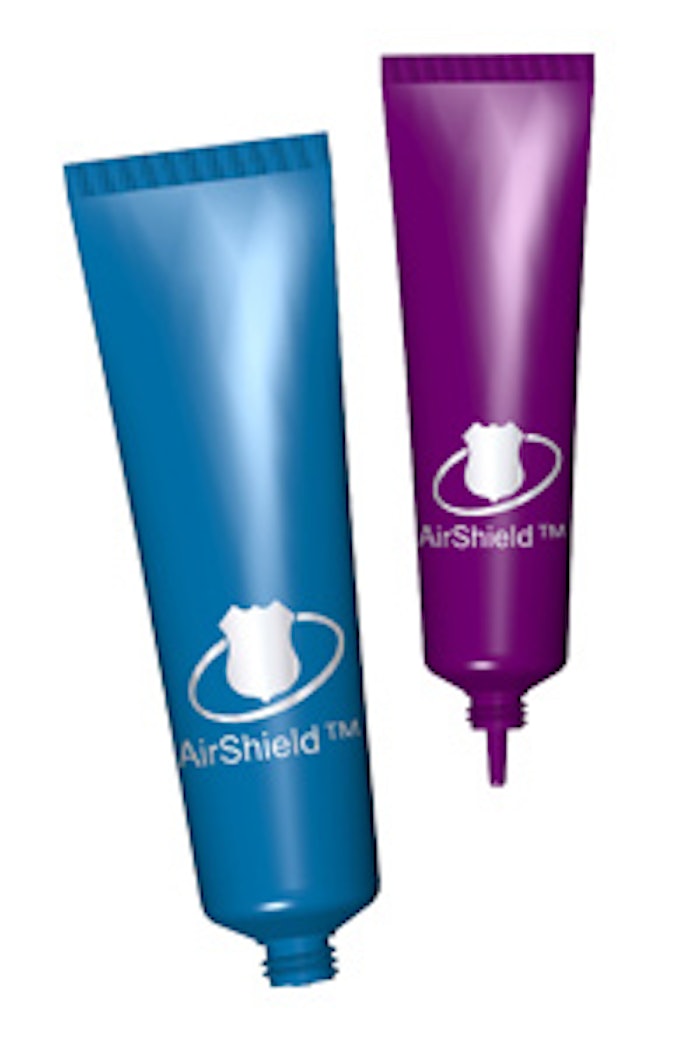 New Launches
Addressing the need to protect the increasingly sensitive contents of beauty products as well as offer packaging materials that meet the aesthetic standards of the market, Neopac developed its new AirShield tube. The AirShield is a two-component valve that prevents air from flowing back into the tube when the contents are dispensed. The combination of the barrier properties of Polyfoil and AirShield is suited to give maximum protection to oxygen-sensitive products, even after the tube is first opened. This ensures that the quality and effect of the products remain consistent throughout use.
Qosmedix introduced three new lip brushes to its inventory of stock disposable makeup applicators. The white synthetic nylon fibers are ultrasonically bonded inside the handle without the use of adhesives, and this automatic assembly process allows higher production rates yielding a lower cost per piece, making these an attractively priced product for high volume sampling. The innovative bonding technique also helps prevent the fibers from shedding during use. They are also available in three different handle colors: black, clear and white.
Cosmogen debuted Diamond, the first of its 2013 collection of brushes for spring. Featuring a harlequin-decorated handle made of aluminum, the retractable brush includes synthetic hair in two tones, but is also available in natural hair. The ferrule is also a matte aluminum, and the silkscreened decoration is available in a range of different colors.
Toly launched a new mascara brush concept to its standard mascara pack. The new pack is molded in polypropylene and can be easily personalized with different surface decoration. The mascara brush ensures all lashes follow their natural orientation, as the central lashes are volumized and combed straight, whereas the lateral lashes are volumized and combed towards the sides. This is made possible through the special disposition of the bristles, which follow the natural orientation of the lashes, while the effect is enhanced by using two different kinds of bristle fibers.
DieterBakicEnterprises released Viola, a new lotion pump. Its "Pure Flow" construction ensures the product doesn't have any contact with metal parts, and it features excellent compatibility. Viola has a PE disc valve for precise safe dosing and less strokes to prime, while a suck-back effect guarantees clean dispensing and a lock-up actuator helps during travel. The pump also has an ergonomic recessed grip.
M&H Plastics added a new range all tubular bottles designed to take the same new flat flip-top cap to its offerings. The products, which are manufactured in HDPE, are available in sizes 250, 200 and 150 ml, plus a 150 ml tottle, all with a new flip-top cap that has been specifically created to fit the whole range. The classic contemporary shape means they are suitable for a wide range of beauty products, including hair care, body care, skin care and beyond.
MWV launched Aerosense, an ergonomic aerosol sprayer specifically designed for products such as sun care, body spray deodorant and hair spray. As more beauty care products are implementing ergonomic sprayers, Aerosense helps brands distinguish their products from more traditional push-button aerosol sprayers on the shelf by incorporating a trigger actuated sprayer into the design. The sprayer features easy actuation and a continuous, even spray pattern, as well as a unique locking feature to prevent the sprayer from unexpectedly activating.
New on Shelves
Pearlfisher created the brand identity, portfolio architecture and packaging for the range of skin care devices and topical products from Tria Beauty. The goal of the new identity and design expression was to promote the brand's positioning as an advanced skin care product that successfully combines technology and beauty and better reflect the positioning and tagline "See beauty in a new light." Pearlfisher worked to do this by combining soft, feminine cues with precision and technology to communicate both the functional and emotional benefits of light in meeting beauty needs, focusing on the essence, vibrancy, playfulness and power of light. Each of the three product categories is represented by a section of the color spectrum. A custom-made typography was also created to represent and reflect the two worlds, mixing soft curves with straight lines and using a neutral color to represent technology, innovation and empowerment.
Organix Beauty's Pure & Simple strengthening deep conditioner is packaged in a pink tube that utilizes a gold/pink foiled label that is crimped over the tube. The dispenser is a 2" Simplicity Threaded Tube Top also in a gold color provided by Aptar Beauty + Home. Also, Procter & Gamble added new Body Sprays to its Clinical Strength product line. Packaged in aluminum cans with graphics that coordinate to the particular smells the products will help prevent, each can uses a Moritz  Twist To Lock actuator supplied by Aptar Beauty + Home, and Nexxus' Youth Renewal hair care line is packaged in an easy-to-hold plastic bottle, and the bottle and pump used are color matched to produce a sleek looking package. The dispenser is a Cardinal spray pump with silver stamp banding around the closure supplied by Aptar Beauty + Home.
News
DuPont is accepting entries for its 25th Awards for Packaging Innovation. The entry deadline is February 28, 2013, and winners will be selected by the just-seated jury based on excellence in one or more of these areas: innovation, sustainability and cost/waste reduction. There is no fee for entry, and DuPont materials do not need to be in the packaging structure. Winners of a DuPont Packaging Award will be honored on May 16, 2013, during a ceremony in Wilmington, Delaware. Forms, guidelines and past winners can be found here.
MWV signed a memorandum of understanding (MOU) with the Gujarat government in India. The MOU establishes MWV's investment of INR 1000 crore (approximately $184 million) over a period of three to five years in the packaging and paperboard industry in India. This investment includes the purchase of Vapi-based Ruby Macons Ltd, as well as additional plans to expand production at the facility with the installation of a new paper machine. The investment and expansion plan is already underway and should yield significant increases in production starting in 2013.
The label and packaging materials division of Avery Dennison launched a new website for its North American region at www.label.averydennison.com. The easy-to-navigate site features film and paper product data and educational materials related to pressure-sensitive label converting and application, including white papers, case studies, videos, and in-depth information on its latest innovations.
TricorBraun moved its Philadelphia branch office to 460 W. Germantown Pike, Suite 460, Plymouth Meeting, Pennsylvania, with new telephone number 484-534-5900 and fax number 484-534-5925. The new office is more centralized and offers greater efficiency, according to the company.
Newly merged companies AGI and Shorewood Packaging unveiled a new name and brand logo—ASG (AGI-Shorewood Group). The ASG name and interlocking arcs that give shape to the company's circular, red logo symbolize strength, connectivity, global alignment and collaboration.
HLP Klearfold purchased the worldwide patents for the InSight visual packaging system from ASG (AGI-Shorewood Group), with whom they previously had an agreement to license InSight. The packaging system combines printed plastic sleeves and injection molded plastic end caps to produce a very distinctive visual package. The sleeves are essentially tubes with the shape of the end caps determining the cross-sectional profile of the package, and the end caps attach to the sleeves using a unique locking feature.
People News
Anomatic added Chris Mowery as vice president of lean and Julie Drew as vice president of human resources. This growth of the Anomatic executive team is a strategic move to continue expansion within a lean environment, as well as being a direct result of the company's effort to meet customer needs and support innovation.
SeaCliff Beauty Packaging & Laboratories welcomed John LaBonty as its new president. Before joining SeaCliff, LaBonty was president of LaBonty Consulting Inc., and he also has experience as the vice president and general manager, international, Smashbox Cosmetics, as well as working with P&G, Tambrands and Citigroup Latin America.