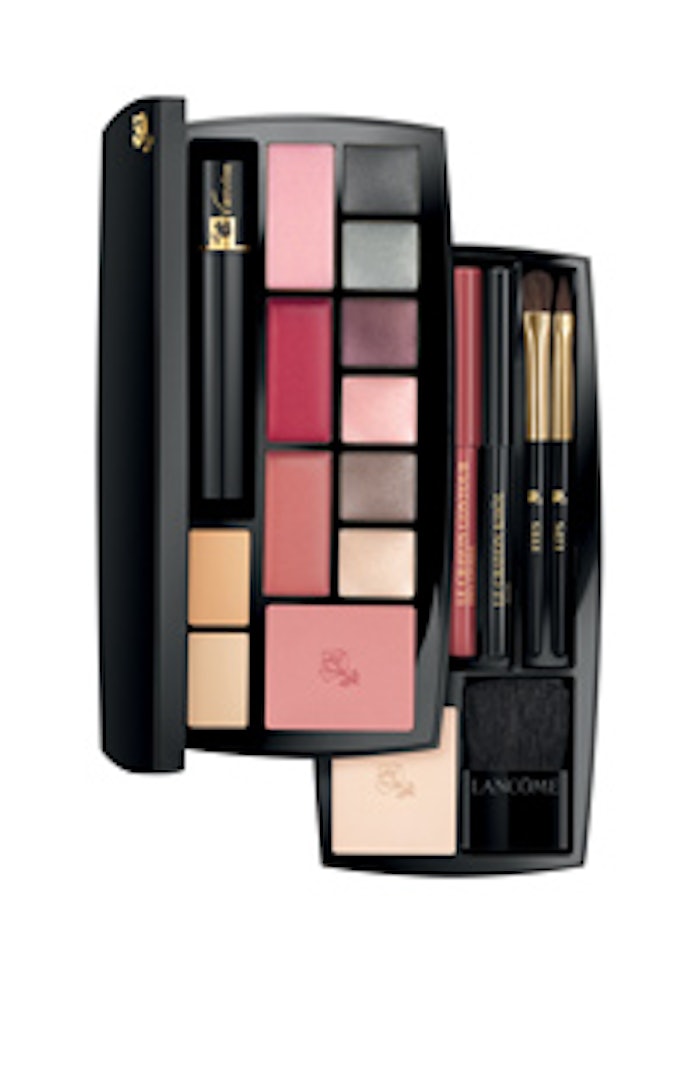 New on Shelves
Lancôme collaborated with Topline Products' Primapack on the creation of its L'Absolu Voyage makeup palette, one of the first major travel retail items from Lancôme. L'Absolu Voyage, a complete and practical palette, has everything to make up the eyes, lids, cheeks and lips, including lip gloss, eye pencil, mascara and powder. The applicators include a professional sponge and brushes, and the palette also is equipped with an extra-large mirror. Topline Products' Primapack developed the elegant case in ABS SAN in deep black featuring the brand's emblematic rose in hot stamping. And the new model has two levels—the bottom slides to the front then to the side to open with a novel and fluid gesture, and the top features a magnetic closure.
Vaseline's new Spray & Go Moisturizer continuous spray lotion dispenses evenly with one all-over spray, making it quick and convenient to use. Available in three formulas, each can and dispensers are color-coordinated to match the fragrance, and this continuous spray lotion utilizes Aptar's Bag on Valve dispensing system, which keeps the product in its pure form until point of use. Bag on Valve is a clean dispensing system that uses compressed air to pressurize the can and sprays continually from any angle until the can is completely empty. The package is highlighted on top with the new Simplicity Twist to Lock actuator provided by Aptar Beauty + Home.
Latvian beauty company Helen Herber launched a new range of shower gels and selected M&H Plastics to help create their new packaging. The beauty brand selected M&H's 250 ml Tall Square PET bottle from its portfolio of standard products, which were then topped off with a gloss black pump. The overall brand identity conveys the company's natural philosophy featuring graphic illustrations of various plants.
New Launches
Unilever introduced a packaging reduction initiative for its aerosol deodorants. The company has developed a compressed can technology that utilizes 50% of the propellant needed for its predecessor can, effectively reducing the can size by half. The new 75 ml cans also require 25% less aluminum and reduce the carbon footprint of the product by an estimated 35% as well. The cans will initially be used for the Sure, Dove and Vaseline brands but may be used for the company's other lines. Although the cans will be half the size, they are said to last just as long as the 150 ml cans. The new cans are a result of years of research and leading-edge innovation, which will allow Unilever to make positive progress towards two of its Unilever Sustainable Living Plan targets: to halve the greenhouse gas impact of products across the lifecycle by 2020 and to halve the waste associated with the disposal of products by 2020.
Mega Airless' new Bag-in-Bottle (BiB) airless and neutral pack solution delivers high-barrier formula protection—with up to six layer combinations available—as well as reliability and the precise, repeatable dosage that eliminates the need for preservatives. The complete range of BiB containers, from 15–200 ml, is created in cooperation with Germany's Gaplast, which provides the co-extruded "delaminating" bottles, while Mega Airless delivers the pump/adapter system. A defined fixing of the inner bag at the bottle's bottom and neck results in less residue as the bag collapses. Further, the system provides efficient evacuation, reliability, and production efficiency, thanks to fewer parts. Bottle contours, textures and colors, even for the bag, are all customizable, and decoration options include hot stamping and silk screening. In addition, the design results in no clogging, clumping or bulk discoloration, as well as 360-degree application. Further, the bottle and bag are in the same polymer family, allowing the pack to be easily recycled.
The Fusion is a new bottle shape created by M&H Plastics with a new snap-on flip-top cap that offers an array of color options. The snap-on flip top cap is now available with the option of a colored insert giving the opportunity for range differentiation at a cost-effective price. The flip-top cap comes with an active hinge enabling the user to open the closure and dispense product with just one hand, and additionally, this cap means these bottles can be inverted to use as tottles. The Fusion bottles are available in three sizes—200, 250 and 400ml—and the cap has been designed to fit all three sizes. The easy-grip bottle is a smooth, slimline shape with a contemporary feel. The distinctive, softly curved lines add a premium look to any beauty product.
Rieke Dispensing launched a new design for its RS3 dispenser, specifically designed for the beauty industry. The new RS3 Talon features a streamlined, sleek look to complement the luxury and beauty image of products such as skin care creams and lotions. In addition a variety of personalization options are available to maximize on-shelf stand out and consumer appeal. These include smooth and ribbed finishes, a variety of colors, printing of messages and logos, and metallization. The RS3 Talon offers a number of functional benefits including ease of use with minimal operational effort, and accurate dosing. The durable non-metal construction is shower proof and ensures consistency and reliability. The dispenser is also shippable in the locked down position. The RS3 Talon can be specified in different doses from one to  three ml and fits a variety of standard closures. It is suitable for a wide range of product types from liquids to thick gels, lotions and alcohol-based products.
People News
Topline Products named Sergey Tsurkan as director of package engineering development. In his new position, Tsurkan will lead Topline engineers in working with sales staff and customers to develop packaging solutions. He has more than eight years of experience in the beauty packaging industry in product development and operation management roles, including positions with Portola Packaging International, where he managed the engineering department in Shanghai and operations in Guangzhou, China. While at Portola, he also managed the company's manufacturing plant in Louny, Czech Republic. Prior to Portola, Tsurkan worked at Risdon International in product development, where he developed mascara and lip gloss packages in addition to fragrance closures.
Greg Taylor has been appointed president of Unicep. Taylor joined the company in July 2007, and through his roles as director of program management and vice president of operations, has managed all aspects of the company's business development and operational activities. He is well versed in leveraging Unicep's unique capabilities to achieve each customer's goals.
Cosmogen added Christina Crianza to its team as business development manager, West Coast, in its U.S. office. Crianza brings more than 12 years of sales experience in the beauty industry to the position, beginning her career with Eluci International (TaikiUSA) and later joining Topline Products. She has expertise in brush manufacturing, injection molding and cosmetic packaging, and she is replacing Sally Gearhart.