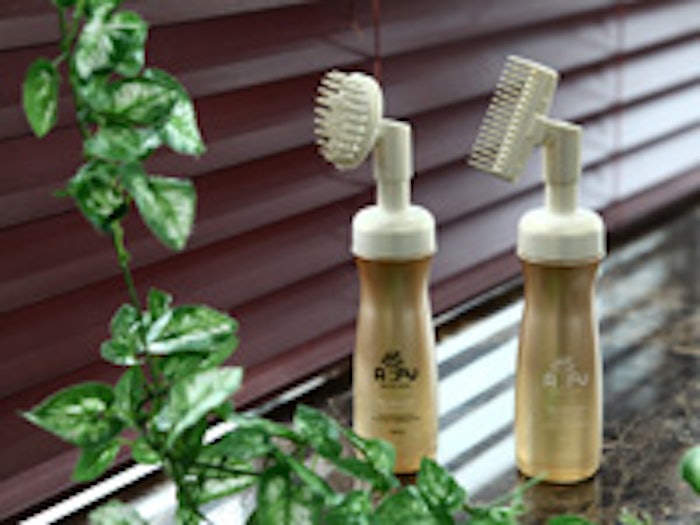 Cosmogen announced it has expanded in Brazil to create Cosmogen do Brasil. The goal of this new venture is to provide local service to beauty customers such as O'Boticario, Natura and Avon, assisting them in the development of new projects and developing sales in a booming country. To help lead this new division, the company named Flavio Unikowsky the manager of Cosmogen do Brazil, LATAM. Unikowsky's has a significant background in the beauty industry, including experience in both packaging and formulation.
Three packages from DieterBakic won 2013 iF Packaging Design Awards, honoring outstanding design achievement. The Kyoto Line for Maria Galland, the Unity bottle cap and the SoftSqueeze material for Tottles all impressed the iF jury in the packaging form/design, research and development/professional concepts and packaging materials categories.
New Launches
The Comb Foamer, a functional and elegant new foam pump developed by Quadpack manufacturing partner Apollo, uses patented Apollo technology to allow the user to easily spread product over the desired area with no mess involved. As the name suggests, the Comb Foamer is designed with an in-built comb that can be angled as desired—up to 360 degrees—meaning a gloveless, hassle-free application gets into the roots. The pump is unlocked with a simple twist and dosage is fixed at 0.80cc per stroke, and there are no metal parts in the product path, so the implement does not interfere with the hair treatment formula. Quadpack is the exclusive distributor of Apollo dispensers in Europe, Australia and New Zealand.
Neopac debuted its new Gloss Collection, a range featuring luxurious, shimmering Polyfoil tubes in elegant gold and silver or other metallic shades, as chosen by the customer. In one tube, Neopac offers elegant touches and colors, to help brighten and enrich the aesthetic presentation of products. Additionally, the tubes can be printed on and have a capacity of between 1 to 300 ml.
SeaCliff Beauty Packaging & Laboratories created a family of airless bottle components with a variety of capacities to fit beauty product needs. The component is cylindrical in shape with a slight taper towards the bottom of the bottle and to the top of the overcap. The bottles come in 15, 30, 40 and 120 ml capacities. The bottle was designed to reflect an "East meets West" style, with a pump actuator that also features a slim oval nozzle to complete its unique look. The bottles can be used for an entire skin care line including cleansers, serums, eye gels, moisturizers, foundations, primers and more.
Toly introduced its simple slider compact packaging. Continuing to innovative a variety of opening mechanisms in its beauty compact offerings, Toly's new slider is a simple, two-piece compact that can be opened with one hand. This slider is perfect for a duo eye shadow and can easily be personalized through decoration to create the branding required.
HCT have collaborated with Pum-Tech to create an innovative "finger-free" cooling stock component. Combining HCT's patented cooling tip technology with Pum-Tech's spot series vertical airless pump, the new component is targeted for complex skin care formulations. Designed for the delicate eye area, the patented, ergonomic Zamac tip applicator glides smoothly across the skin, providing a soothing and cooling sensation upon contact, while Pum-Tech's ampoule container ensures the user gets the correct one pump dosage of the formulation inside.
Corpack introduced its Allegra Skincare line. The contemporary style of the line, in conjunction with a complementary color and graphic finish, helps give it an individual touch and high level of recognition. It also is a versatile range that will visually appeal to a wide variety of consumers. The design and choice of materials and wall thickness transmits a sensation of enhanced quality to the consumer, offering an uncomplicated design that feels good to the touch. Currently, the line comprises three bottle sizes in PET with screw cap and pump options, two jar sizes, and three glass dispenser sizes, with another two glass sizes in development.
M&H Plastics added the new Windjammer bottle design to its portfolio of standard products. The 400 ml HDPE bottle comes with a 24/410 neck and its curved shape provides a distinctive point of difference. It can be used for a variety of beauty products, including hair care, skin care and body care.
Italian paper manufacturing company Favini revealed one of its latest security innovations: Secure-Skin, a unique micro embossing. At first sight, the embossing simply looks simply to be decorative, but it also embeds a micro text visible with a 15-times or more powerful lens. Secure-Skin can be applied on paper with additional security features for assuring a higher anticounterfeit protection and is a useful tool for brand protection. Favini is able to provide high-quality papers with a hidden customized micro message, logo or pattern repetition, ideal for packaging solutions where counterfeiting is a major issue.
New on Shelves
French skin care company Sothys chose a Neopac dropper for its new seasonal skin care line. The venture began when Sothys was searching for packaging for its cosmeceutical range, and Neopac offered its Polyfoil tubes to protect the content and formulas of the Sothys' Oxy-minerals products. The packaging had to be easy to use for the end user, safety and protection were important criteria, and the package needed an attractive design. Designed so every drop of the product would be the correct size, the end packaging result found an innovative way to deliver the product in an easy-to-use, light way.
Cosmogen worked with Benefit Cosmetics for the creation of a two-stick pack for Benefit's Fine One One product. The product includes three colors that can be used on the lips and cheeks, and they are all housed in a stylish metallic stick package. Cosmogen revised a pack from its standard range to customize it according to the specifications and needs of Benefit, with five specific molds developed.
Spectra Packaging created new recycled packs for Herb UK's Organic Hair Colour Systems products. In the collaboration, the brand's "Naturally better" market positioning was further enhanced by the use of PCR (post consumer recycled) in its new PET 150 and 50 ml packs, with Spectra initiating the use of recycled materials to reinforce the product's organic credentials. Sourced from the UK and Europe, Spectra's PCR products are available to run in a variety of levels from 25% right up to 100% and meet European food contact regulations, offering reassurance and peace of mind for customers looking to take the recycled route.
People News
Unicep announced Eileen Williams as business development manager. In her new role, Williams is responsible for developing corporate-level opportunities across several market segments including cosmetic and personal care, nutritional supplements, pharmaceutical and medical devices, and oral health care. She also will work in conjunction with Unicep's program management and operations teams to facilitate the exchange of ideas and knowledge to ensure the successful execution of new customer program objectives. Prior to coming to Unicep, Williams worked in the pharmaceutical industry with a focus on multiple medical specialties in several geographic areas, including New York and the Pacific Northwest.