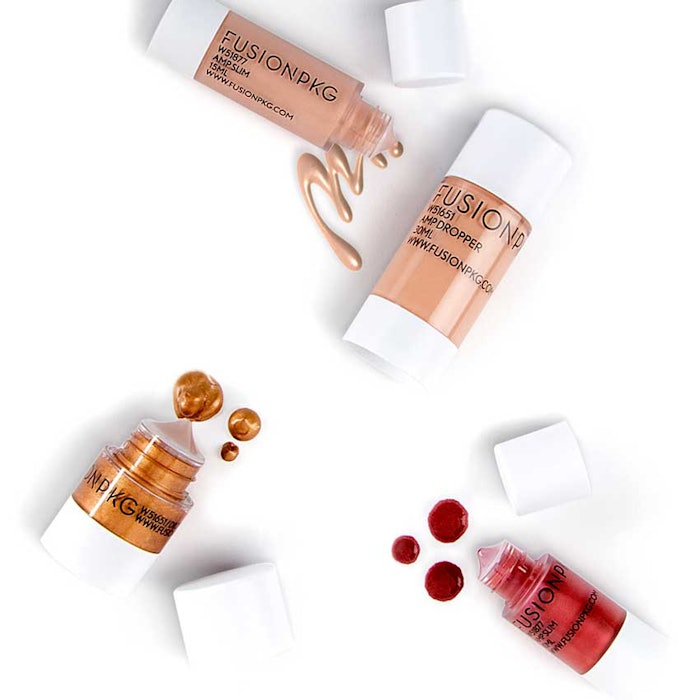 FusionPKG has launched the first item in its space-saving collection, SpaceMax.
Space Sift is a packaging component that was created to make the most out of merchandise areas. When compared to traditional sifter jars, Space Sift's slim profile triples shelf space and allows for more color profusion within the same shelf dimensions, according to FusionPKG.
Meant for loose powder, powder to cream, and loose face and eye pigments, Space Sift comprises a clear powder jar for shade clarity, a lock and unlock feature for mess-free travel and a custom well for tidy loose powder brush swirling and application.
The pack is available in two sizes and reportedly has multiple decorating capabilities, including hot stamp, silkscreen and UV metallization.
Amp Droppers by FusionPKG
FusionPKG has also announced the launch of its Amp Droppers, which were created to be travel-friendly and simplify on-the-go use.
The droppers feature a dispensing system with a flexible membrane at the bottom of the packaging, which is meant to offer controlled dosing, minimal air exposure for sensitive formulas and single-handed dispensing.
Amp Droppers are available in 15 ml and 30 ml sizes and slim 10 ml and 15 ml sizes. The bottle is made from PETG and can be decorated with hot stamp, silkscreen and UV metallization.
The pack is intended for primer, foundation, blush, highlight, serum and more.