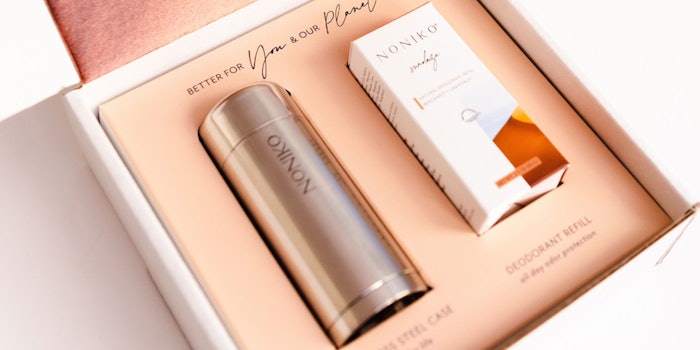 Noniko beauty products launched a stainless steel reusable deodorant case to pair with its namesake natural deodorant. The product is provided through a subscription program that delivers it right to a customer's door, according to the brand.
Further reading: La Roche-Posay's Eco-friendly Sun Care Packaging by Albéa
Collaborating with Verity Packaging, Noniko has taken a first step with this stainless steel case to revolutionize the industry, the company said. By May 2021, Noniko plans to be a completely plastic-free company through a continued partnership with Verity Packaging.
The Conscious Subscription is delivered every three months for $35. A one-time purchase is $45.
Noniko CPO Piper Lacy says, "We recognize that everything we do has an impact on our planet and we wanted to be mindful of our footprint. After tirelessly searching and continuing to find inferior sustainable packaging options for our Noniko deodorant, we were ecstatic to team up with Verity to [provide] ... our effective natural deodorant in plastic-free reusable packaging."