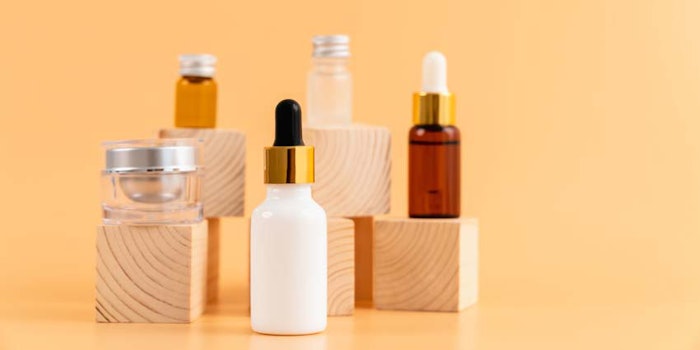 A recent paper published in the International Journal of Manufacturing Economics and Management explores the packaging design thinking process. The goal was to conceptualize a skin care product that expresses luxury and branding while at the same time is sustainable and created according to end user experience.  
For many shoppers, refillable and recyclable packaging made of environment-friendly materials are high on the wish list. As such, this work considered how to include biomimicry in cosmetics packaging design. It also examined how the sustainability of the packaging affected customers and expectations from the design.
In brief, a proposed design was developed using methodologies such as empathy maps, persona and product design; and tools such as mind maps, mood boards, sketches, storyboards and model-making. CAD-based modelling, rendering synthesis and product visualization also were applied.
See related: No Eco-scuses; Packaging Can Conform with Natural Tenets
The resulting skin cream was based on environmentally friendly materials and filled in a glass jar designed to be reloadable via a plastic refill component. The applicator was made from zinc alloy and is 100% recyclable. To understand ergonomic usability, a physical model from plastic was developed using 3D printer. 
Finally, the product was housed in a limited-edition secondary package from wood, rather than cardboard, that could be repurposed as a gift box to address the market need for a more versatile package. Concept testing was carried out via photographs presented to test subjects (n = 80), who completed a questionnaire.
Overall, results indicated 90% of respondents liked the product design. The researchers concluded that consumers and packaging itself are two crucial parameters to assist package designers.
See the full article for more details.