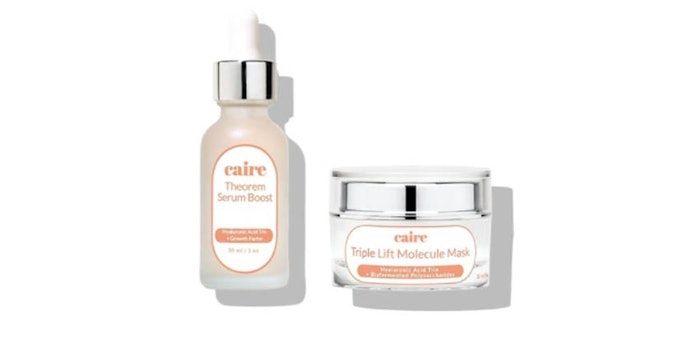 Caire Beauty recently took a unique sustainability strategy for its packaging by purchasing several thousand pieces from odd lots of jars and glass containers that would have otherwise ended up in a landfill, according to the brand, which retails at cairebeauty.com and Amazon.
Report: 4 Sustainable Packaging Solution
Co-founder Celeste Lee discussed the packaging strategy with Global Cosmetic Industry:
Caire, as a new brand, is so happy to have been able to launch a prestige styled product with an 'odd lot' package. Our Triple Lift Molecule Mask comes in a mirrored jar that would otherwise likely have ended up going direct to landfill.
Our designers then created a 1970s-inspired pill-shaped label that could be screened or applied horizontally or vertically and could also be scaleable or expandable (meaning width to height and vice versa ratio).
The pill-shaped label culturally recalls "Valley of the Dolls" (a touchstone many of their customers would know) but it also directly indicates a high-performance dose of actives is in each bottle. The pill label can be applied to a broad range of packs–round or square; vertical or horizontal in silhouette.
Caire is aware that continuing to use odd lots and leftovers may not always be possible, especially as they scale but keeping an upcycling mindset is very meaningful to the brand. They just took on another few thousand pieces of a lot that had been dip-dyed in a specific color but then rejected for unknown reasons.
The color in question isn't Caire's signature 1970s-inspired coral, but sometimes difficult parameters can yield solid inspiration. So, Caire will launch a limited edition skin care x sun care product with this unused packaging next spring. 
The packaging currently houses the Caire Therom Serum Boost, retailing for $56, featuring a trio of hyaluronic acid molecular weights for deeper skin penetration. 
Full ingredient list: Water, Glycerin, Propanediol, Sodium Hyaluronate, Betaine, Disodium Edetate, Hydrolyzed Sodium Hyaluronate, Jasminum Sambac (Jasmine) Flower Extract, Crataegus Monogyna Flower Extract, Yeast Extract, Tetradecyl Aminobutyroylvalyaminobutyric Urea Trifluoroacetate, Caprylhydroxamic Acid,Sodium Benzoate, Soy Amino Acids, Melia Azadirachta Leaf Extract,Melia Azadirachta Flower Extract, Amino-Esters-1, Coccinia Indica Fruit Extract, Corallina Officinalis Extract 
The Caire Triple Lift Molecule Mask, retailing for $52, meanwhile, delivers a bioactive facelift with rapid firming and lifting effects for smoother, lifted and glowing skin. The formulation comprises hyaluronic acid and collagen protein. 
Full ingredient list: Water, Pullulan, Sodium Hyaluronate, Caprylhydroxamic Acid, Propanediol, Glycerin, Disodium Edetate, Betaine, Coccinia Indica Fruit Extract, Eclipta Prostrata, Hydrolyzed Sodium Hyaluronate, Yeast Extract, Tetradecyl Aminobutyroylvalyaminobutyric Urea Trifluoroacetate, Sodium Benzoate, Soy Amino Acids, Melia Azadirachta Leaf Extract, Melia Azadirachta Flower Extract, Amino Esters-1, Corallina Officinalis Extract