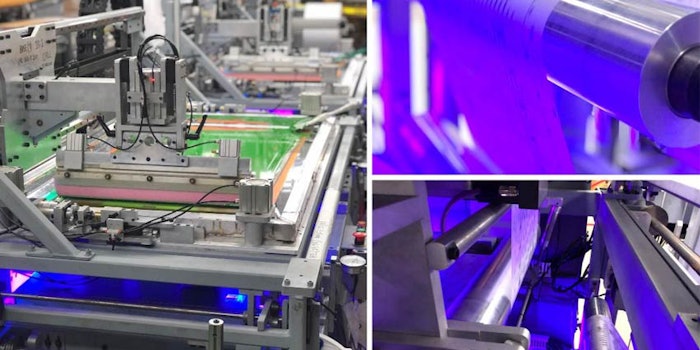 Empire Screen Printing is expanding its printing capabilities with the launch of the multi-color, roll-to-roll screening press, intended to produce superior quality, highly durable printed products for the industrial decal and OEM markets.
Related: The State of Beauty & Personal Care Packaging
Empire's Roll-to-Roll Screen Press includes a patent-pending registration platform, an automated chase, vacuum functions and a completely standardized set-up system to eliminate variability and improve efficiency.
The press utilizes a camera registration system to ensure precise color-to-color and graphic-to-cutting registration. These advancements in registration allow the material to automatically re-register itself when needed.
The Roll-to-Roll Screen Press combines the outdoor durability advantages of screen printing with the efficiencies of a roll press. It can print on a variety of materials including polycarbonate, polyester, vinyl, BOPP and paper products with material thickness ranging between .005" to .03" thick. Finished products can be delivered on rolls, as sheets, kiss cut on carriers and as individual cut decals.
LED curing in the roll-to-roll screen press has no emissions and is up to 600% more energy-efficient than UV mercury bulbs. The press is also designed with waste reduction measures as a one-of-a-kind web press that allows for starting and stopping with no web loss.