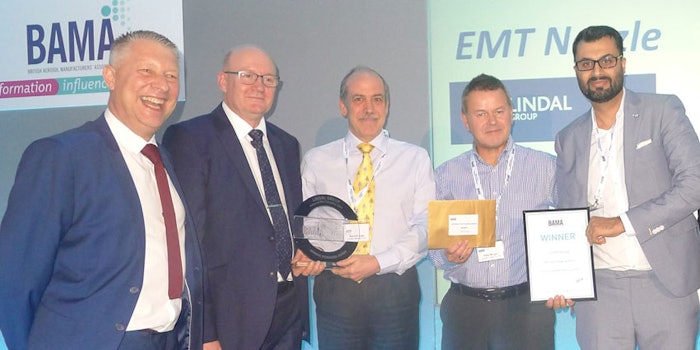 The British Aerosol Manufacturers' Association (BAMA) awarded Lindal Group the Aerosol Packaging Award for the latter's Enhanced Mist Technology (EMT) at the recent BAMA 2018 annual forum.
Lindal's EMT is a two-parts insert that produces a fine mist spray as well as facilitates a new integrated molding and assembly process. EMT was designed for low viscosity products and is reportedly ideal for facial skin care mists.
Kashif Choudhry, Lindal Group product marketing manager said, "Earning an award win in this category and alongside other aerosol industry professionals is an excellent achievement. A combined and concerted effort from the Lindal team has gone into the research and design of EMT and it is very rewarding to know it has paid off... EMT is one of our most anticipated launches yet, the breadth of markets it is able to serve and the range of advantages and benefits it brings is something we are extremely proud to have achieved. Our packaging award win is further inspiration for us to continue to strive for excellence."