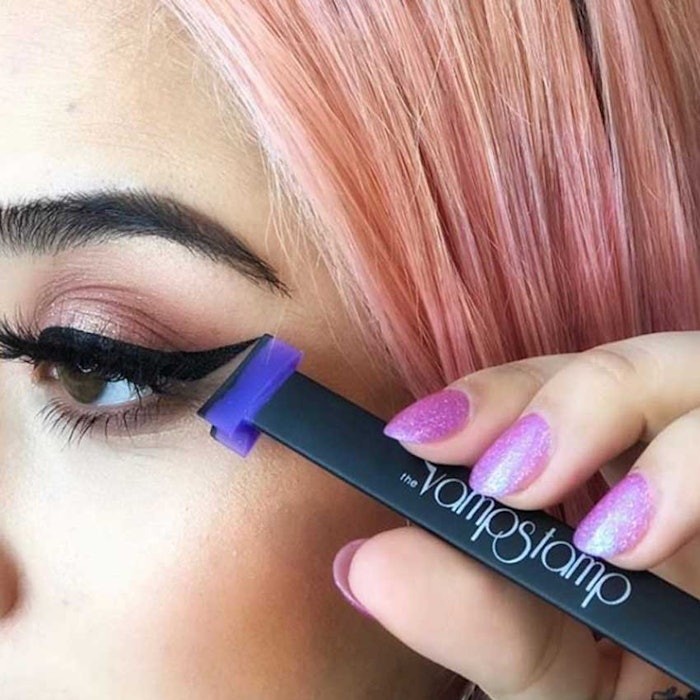 Inclusion in the beauty industry goes beyond skin tone, hair type, gender identity and age. While these continue to be the bedrock of the inclusive beauty movement, beauty brands are also catering to consumers whose disabilities make applying makeup a daily struggle. 
Readers.com offers consumers The Kellyn Makeup Reader as a way to use their reading magnification and apply makeup at the same time. 
How it Works:
The user has the ability to wear their readers and switch the

 swiveling lens when they need to apply makeup to their other eye.

The lens is fully magnified in powers up to 

+3.00 and is available with spring hinges, fully magnifying lenses and tortoise colors.

The further away one stands from the mirror, the lower the power should be from their standard reading power, and the closer one stands to the mirror, the higher the power should be from their standard reading power, 

the company recommends. 
Another brand striving to makeup beauty more accessible is Grace Beauty. According to its Instagram profile, Grace offers a "selection of beauty product add-ons designed to make products more accessible and a platform for you to share your beauty story."
Tools include: 
The Square Grip: A rubber grip that attaches to both the mascara tube and wand, which aims to simplify opening, holding and applying the mascara.

The Safe Grip: A rubber grip provides a wide-angled grip and better control for users. 

The Ring Grip: A rubber band, featuring a ring, connects to the mascara and aids in the user's grip on the product. 

In the same vein, The Vamp Stamp offers consumers eyeliner stamps with eyeliner ink in order to create a winged, cat eye makeup look. Consumers can select the wing stamp size—Kitten, Medium and Large—as well as Vink Color—Vortex Black, Valour Gold Bronze and Vaudeville Rose Metallic.
To use, a person can dip the stamp into the eyeliner ink and apply to the corner of the eye for a guided placement. The wing can then be connected with the liner across the lid.