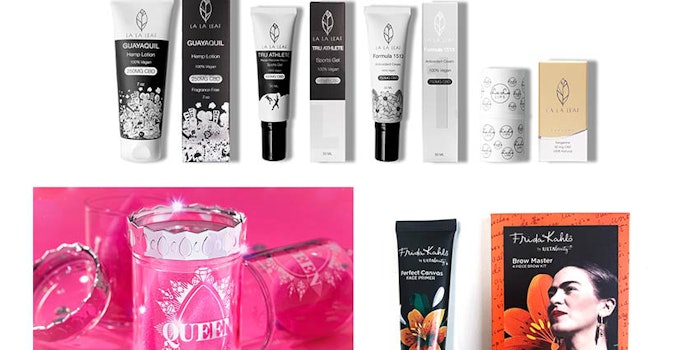 Cosmetic packaging provider WWP was recognized with three awards at the New Jersey Packaging Executive Club (NJPEC) Package of the Year Awards.
WWP took home the award for Market Impact for its solution for the La La Leaf CBD skin care line, as well as two Visual Impact Awards for its work with Beauty Blender's Queen Blender and Joy Blender products and its Frida Kahlo Signature Box for Ulta Beauty.
Previously: WWP Utilizes Sugarcane Bio-resins for Sustainable Packaging
Companies that submitted entries to the Package of the Year competition were judged by packaging executives from several industries and Students involved with NJPEC. Winning entries were selected based on material, execution and presentation.
The La La Leaf CBD skin care line features eight products, including an antioxidant cream, sports gel, hemp lotion and lip balm. The Frida Kahlo Signature Box for Ulta Beauty features a 12-shade eyeshadow palette, shadow a switching pan, four-pan brow sculpting palette, a liquid illuminator highlighter, two blush/bronzer duo powders, a blurring face primer and three-shades of 7-free nail lacquer.
Winning entries:
La La Leaf CBD skin care line, by WWP (Market Impact Award in the personal care section)

Modern, black and white aesthetic theme
Airless pump tube
Added flip top to CBD lotion

Queen Blender and Joy Blender brands, by WWP (Visual Impact Award in the health and beauty section)

Sustainable packaging
Stackable advantage
Alternative material that allows for global distribution
Reusable opportunity for consumer

Ulta Beauty's Frida Kahlo Signature Box, by WWP's Color Design Group (Visual Impact Award in the color cosmetics sub-category)

White images atop black substrate
White artwork
Signature keepsake box
"The goal was to design something original and bold, as we didn't want to follow the same path as other brands," said Michael Faiella, CEO and founder of La La Leaf. "We wanted to be trailblazers by bringing a totally new concept to market. WWP took the time to show options and make suggestions on the packaging that would work best with our brand and they were willing to take a chance on us being a new startup."
"We're very honored to receive these distinguished awards from a highly regarded industry leader like NJPEC," said Jim Farley, EVP, global business development for WWP. "WWP appreciates the privilege to partner with NJPEC in providing continued education to students and giving them the opportunity to get involved in the industry. WWP looks forward to continue to provide our customers with evolving technologies to further cultivate ease and accessibility in beauty packaging."