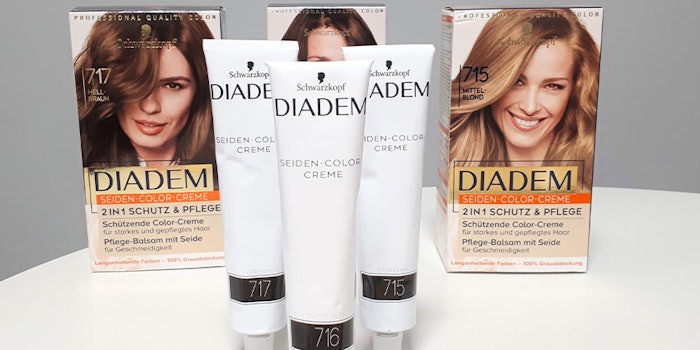 Henkel is converting all of the products in its hair coloration portfolio to aluminum tubes made from 100% recycled material, which reportedly has a lower energy demand than virgin aluminum. 
Previously: Henkel Joins Amazon's Climate Pledge
The complete range of the company's brand, Diadem, has already been converted to 100% recycled aluminum. Further brands will follow later this year.
According to Henkel, it will not only use post-industrial recycled aluminum for the tubes, but will integrate up to 95% recycled material from post-consumer sources as well.
The company will gradually switch the associated plastic caps of the tubes to recycled plastic.
Philippe Blank, head of circular economy and packaging sustainability at Henkel Beauty Care, said: "One of the main advantages of aluminum is the recyclability—the material can be recycled infinitely without losing its mechanical properties and sacrificing quality. Therefore, aluminum as a material class is a great enabler for a circular economy, as 75% of the aluminum that was ever produced on earth is still in use across various applications"
Blank added, "By shifting major portfolios to this recycled material, we are demonstrating our commitment to sustainable packaging solutions. While a great focus is placed on plastic packaging, we are advancing innovation and sustainability holistically, across all materials and packaging types."