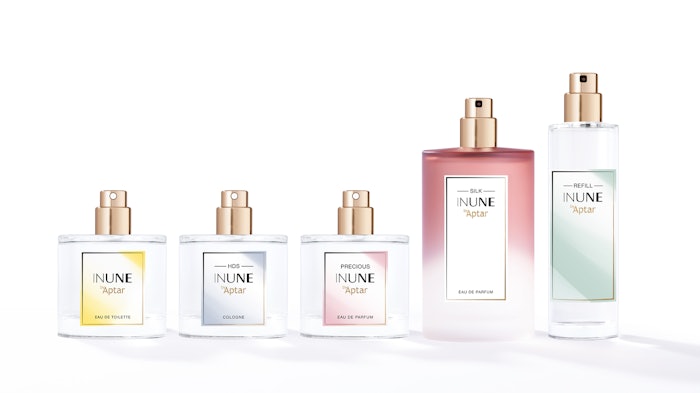 Aptar Beauty + Home has launched the Inune collection of four refillable and recyclable fragrance sprays that offer different application experiences.
Classic Inune features a short and targeted spray idea for active lifestyles. The spray is designed for targeted application on the neckline or décolleté.
HDS (high-definition spray) Inune features a breezy and broad spray that is ultra-fine and provides instant freshness, as well as delicate and generous olfactory diffusion.
Precious Inune offers a long, luscious, enveloping spray.
Silk Inune offers a continuous and ultra soft veil-like spray. The design is ideal for delicate and soft application that lasts.
Inune's design features a minimized height and invisible mechanism. The design prevents metal components from coming into contact with the perfume, reportedly ensuring olfactory neutrality. 
Previously: Single-dose Beauty Consumer Survey
It is reportedly POM-free, 10% lighter than conventional alternatives and ideal for refillables. Users can leave the spray on the perfume glass bottle and place it in the glass recycling stream (subject to local capabilities).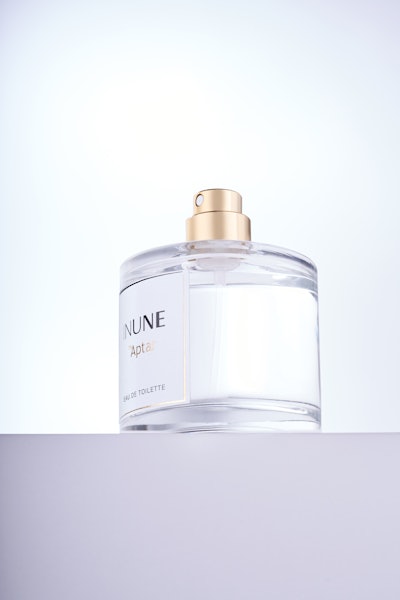 Inune is designed to meet the Centre Technique International de l'Embouteillage verre et PET (CETIE) market standards so that the spray is easily and interchangeably screwed onto any glass bottles following those norms.
"Inune confirms our strong prestige fragrance spray offering," said Xavier Joseph, vice president global marketing and innovation, Aptar Beauty + Home. "Our teams have skillfully combined their extensive fragrance expertise in ritual gestures, perfume neutrality and integrity, luxury design and technology. All of which take our planet into consideration, in line with our circular economy approach, this new collection offers refillability or recyclable solutions for our partners."
The collection was launched with Wood Delight, a fragrance designed by perfumer Celine Barel, featuring hesperidic and watery top notes as well as sandalwood and fig notes.
"This sensual fresh woody scent is a clean, 'for me' fragrance with hesperidic and watery top notes as well as sandalwood and fig notes for a soft, skin like sensorial touch," said Judith Gross, VP communication and branding, scent, IFF.