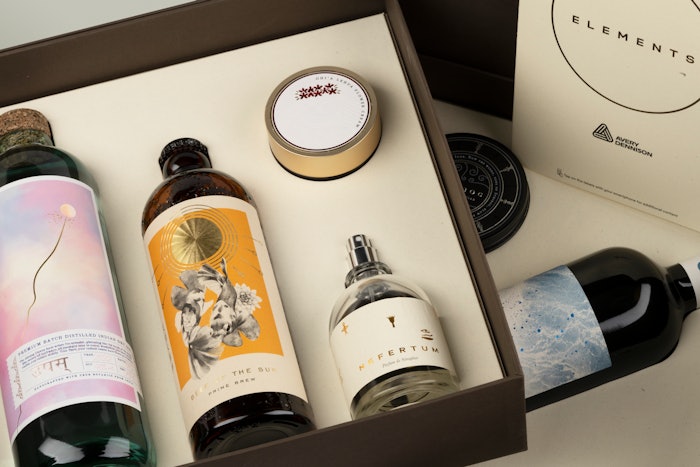 Avery Dennison recently highlighted sustainable premium labeling materials and digital innovations at Paris Packaging Week, including near-field communication (NFC) labels, which offer consumers an interactive experience with a brand via their smartphone.
The company reports that a survey of 7,5000 shoppers globally found that 43% of beauty shoppers said transparency about a product's origins and journey is important to them.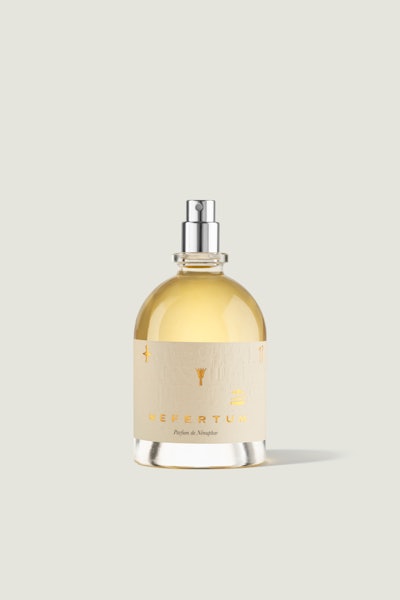 Meanwhile, 36% of survey respondents stated that they would feel encouraged to make sustainable purchases if brands are transparent about ingredients in their beauty products.
The company's presentations included six new "Elements" prototype labels across the food, drink and beauty sectors. The prototype labels provided extra digital content when scanned, using Avery Dennison Smartrac digital identification solutions.
Its "Once Upon A Time" prototypes, meanwhile, channeled fairytale concepts crossed with modern inclusive sensibilities.
"2023 will see an increase in greenwashing claims and fines, which will give rise to skepticism among consumers that brands are 'greenwashing' their environmental claims," says Vladimir Tyulpin, Avery Dennison's premium solutions segment leader. "To help navigate this trend we will see more premium brands look to substantiate their positioning through certification and transparency efforts."
He continues, "Digital identification solutions such as NFC, or near-field communication labels, help brands to communicate their ethical credentials, offering customers an interactive experience with a brand via their smartphone. This will create exciting opportunities for high-end brands to get closer to their customers with engaging packaging that builds trust and allows for interaction."
Tyulpin says, "While at first it might sound paradoxical that luxury goods should embody sustainability, one of the most exciting trends we're seeing is the reappraisal of what luxury means and the move toward sustainable luxury packaging that delivers to the expectation and the experience needed for a premium product."
He adds, "A great example is Sektkellerei OHLIG, a German family winery who, in collaboration with creative agency Ruska Martín Associates, developed a whole new beverage experience called RE:INCARNATED SPIRITS, a 100% circular spirit and packaging design. With a focus on demonstrating a new circular approach to spirit making, selecting a 100% recycled packaging was a must. The label is adhered to the bottle using Avery Dennison's Fasson rCrush Grape FSC, a premium uncoated self-adhesive paper made from 15% grape waste, 40% recycled pulp and 45% virgin fibers."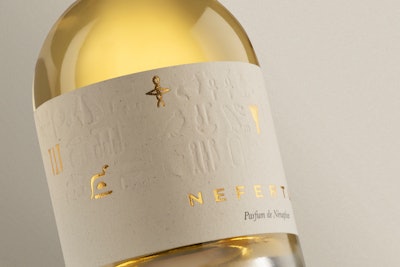 Tyulpin continues, "The bottles are made from 100% recycled post-consumer glass developed by Estal. Topping them off are corks made exclusively from recycled sparkling wine corks. Lastly, the bottles come packaged in uncoated cardboard boxes that are perfect for transporting and feature recycled padding made from shredded euro banknotes that did not meet the quality criteria for public use. This balance between luxury and sustainability sets a new bar for luxury packaging, making us all stop and think about how we can do things differently."
Regarding sustainable materials, Tyulpin says, "There is much debate about which materials are the most environmentally friendly. We are seeing many high end brands adopt materials that can be reused and recycled. Some are experimenting with compostable and bio-based materials. There is no one-size-fits all answer. For an attainable approach to sustainable packaging, brands and converters need access to a diverse range of label solutions.'
He continues, "Avery Dennison has invested in recycled materials with a broad range of structure, thickness, and pattern complexity to ensure companies can find a sustainable label solution that fits their product positioning. For example, our Sustainable ADvantage range includes papers made with 100% recycled fibers suited for wine, spirits, craft beer, premium food and beverage and cosmetics ... "
Tyulpin notes, "Fasson rNoble Blanc FSC is a white, uncoated paper made from 100% recycled fibers. It features a felt-marked finish improving the sensorial effect of the matt texture as well as wet strength and fungicidal treatment for labels that have to resist humid environments like the bathroom or the cellar. The Fasson rSable Blanc FSC is also made from 100% recycled fibers but still maintains a good wet opacity when in contact with ice and water in the ice bucket. Coming soon is a product I am very excited to bring to market: Fasson rPaper Black FSC is an uncoated paper made from 100% recycled fibers. Its intense black color is pulp-added to avoid the unpleasant white edge and backside of the label. It has a matt and smooth texture and features wet strength and fungicidal treatment for labels that have to resist humid environments."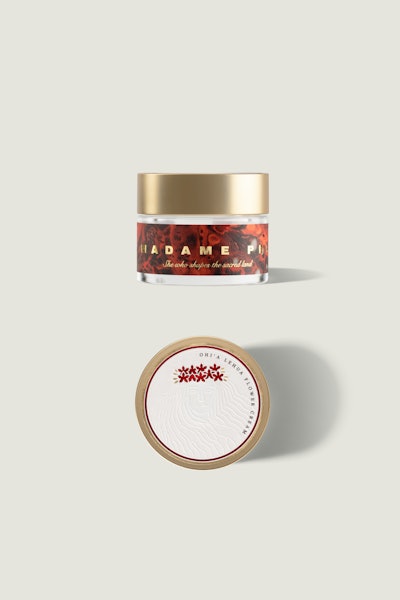 Regarding values-centric design, the executive says, "Our generation lives in an era in which brands are expected to support important social causes that shape today's society and we will see brands start to weave those stories and principles into their branding - starting with their packaging and labels. For example, Avery Dennison and design agency Supperstudio won several awards at the prestigious Pentawards for a project called 'Build Your Brand', showcasing eight different designs that address specific social and conservation challenges. 'Only for your eyes', one the packaging designs within the 'Build your Brand' project, received the prestigious cover of the Pentawards catalogue last year. The design was developed exclusively in Braille for a cold brew coffee drink. Printed on paper made of 100% recycled pulp, the label is embossed, hot foil stamped, and silkscreen varnished to include braille making the label accessible to people with visual impairment or low vision. A beautiful and necessary dedication to the visually impaired community, which is often overlooked by brands."
Tyulpin adds, "Make a Mark, our annual design collaboration platform in partnership with ESTAL and KURZ aims to accelerate innovation and sustainable solutions in luxury packaging design. Many of the design concepts tackle environmental and social issues such as climate change, water scarcity and diversity and inclusion. For example, Butterfly Cannon created a design concept in 2021 that won a Pentawards 2022."
He continues, "The design follows their Conscious Design process, where wasteful turns into usable and beautiful. Papil is a premium wellness aperitif–alcohol-free and created from an uplifting blend of natural adaptogens and nootropics to enhance a positive mood at the start of the evening. It features a reusable design made from 100% recycled wild glass and waste by-products while the bespoke Labrenta Sughera cap is molded from 100% recycled cork dust taken out of the waste stream. The label uses an Avery Dennison: Fasson MarbleBase stock, made up of 80% Calcium Carbonate. Strong and durable, it was specifically designed for the bottle to be washed and reused."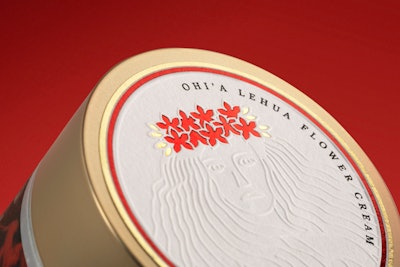 Tyulpin adds, "Traditionally, designers focused their attention on improving the look and functionality of products but in 2023 we will see some designers broaden their approach to deliver a more meaningful message and social statements through product design."
Regarding minimal aesthetics, the executive says, "There are notable differences in design trends across the world. Typically, we see northern regions be more minimalistic while southern countries lean towards more descriptive designs using embellishments. However, in light of all the trends mentioned above we will start to see more brands take advantage of subtle branding and minimalistic packaging design. The impact of materials on the environment will take center stage as luxury brands build circular principles including using more recyclable materials (and less extracted materials) and designing out waste into their product design briefs. If done correctly minimal packaging can strike a great balance between environmental concerns and the need for refinement and elegance that premium brands desire. One thing that is certain is that luxury brands are role models in their industry, setting the trend that designers follow globally. If the luxury industry keeps sustainability as their top priority, balancing the beautiful with the responsible, then many will follow which is exciting for our industry and the planet."