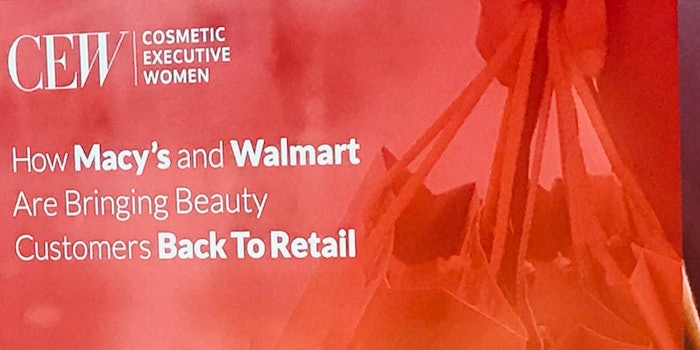 Cosmetic Executive Women (CEW) hosted two panelists to discuss the different ways they are bringing beauty customers back to their respective stores: from Macy's, Nata Dvir, general business manager, beauty leased and food; and from Walmart, Jody Pinson, vice president of merchandising, beauty. The event was moderated by Jenny Fine, executive beauty director of WWD.
Further reading: 2019 Holiday Beauty Sales Preview
Up next: HSN's Mindy Grossman in Person
Fueled by the over-saturation of beauty and fragrance products on shelves, the event targeted tactics that Macy's and Walmart are tapping into to help consumers narrow down their choices, while also establishing store-loyalty and repeat purchases.
Macy's: 6 Drivers for In-store Engagement
In order to increase store traffic, Macy's is spending more resources and allocating more funding toward in-store events, brand partnerships, promotions and training beauty advisors.
Beauty advisors can use their social media presence to attract customers to come into the store, and some advisers in regional stores have their own following, which also creates traffic and consumer excitement.
New floor plans, merchandising and multi-branded moments help drive consumers to shop across categories and encourage them to explore and buy into new categories. For example, Macy's clusters clean beauty brands together so that customers who value those types of products can access their favorites, while also being exposed to other brands with similar, unique or better features.
Promotions bring in new customers and act as an acquisition tool to get customers coming back and paying full price. Offering products through promotions also increase the chances for customers to establish store loyalty. As Global Cosmetic Industry reported earlier in 2019, discounting is becoming widespread in beauty, creating a slippery slope for many brands and stores. While promotions attract shoppers, they risk becoming the new normal.
Researching upcoming trends allows stores to see how they can expand their offerings. For example, upon noticing lash trends emerging in beauty, Macy's started carrying an indie label brand in-store and online. The company did this without beta testing, allowing Macy's to implement a timely fit for the trend.
Indie brands challenge core brands to present their products in new ways, like reformulating and changing a product's packaging. On the other hand, core brands help push indie brands to develop a strong, recognizable signature for their customers.
Events and partnerships create unique in-store opportunities and can also generate pop culture buzz.

Macy's had a panel of beauty trend experts in-store to talk about their favorite products and what they use in the winter. The event was successful because it allowed people to hang out, while also shopping for and trying beauty services.
Macy's collaboration with Urban Decay to create the Game of Thrones makeup line included an event at the flagship store, which featured a giant Instagrammable throne. The event provided Urban Decay with brand awareness and also piggy backed off of a pop culture trend, ultimately generating buzz among beauty and Game of Thrones fans alike.
Macy's partnered with Perch Interactive to create an interactive/self-navigating experience in 35 stores. The technology allows consumers to navigate fragrance shopping through the differentiation of scent families. For example, if a user likes citrus, the algorithm will display several citrus fragrance brands available in the store. There is also an online/in-store quiz consumers can take to find out what fragrances they like. The quiz helps direct shoppers toward fragrances within their preferences, as opposed to them shopping from a sprawling lineup. Giving consumers more opportunities to learn about themselves through the store increases their reliance on the store as the expert.
From the archives: Macy's Shopper is Moving at the Speed of Light
Walmart: Focusing on Adjacency, Experience and (of Course) Price
To drive in-store traffic, Walmart, one of U.S. teens' favorite beauty shopping spots, is working to turn its different sections into "shops," which include hair shops, beauty shops, fragrance shops, men's grooming shops, etc.
"Shops" align different store sections closer together, which in turn provides shoppers with what they're looking for in a more convenient and relevant proximity. Where fragrance and cosmetics were once separate, the shop floor plan locates the merchandise adjacently.
Making in-store experiences "retailtainment" by working with brands to host mini-events in-store, which can then be shared on social media. Some examples might be hosting makeovers or having featured macro/micro influencers in-store. These types of events are good for the featured brands, influencers and the store.
The everyday low price purchase model means always having products in stock, which translates to consumers always paying the same price.
Ratings and reviews are more commonly used among consumers, meaning its critical for stores to receive feedback in order to determine whether or not their products are delivering on quality.
Promotions need to be creative and fun in order to inspire consumers to shop.
Focusing on relevant trends and utilizing data in order to learn to carry the right assortments with the right adjacencies.