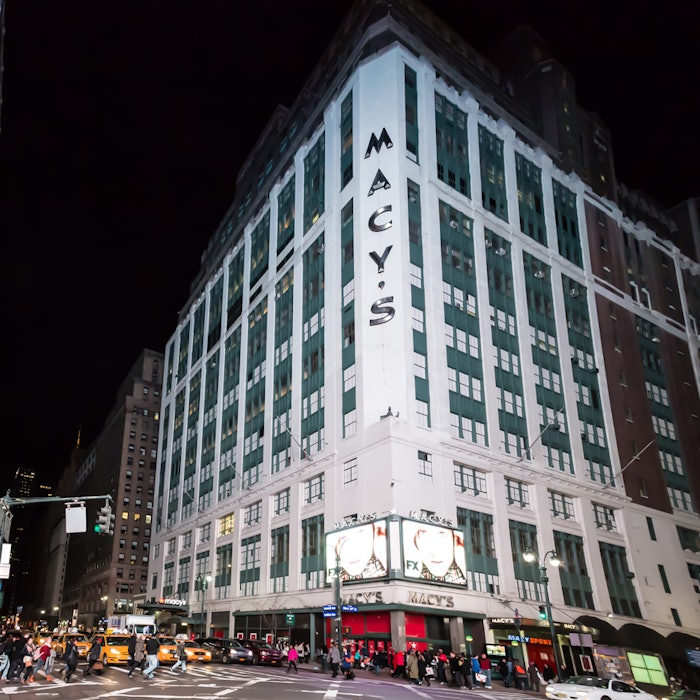 Macy's, Inc. announced that its comparable sales on an owned plus licensed basis declined by 4.7% in November/December 2015 combined, compared with the same period last year.
Further reading: Why Challenged Macy's is Pursuing the Omnichannel
Macy's is not expecting a major change in sales trend in January and expects a comparable sales decline on an owned plus licensed basis in the fourth quarter of 2015 to approximate the 4.7% decline in November/December. Macy's is scheduled to report fourth quarter sales and earnings on Tuesday, February 23, 2016.
Learn more: Macy's Herald Square Refashions Beauty, Fragrance Department
In addition to their sales report, the company also outlined the cost efficiency initiatives that will take place in early 2016 and will reduce SG&A expense by approximately $400 million while still investing in growth strategies, particularly in omnichannel capabilities at Macy's and Bloomingdale's.
The changes being implemented for greater efficiency and proeuctivity are as follows:
Consolidating the grouping of existing Macy's stores into five regions and 47 local districts (down from the current structure of seven regions and 58 local districts), as well as other field support functions. This reflects a smaller portfolio of stores and new technologies and techniques for managing the store business and tailoring assortments to local customer preferences
Adjusting staffing levels at each Macy's and Bloomingdale's store in line with current sales volume to increase productivity and improve efficiency. An average of three to four positions will be affected in each of Macy's and Bloomingdale's approximately 770 going-forward stores (out of an average workforce of approximately 150 associates in each store), for a total of about 3,000 affected associates nationwide. Roughly 50 percent of affected store associates are expected to be placed in other positions
Implementing a voluntary separation opportunity for about 165 senior executives in Macy's and Bloomingdale's central stores, office and support functions who meet certain age and service requirements and chose to leave the company beginning in spring 2016. Approximately 35 percent of these executive positions will not be replaced.
Reducing an additional 600 positions in back-office organizations by eliminating tasks, simplifying processes and combining positions, with about 150 of these associates reassigned to other positions.
Consolidating the four existing Macy's, Inc. credit and customer services center facilities into three. The call center in St. Louis will be closed in spring 2016, affecting approximately 750 employees. Work currently performed in St. Louis will be divided among existing credit and customer services centers in Tempe, AZ, Clearwater, FL, and Mason, OH, where a total of about 640 positions will be added.
Decreasing non-payroll budgets companywide in areas such as travel, meetings and consulting services.