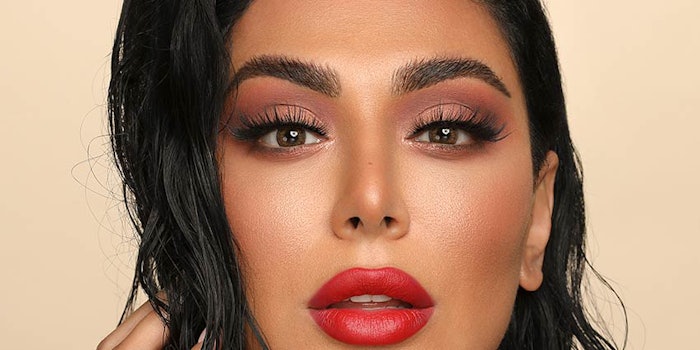 Boots is bringing Huda Beauty in-store as part of its plan to "reinvent beauty on the high street." The brand will be available on Boots.com beginning January 28, 2020, and will appear in selected Boots stores from the end of January. The retailer will also be opening more "revamped" beauty halls at 60 stores throughout the United Kingdom in spring 2020, introducing brands not yet available on the UK high street, per the company. The refreshed sites include open furniture, trend-driven sections, "play stations," discovery areas and live demo zones.
The retailer's Beauty Crew is expected to expand to 1,000 specialists specially trained to advise customers on skin tones and types, as well as the science of skin. These specialists "also receive empathy training," according to the company, "a unique program based on emotions and empathy, which will allow the Beauty Crew to really understand the needs of our customers."
Joanna Rogers, trading director and VP of beauty at Boots says, "2020 will be another big year for Boots Beauty, and what better way to start the year than with the beauty phenomenon Huda Kattan bringing Huda Beauty to Boots online and in stores across the United Kingdom, making yet another iconic brand more accessible for our customers to explore."
She added, "Last year Boots launched 36 incredible new brands, including Fenty Beauty, Florence by Mills, Morphe and The Ordinary. This spring we will introduce even more new brands including Huda Beauty, Givenchy and Kendall Jenner's Moon Dental range, and some really exciting new launches coming soon for No7, the United Kingdom's number one skin care brand, as well as Boots' own ingredients-led skin care range. Customers will also see exciting new brand launches in hair care and self-selection cosmetics as we continue to offer more and more choice for all our customers".
Huda Kattan, founder and CEO of Huda Beauty, noted, "We're super excited to be launching Huda Beauty in Boots. Boots are an incredible retailer and we are so thankful to them for their support and belief in our brand and vision. Our global expansion has been very quick and to now be partnering with Boots to bring Huda Beauty to the high street is both humbling and mind blowing! We're so proud that we can truly spread the love across the United Kingdom and Ireland."