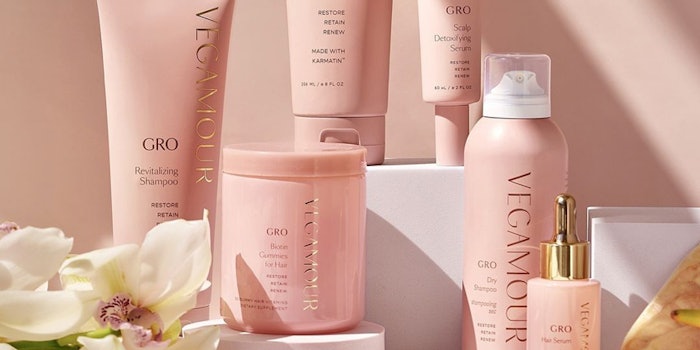 Vegamour has announced its first retail partnership with Sephora, featuring an assortment of Vegamour's products from its Gro line on Sephora.com.
Related: General Atlantic Invests in Vegamour
Vegamour's Gro collection consists of a combination of topical and ingestible hair wellness products designed to be used in tandem to help address early signs of hair shedding.
Products from the collection available at Sephora.com include: Revitalizing Shampoo, Revitalizing Conditioner, Scalp Detoxifying Serum, Hair Serum, Hair Foam, Dry Shampoo, Lash Serum and Brow Serum.
CEO Daniel Hodgdon said, "At Vegamour, we believe that hair health and high performance should go hand-in-hand, so we decided to completely reimagine hair care. Our 360° inside-out approach to hair wellness supports a balanced physiological ecosystem conducive to healthy, beautiful hair. Sephora has always led the way in supporting innovation in the beauty and wellness space with an emphasis on developing extensive customer education programs around new products and categories, so they were our obvious choice as a retail partner."
Jennifer Lucchese, VP haircare merchandising at Sephora said, "Sephora is thrilled to partner with Vegamour and continue our commitment to bringing clients the very best in quality and product innovation, as well as supporting all hair care needs. By taking a holistic approach to healthy hair, Vegamour helps clients address the underlying causes of hair thinning and uses clinically proven formulas to deliver impactful results. We are so excited to introduce this brand to our Sephora community and look forward to working closely with Vegamour as we jointly innovate and educate around this important, emerging category of hair wellness."